By Izabela Gardula
Izabela Gardula is a Valley patient who received breast cancer care from Valley. She was diagnosed in 2016 and began treatment shortly after. Izabela had an outstanding experience at Valley, and wanted to do something to give back. Read her story below - in her own words.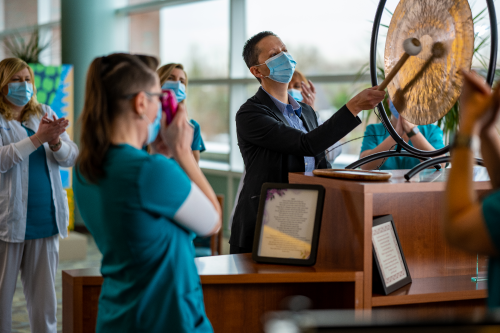 In 2016, one week after my 33rd birthday, I was diagnosed with estrogen-receptor positive, HER2-positive breast cancer. My aunt and my sister had been diagnosed with breast cancer before I was, so I had previously undergone genetic testing to see if I was at risk for inherited breast cancer and the test came back negative.
So when I initially felt a small, pea-sized lump, I let it go. I accidentally scratched myself a little later, and the lump was harder and bigger. My primary care doctor immediately prescribed an ultrasound and a mammogram.
The next morning I was with my mom for a radiology appointment. I asked to schedule an appointment for my mammogram, and they said, "We have one in 15 minutes." My legs went numb.
They saw something on the mammogram. Right away, I received a call, "The radiologist wants to do a biopsy to see what's going on and he has an opening tomorrow." It was just on a Monday that I was picking up the ultrasound and mammogram prescriptions and now, here I was on a Wednesday laying on the table and having a biopsy performed.
The biopsy results came back, and the doctor said: "We need to talk. You have breast cancer. You need to get to a breast surgeon as soon as possible." The doctor gave me a list of places to go for care. One of them was Valley Health System. I had heard about a medical oncologist everyone adored at Valley.
I wanted to be treated close to home so my family could come if I needed help and not be stuck in NYC traffic. I also wanted to go somewhere I'd get more personal care. I chose Valley-Mount Sinai Comprehensive Cancer Care.
Treatment Begins
I called Valley and was able to get an appointment quickly with a breast surgeon. We lined up a plan. I listened to the recommendations and, ultimately, made a personal choice to have a bilateral mastectomy.* I didn't want the anxiety that would come with follow-up mammograms.
By the next Monday, I had an MRI, genetic testing, medical clearance and had gone for a plastic surgery consultation. I had surgery within two weeks. I was pushing to get the cancer out of me.
Valley's breast cancer program had a nurse navigator who was able to support me. Everything was arranged for me. It was all so well-orchestrated, and I knew I was in good hands.
During my surgery, the breast surgeon discovered a positive lymph node. Chemotherapy with anti-HER2 therapy was recommended followed by radiation therapy and endocrine therapy. I completed my active treatment in 2017. 
Celebrating the End of Active Treatment
While I was going through chemo, I saw how important it was to people when they finished their treatment. I had been looking at end-of-treatment celebrations online, and I asked the Valley team, "How do you celebrate when people finish infusion?"
The Valley team would give a painted heart to patients who completed their treatment, and I thought some form of celebration would be a nice complement to that.
My nurse and I discussed potential options. I offered, I'll get a gong and we'll put it outside the infusion room. So I ordered one online … and, it came and it was such a tiny thing. My husband said, "We can do better than this."
I started researching companies that made gongs. I wrote an email explaining how important it was to celebrate the end of active treatment. The gong could also be something to hit in frustration, because you have good days and you have bad days. One company was able to donate a big, beautiful gong to Valley's cancer center and it's there today for all cancer patients to use at any time and for any reason.
*Note: Breast cancer treatment is different for each patient, and a double mastectomy is not recommended in every case. At Valley, we discuss your breast surgery options to help you make an informed decision about your care.