Support the Auxiliary!
The Power of Giving
A Message From Denise Downey, Auxiliary President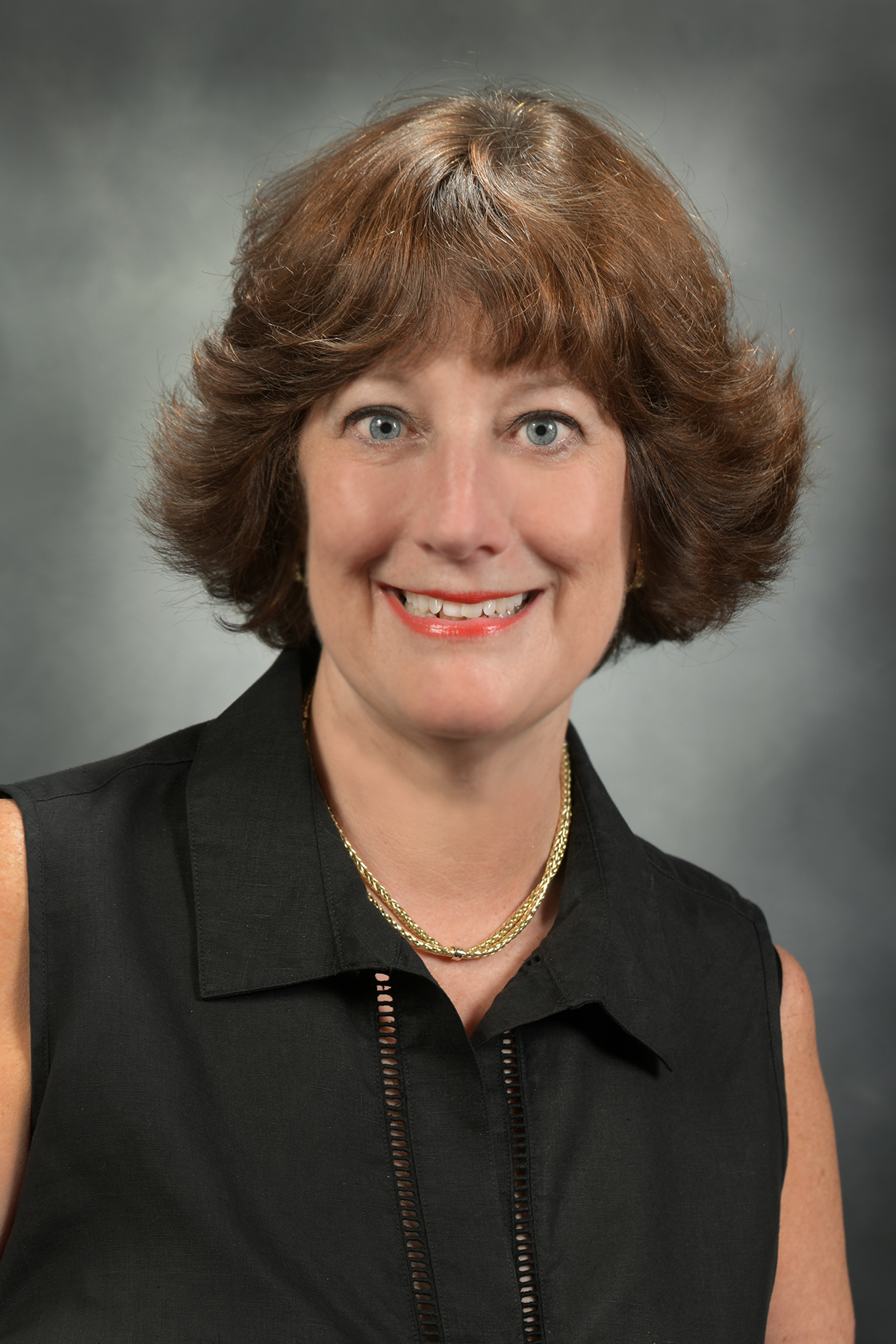 Greetings Auxiliary members and friends,
In the aftermath of Hurricane Ida, it seems as though fall weather has arrived and with it, lower humidity levels. For those of us who experienced hardship due to the extreme flooding, I do hope situations are improving for you and your families.  
A huge congratulations to The Valley Hospital which is celebrating its 70th year!  On August 8, 1951 the Hospital opened its doors, and since that day, incredible accomplishments and strides have been made over these past seven decades. As we get closer to the opening of the new hospital in Paramus, scheduled for later in 2023, it will be exciting to begin yet another important chapter in the history of this wonderful hospital within our community.
While we had hoped to begin in-person executive and central board meetings at the Kraft building, "you know what" has reared its head once again in the form of a "variant", leading us to conduct our monthly sessions virtually.  I do hope this will be for a limited time. I would like to thank our resilient branches for carrying on, while implementing safety precautions such as mask-wearing and social distancing. Meetings are being scheduled with these protocols in mind and some branches are planning outdoor activities for the fall. 
On the fundraising front, we should all be incredibly proud of the results of the golf outing, which netted $200,000 and the very recent sporting clays event, conducted by the Employee Branch and the Foundation, which netted approximately $60,000. Our next big event will be the annual Tree of Light ceremony scheduled for December 5. Looking into my crystal ball, it does seem that this will be conducted virtually, but you never know.
Finally, I would like to give a warm welcome to our new Auxiliary Coordinator Bonnie Dalal who joined us over the summer. Bonnie, you have hit the ground running and are already assisting us with a myriad of responsibilities. We thank you for your enthusiasm, technological and organizational skills and warm personality. You are an important member of our team and we are so very fortunate to have you join us.
Enjoy the fall weather!
Denise Downey, President, The Valley Hospital Auxiliary
---
The Valley Hospital Auxiliary was a major catalyst in the founding of the hospital, raising funds and establishing community support years before the hospital opened. Today's Auxiliary, which consists of members from many local communities, remains an integral part of hospital life.
Our Mission
The mission of The Valley Hospital Auxiliary is to:
Serve as community liaison for the hospital
Assist the hospital through a variety of traditional and non-traditional volunteer services
Raise funds for vital hospital programs
Our Pledge
Since its inception, the Auxiliary has helped serve local communities by raising funds for specific healthcare programs and services. To date, the Auxiliary has donated more than $18 million to Valley.
The Auxiliary's current pledge is to raise $3 million to establish the Pediatric Section of the Emergency Department at The Valley Hospital in Paramus, and $100,000 for Valley Home Care's endowment for Butterflies, a pediatric in-home palliative and hospice care program for seriously ill children. The Auxiliary may provide additional financial support to other Valley Hospital Auxiliary and Valley Health System initiatives.
Ready to support our pledge? Make a donation today.
Auxiliary Events
The Auxiliary's events are always the talk of the town! In addition to having a great time, attendees contribute to the Auxiliary's pledge to support the hospital.
Local branches of the Auxiliary also host fashion shows, guest speakers, raffles, theater trips and more. 
The Valley Hospital Auxiliary Reaches a Milestone in Donations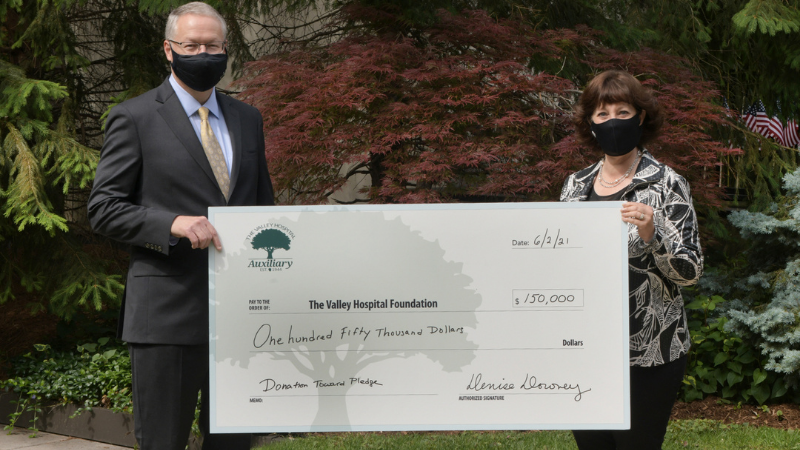 On behalf of The Valley Hospital Auxiliary, Denise Downey, Auxiliary President, presents David Bohan, Vice President, Chief Development Officer, The Valley Hospital Foundation,  with a check for $150,000.00 toward the Auxiliary's current $3.1 million pledge.  The Auxiliary donated $350,000.00 to the Foundation this past fiscal year.  Donations made to the Foundation in support of our pledge now total just over $1 million dollars. We thank all those who have contributed to make this happen.