Virtual Flag Day Honor Ceremony
The Valley Hospital Auxiliary Employee Branch raises a flag in tribute to family, friends, and colleagues for Flag Day!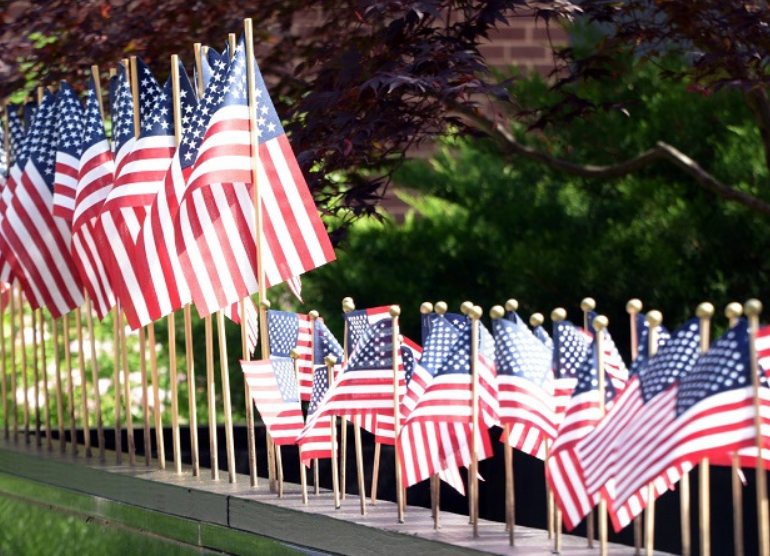 Thank you to all our donors for their support and participation in the Virtual Flag Day Honor Ceremony.
All donations are listed in the Flag Day Honor Book (link below). All flags will be displayed in the beautiful Friendship Garden of The Valley Hospital through July 4, and donors will receive the link below to the virtual ceremony with Audrey Meyers, President and CEO of Valley Health System. Special thanks to Valley staff member, Lynn Tampac, for her beautiful and touching vocal performance of the National Anthem. So sing along with us in spirit and pride!
The 48th Annual Valley Hospital Auxiliary Golf Outing
Thank you for attending our annual golf outing. It was a great day! The amazing generosity of our sponsors, patrons, donors and golfers helped us get that much closer to fulfilling our $3.1 million pledge to benefit the health and well-being of children in our community. We are looking forward to seeing everyone next year at our 49th Annual Golf Outing on June 6, 2022 at The Ridgewood Country Club.
Presenting Sponsor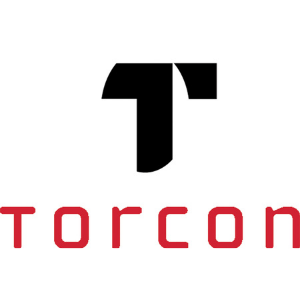 Support the Auxiliary!
The Power of Giving
A Message From Denise Downey, Auxiliary President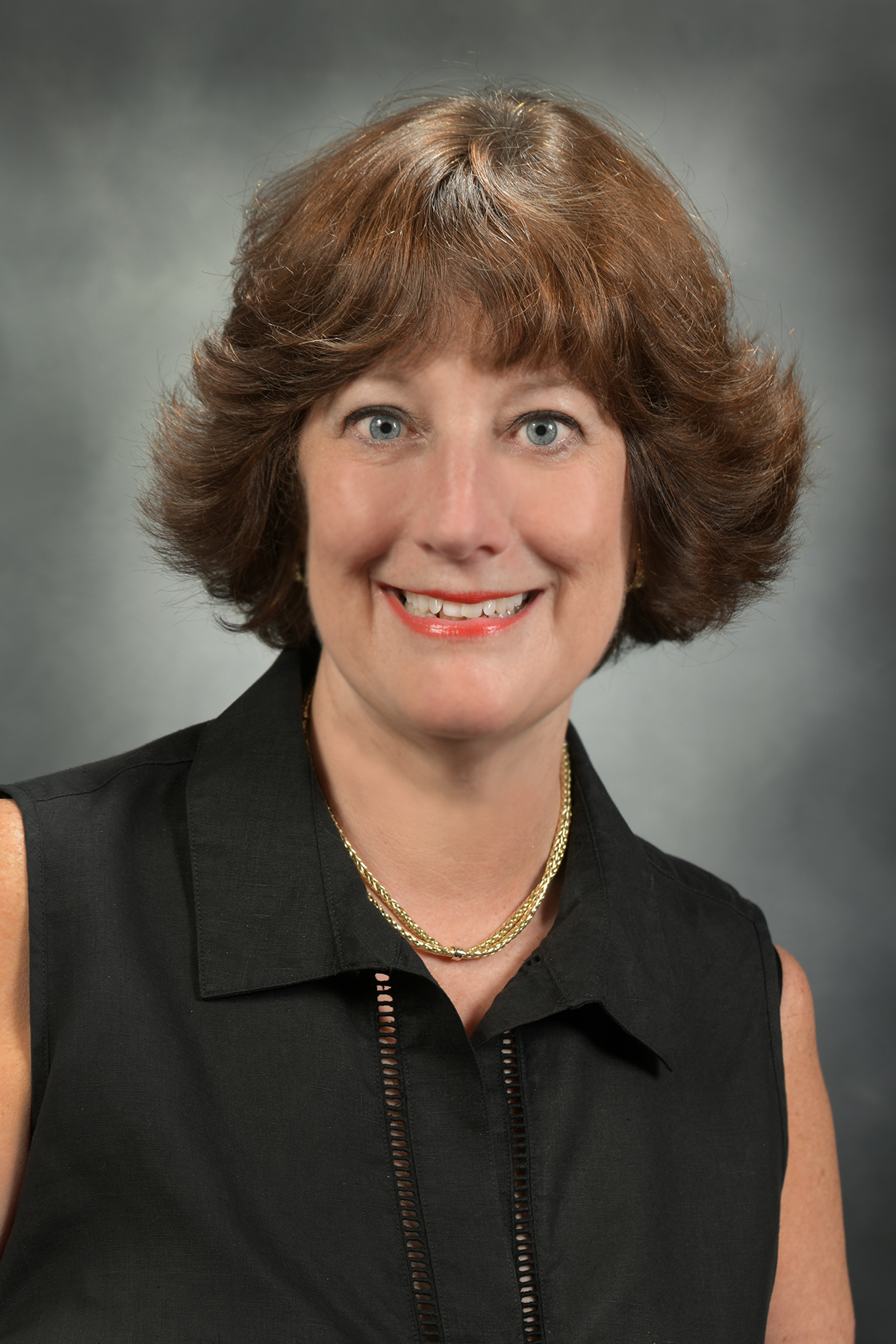 Greetings Auxiliary members and friends,
Our fiscal year is fast coming to an end, yet we still have a few important activities coming up.  First, the 48th Annual Golf Outing will take place on Monday, June 7 at the newly renovated Ridgewood Country Club.  In recognition of Flag Day, the Employee Branch is hosting a Virtual Flag Day Honor Celebration on June 14.  Details of both events can be found on this website.  Finally, all members will receive an email sometime in June with a link to watch an abbreviated, virtual Annual Meeting.  While we would MUCH prefer an in-person luncheon at the beautiful Indian Trail Club, we will carry on with this format one more time (hopefully!).
I once again want to thank our Branch leadership, Central and Executive Boards and of course all of our loyal Auxiliary members for a successful year.  You remained committed and connected to each other during a very difficult and trying period, and for all that you have done on behalf of The Valley Hospital Auxiliary, I am truly grateful.
I hope you all enjoy the spring and upcoming summer months.
Warm wishes to all,
Denise Downey, President, The Valley Hospital Auxiliary
---
The Valley Hospital Auxiliary was a major catalyst in the founding of the hospital, raising funds and establishing community support years before the hospital opened. Today's Auxiliary, which consists of members from many local communities, remains an integral part of hospital life.
Our Mission
The mission of The Valley Hospital Auxiliary is to:
Serve as community liaison for the hospital
Assist the hospital through a variety of traditional and non-traditional volunteer services
Raise funds for vital hospital programs
Our Pledge
Since its inception, the Auxiliary has helped serve local communities by raising funds for specific healthcare programs and services. To date, the Auxiliary has donated more than $18 million to Valley.
The Auxiliary's current pledge is to raise $3 million to establish the Pediatric Section of the Emergency Department at The Valley Hospital in Paramus, and $100,000 for Valley Home Care's endowment for Butterflies, a pediatric in-home palliative and hospice care program for seriously ill children. The Auxiliary may provide additional financial support to other Valley Hospital Auxiliary and Valley Health System initiatives.
Ready to support our pledge? Make a donation today.
Auxiliary Events
The Auxiliary's events are always the talk of the town! In addition to having a great time, attendees contribute to the Auxiliary's pledge to support the hospital.
Local branches of the Auxiliary also host fashion shows, guest speakers, raffles, theater trips and more. 
The Valley Hospital Auxiliary Reaches a Milestone in Donations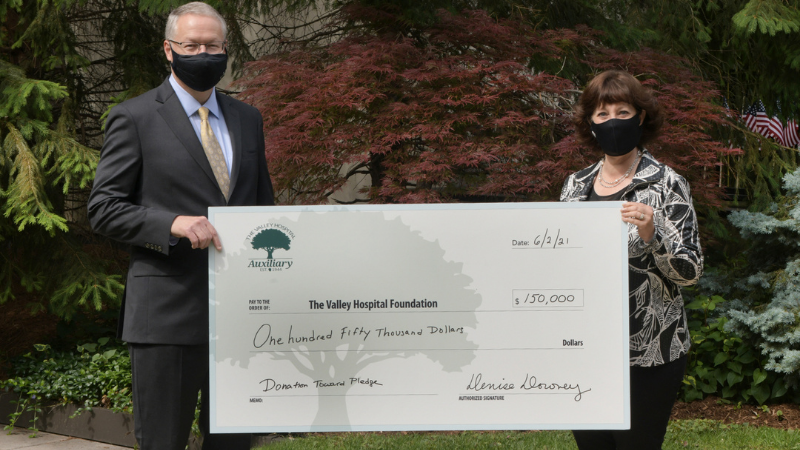 On behalf of The Valley Hospital Auxiliary, Denise Downey, Auxiliary President, presents David Bohan, Vice President, Chief Development Officer, The Valley Hospital Foundation,  with a check for $150,000.00 toward the Auxiliary's current $3.1 million pledge.  The Auxiliary donated $350,000.00 to the Foundation this past fiscal year.  Donations made to the Foundation in support of our pledge now total just over $1 million dollars. We thank all those who have contributed to make this happen.