When Grace Allwood was diagnosed with breast cancer in June of 2021, she felt her whole world stopped. With no family history of the disease, she found her stage-three finding startling and unexpected.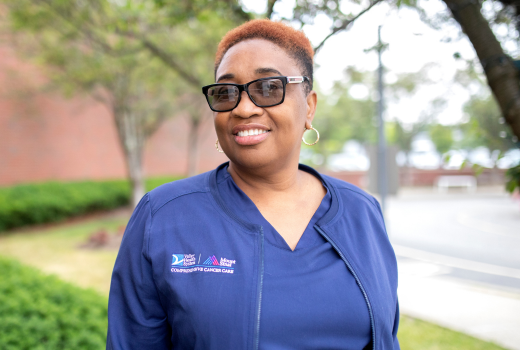 As a Patient Care Associate (PCA) at The Valley Hospital, Grace was very familiar with Valley-Mount Sinai Comprehensive Cancer Care and its reputation for exceptional breast cancer care. She underwent a bilateral (double) mastectomy, which was performed by Laura Klein, MD, Director of Valley's Breast Center. After her procedure, she underwent four months of chemotherapy, overseen by Eleonora Teplinsky, MD, Head of Breast Medical Oncology, and two months of radiation, overseen by Chad DeYoung, MD, Co-Medical Director of Radiation Oncology. Tzvi Small, MD, performed reconstructive surgery.
By April 2022, Grace completed active treatment and has no evidence of recurrence.  
"I thank God for Valley-Mount Sinai Comprehensive Cancer Care," said Grace. "I feel that I am alive because of how great, determined, and caring the team there is. They helped me not only with treatment but with emotional support for my children. They were there every step of the way."
But that's not the end of the story.
Grace's positive experience inspired her to consider working for the cancer center as a certified medical assistant (CMA). She longed to be part of the team that she credits with saving her life.
Following a period of study that traditionally takes nine months to complete, Grace eagerly finished the CMA program and passed the exam in one month. She started at Valley-Mount Sinai Comprehensive Cancer Care in February 2023.
"I felt there was something I could offer in the few minutes I am with a patient – to help patients get through a similar journey I went through," Grace said. "I can really relate to what other patients are experiencing and give them reassurance that they are getting leading-edge care, just as I experienced."
"I don't think people need to go anywhere else for treatment to receive first-class care," said Grace. "When you go to Valley, you find people who care about you and treat you like family."
People like Grace.