The Flag Day Honor Ceremony
The Valley Hospital Auxiliary Employee Branch raises a flag in tribute to family, friends, and colleagues for Flag Day!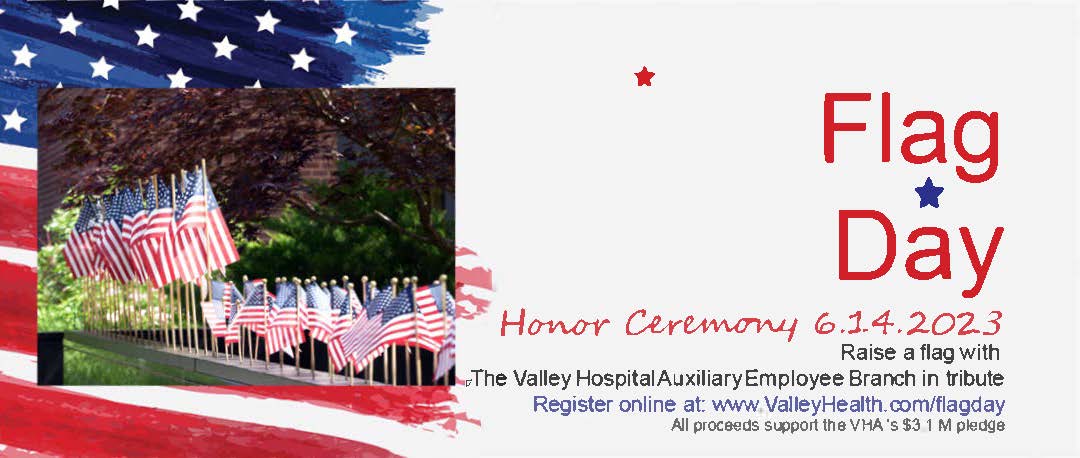 ---
Celebrate National Flag Day by donating an American lawn flag in honor or appreciation of a fellow employee, department, family member, friend, veteran, or a special event in your life. Flags will be on display in the Friendship Garden and all donors, honorees, and sponsors will be listed in the Flag Day Honor Book in the hospital through July 4th. 
Flag Day Honor Ceremony
June 14, 2023
The Friendship Garden of The Valley Hospital
10 a.m.
All proceeds from Flag Day benefit the Auxiliary's $3.1 million pledge to establish the Pediatric Section of the Emergency Department of the Valley Hospital in Paramus and to fund an endowment for Valley Home Care's Butterflies – a pediatric in-home palliative and hospice care program for seriously ill children.  The Auxiliary may provide additional financial support to other Valley Hospital Auxiliary and Valley Health System initiatives.