From golf outings, engaging lectures and museum trips to fine dining and dancing, The Valley Hospital Auxiliary hosts events for every taste! Visit our classes and events calendar for upcoming Auxiliary events, local branch meetings and more.
Central Board Events
---
The Valley Hospital Auxiliary 75th Anniversary Champagne Brunch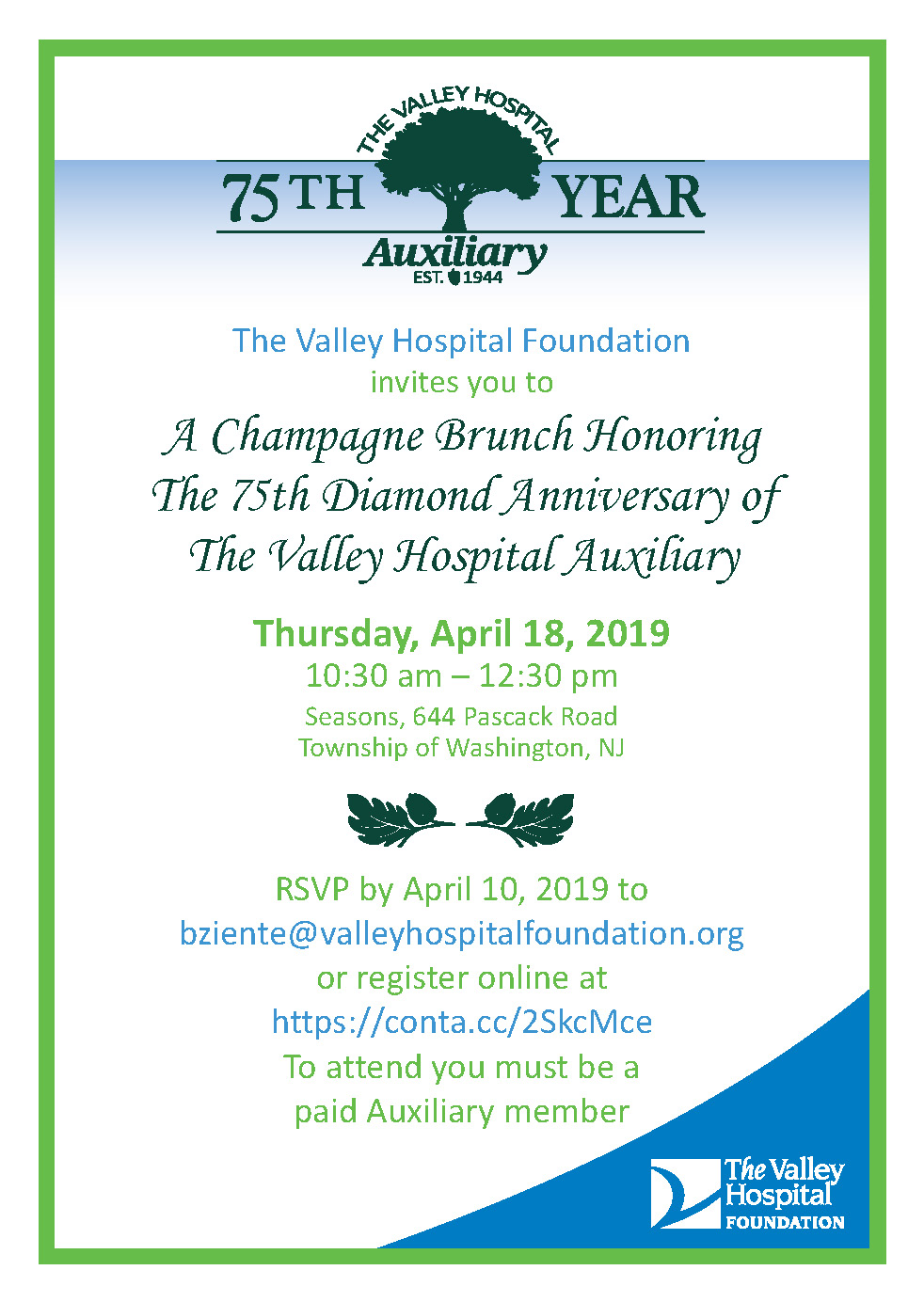 Thursday, April 18, 2019, 10:30 a.m. to 12:30 p.m.
Seasons, Township of Washington
The Valley Hospital Foundation invites you to a champagne brunch honoring the 75th anniversary of The Valley Hospital Auxiliary. Attendees must be registered members of the Auxiliary. (Not a member? Become one today!) 
---
47th Annual Golf Outing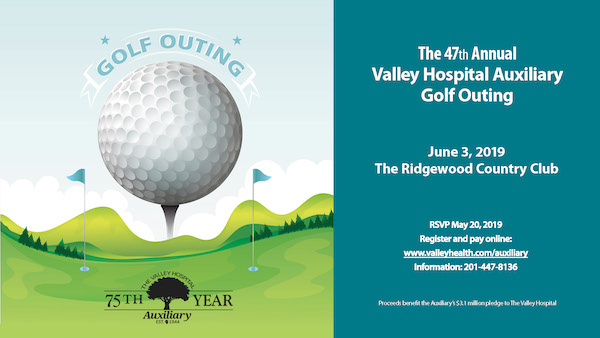 Monday, June 3, 2019
Ridgewood Country Club
Enjoy a day of golf on a championship course, win a variety of prizes, have a buffet lunch on the terrace, and stay for an evening cocktail hour, dinner, raffles and silent auction. You can just come for cocktails and dinner, or participate as one of our generous sponsors.
It will be a wonderful time, rain or shine, with great food and friends to support the Auxiliary's $3.1 million pledge to establish the Pediatric Emergency Department of the "New" Valley Hospital and the Endowment for Butterflies. Register by May 20, 2019. 
Register Online      Printable Form
---
Save the Date: The Valley Hospital Auxiliary's Annual Luncheon & Meeting 
Featuring Keynote Speaker, Pat Battle of NBC 4 New York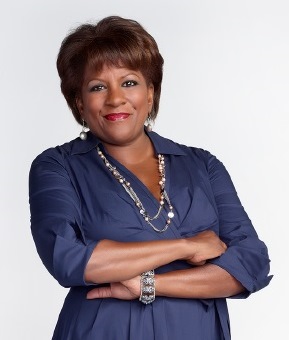 June 19, 2019, 11:30 a.m. – 2:30 p.m.
Indian Trail Club, 830 Franklin Lake Road, Franklin Lakes
Sign up early and bring your friends to hear wonderful keynote speaker, Pat Battle, Co-Anchor for NBC 4 NY's "Weekend Today in New York"! She will be discussing her career and sharing stories and current topics. A not-to-be-missed chance to meet this amazing and popular personality up close! Registration opening soon!
 
---
Flag Day Honor Ceremony
Wednesday, June 12, 2019, 11 a.m. – 12:30 p.m.
The Friendship Garden at The Valley Hospital, 223 N. Van Dien Ave., Ridgewood
Join the Valley Hospital Auxiliary Employee Branch in celebration of National Flag Day and Employee Appreciation Week at Valley by donating a flag that will be displayed in The Friendship Garden in honor of fellow colleagues/departments, family, friends, and veterans. Your honorees will be listed in the Honor Book on display in the hospital through July 4th.
Then, get in the patriotic spirit and join us in the Friendship Garden for a flag raising with Audrey Meyers, President and CEO, a music performance by The Orpheus Club Men's Chorus of Ridgewood, refreshments in the Kurth Café, and a chance to win a door prize for four seats on The Valley Hospital Fourth of July parade float! 
Cost: $15 per flag donation. Call 201-291-6171 for more information.
Register Online      Printable Form
Auxiliary Branch Events
---
Neiman Marcus Fashion Show and Meet the Designers, Mark Badgley & James Mischka  
Tuesday, April 23, 2019, 11 a.m. - 2 p.m.
Neiman Marcus at the Garden State Plaza, Paramus
Join the Saddle River Valley Branch for this beautiful fashion show, featuring the latest designs of Badgley Mischka, and enjoy a meet and greet with the designers!
Tickets are $50. RSVP by April 12, 2019. Call 917-325-6552 for more information.
---
High SocieTea
Thursday, May 2, 2019, 5 p.m.
High SocieTea, 20 Old Newark Pompton Turnpike, Wayne
Bring your friends and enjoy a lovely cup of tea and delicious treats with the Oakland Branch VHA in high style at High SocieTea!
Tickets are $50. Call 201-337-6026 for more information.
---
8th Annual Ferragamo Shopping Day
Tuesday, May 7, 2019, 11 a.m. – 2 p.m.
Salvatore Ferragamo Store at the Garden State Plaza, Paramus 
Attendance is complimentary for this exclusive shopping event featuring gorgeous Ferragamo ready-to-wear, shoes and handbags. What a perfect way to find a gift for Mother's Day, or any other upcoming spring events!  A percentage of sales will benefit the VHA's Pledge of $3.1 million. 
---
Blue Moon Fundraiser
Enjoy Mexican Food All Day and Donate to the VHA!
Tuesday, May 14, 2019, all day during restaurant hours
Blue Moon Mexican Restaurant (Wyckoff Location Only), 327 Franklin Avenue, Wyckoff 
Support the VHA Wyckoff Branch every time you eat at Blue Moon in Wyckoff on May 14th! Be sure to tell the Blue Moon staff that you are part of the VH Auxiliary fundraiser. See flyer for details. You can also buy a "Valley Hospital Auxiliary" e-gift card!
---
Take Time to Smell the Roses Luncheon & Fashion Show 
Wednesday, May 15, 2019, 11:30 a.m. – 3:30 p.m.
The Brownstone House, 351 West Broadway, Paterson 
The Midland Park Branch hosts this time-honored and popular event, which includes lunch, a fashion show, and basket and 50/50 raffles. Don't miss it!
Tickets are $45. RSVP by May 1, 2019.
Download the Flyer      Download the Registration Form
Upcoming Meetings
Local branches of the Auxiliary meet regularly in communities throughout northern New Jersey. Email bziente@valleyhospitalfoundation.org or visit our classes and events calendar to find an upcoming meeting near you.