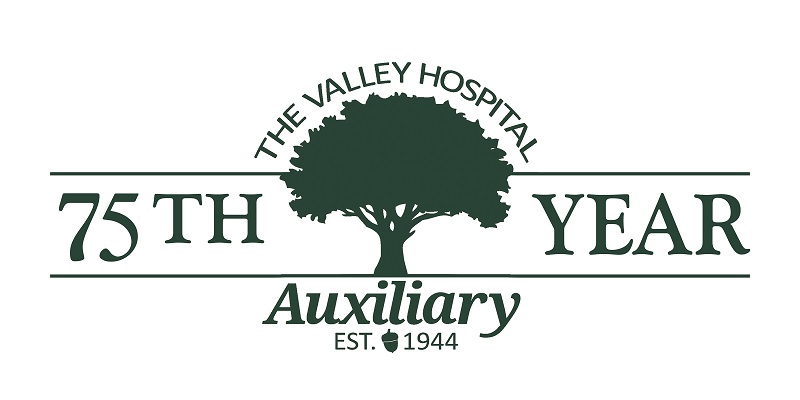 January 21, 2019 marked the 75th anniversary of The Valley Hospital Auxiliary. What was originally known as "The Women's Auxiliary of The Valley Hospital" was the result of the efforts of 36 women from various local organizations, who elected officers and immediately began formulating plans and programs to support the hospital years before it opened. By April 1944, the Auxiliary grew to 450 charter members. 
The Auxiliary decided that their involvement in the new hospital would be "supportive." They would help furnish and decorate the hospital, make surgical dressings and help recruit nurses' aides.  
It soon became clear that fundraising would become an integral part of the Auxiliary's efforts. The first Valley Ball was held in November 1946. Other events, such as bridge parties, tennis matches, carnivals, and horse and pony shows, soon followed. The Auxiliary raised $148,000 – enough to frame, furnish and equip an entire third floor for the new hospital.
The Valley Hospital opened on August 8, 1951. By then, the Auxiliary had branches in 14 towns, working tirelessly to support the hospital through volunteerism, fundraising and community relations. Today, the Auxiliary continues that mission with almost 800 members and 12 local branches.
Through the Years: a Timeline of Giving
Since its inception in 1944, The Valley Hospital Auxiliary has raised more than $18,810,000 in pledges to support programs and services at Valley Health System, including: 
1950: $140,000 Third Floor Fund 
1950: $30,000 First Official Pledge
1952-72: $1,890,000 Seven Individual Pledges to Hospital General Fund 
1982: $1,250,000 New North Wing Maternity 
1985: $500,000 North Wing Third Floor 
1988: $350,000 Kurth Cottage Renovation 
1989: $1,250,000 Lobby, Mammography, Pediatrics, Mother/Baby Units 
1991: $1,750,000 Emergency Room Renovation, 2 MICU Vehicles, Tel-Med System, Pediatric Hospital Video, Lifeline Emergency Response System 
1995: $2,000,000 Journeys Program, Maternal Child Health Program, Family Wellness Renovation, New Intensive Care Unit 
1999: $2,000,000 Reception Suite, Luckow Radiation Oncology Suite, Telehealth Patient Education System, Pediatric Asthma Program 
2003: $1,650,000 Luckow PET Scanner, Pediatric Suite, Butterflies, Pediatric ER Renovation, Maternal-Fetal Medicine Suite 
2006: $2,000,000 Inpatient Pediatric Unit, Women's Health Unit, Butterflies, 64-Slice CT Scanner 
2010: $500,000 Center for Women's Heart Health 
2011: $500,000 Maternal Fetal Medicine Suite, Maternal Child Health Program 
2012: $1,500,000 Breast Surgery Program at Luckow Pavilion, Butterflies Endowment 
2015: $1,500,000 Child & Adolescent Mental Health Program, Butterflies Endowment
2019: $3,100,000 Pediatric Emergency Department of The Valley Hospital in Paramus, Butterflies Endowment