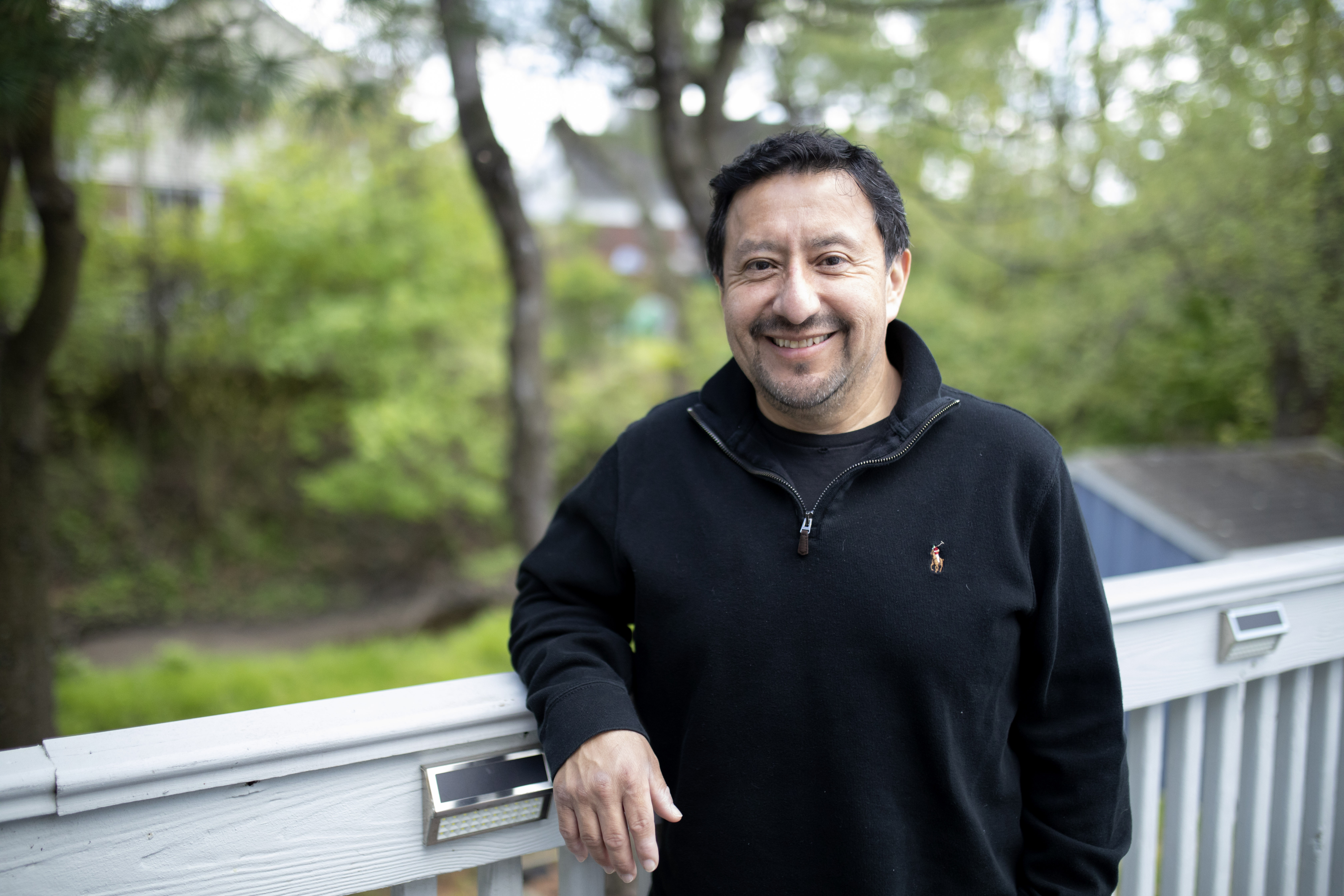 While getting ready for work, on July 25, 2022, after returning home from a family vacation in the Dominican Republic, Luis Feijoo felt very dizzy and passed out in his home, splitting the bridge of his nose in the process. When he woke up, he had a severe headache, neck pain, and vomited.
When the ambulance arrived, Luis asked to be taken to The Valley Hospital.
Upon arrival to The Valley Hospital Emergency Department (ED) Luis' initial symptoms – dizziness, headache, neck pain, and nausea – concerned ED staff as these symptoms commonly present when patients experience a hemorrhagic stroke, commonly known as a bleeding stroke. To get a better understanding of his underlying condition, Luis was taken for computed tomography (CT) imaging. The imaging revealed extensive bleeding in the space around his brain and an aneurysm.
It was concluded that Luis had suffered a hemorrhagic stroke due to a burst aneurysm in his brain.
Hemorrhagic strokes occur when a weakened vessel or aneurysm ruptures and bleeds into the surrounding brain. These "bleeding strokes" have a high mortality and morbidity rate. Most aneurysmal subarachnoid hemorrhages, or bleeding in the space between the brain and the tissue covering the brain from a burst aneurysm, occur between 40 and 60 years of age.
While still in the Emergency Department, a drain was placed by Jonathan Yun, MD, a Valley-affiliated neurosurgeon, to relieve the pressure inside his skull. He was then taken for a cerebral angiogram, a procedure that uses dye and x-rays to see how blood flows through the brain, to get detailed images of his aneurysm that would be used to plan for his surgery.
"I have very few memories of the immediate aftermath, but I recall that surgery had to be done to drain the blood around my brain and take care of the aneurysm," said the 55-year-old. "I feared for my life and even asked my wife to record a video where I said my goodbyes to my family and close friends."
The next morning, Luis underwent complex surgery where surgeons worked together to make an incision in his skull and place a clip at the base of his aneurysm to prevent it from future bleeding. Breehan Chancellor, MD, a Valley-affiliated neurosurgeon, performed a cerebral angiogram during the surgery to evaluate the blood flow while the clip was in place. During his hospital stay, Luis returned to the operating room three times to treat cerebral artery vasospasm, which is when a brain blood vessel narrows, reducing flow.
The Fair Lawn resident's neurologic condition was carefully monitored by highly trained neurologic intensive care unit (ICU) nurses as he continued to receive care from neurosurgeons, neurologists, intensivists, and cardiologists. Though he received aggressive treatment to prevent postprocedural complications, Luis experienced two additional strokes during his hospitalization.
Luis remained at Valley under intensive care until August 31, totaling a nearly two-month stay at The Valley Hospital, when he was transferred to a rehabilitation center, where he spent an additional month.
Although some cognitive deficiencies remain for Luis, after his experience with three strokes, he is physically doing much better.
"I am so fortunate to have asked the ambulance to take me to Valley. I strongly believe I would not be around otherwise," he said. "The Valley staff is caring, knowledgeable, and empathetic. Valley's nurses and doctors saved my life, without a doubt."
For more information about stroke care at Valley, please visit ValleyHealth.com/Stroke.
Warning Signs of Stroke
For warning signs of stroke, remember the B.E. F.A.S.T method, and act quickly.
Balance: Loss of balance, headache, or dizziness
Eyes: Blurred vision
Face: One side of the face is drooping
Arms: Arm or leg weakness
Speech: Speech difficulty
Time: Time to call 911 immediately