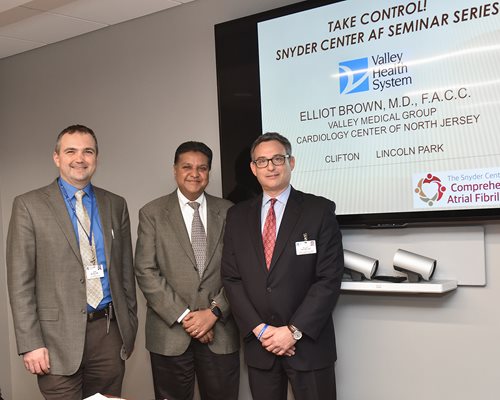 The treatment of atrial fibrillation involves not only world-class medical techniques but a consideration of psychological and behavioral factors as well.
Cardiologist Elliot Brown, MD, FACC, conducts monthly seminars on behavioral cardiology and its impact on atrial fibrillation. The series, called "Making Your Cardiac Comeback," takes place at The Snyder Center for Comprehensive Atrial Fibrillation, 970 Linwood Avenue, Paramus.
To reserve a seat, please call 201-447-8392. All programs begin at 6 p.m.
Atrial Fibrillation Focus Group
Elliot Brown, M.D., Cardiologist, speaks about the ways that AFib patients benefit from attending a focus group.
What is Behavioral Cardiology?
Elliot Brown, M.D., Cardiologist, defines behavioral cardiology.