Program Purpose
PGY1 pharmacy residency programs build on Doctor of Pharmacy (PharmD) education and outcomes to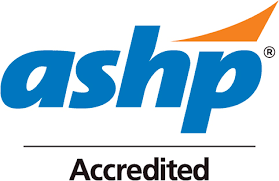 contribute to the development of clinical pharmacists responsible for medication-related care of patients with a wide range of conditions, eligible for board certification, and eligible for postgraduate year two (PGY2) pharmacy residency training. 
The Valley Hospital's PGY1 Community-Based Pharmacy Residency uses a hands-on approach to incorporate both inpatient and outpatient experiences to provide the resident with both clinical and community skills.
Program Description
After orientation to Valley's Pharmacy Department, the resident will begin training to work in the in-hospital community pharmacy, as well as begin a series of learning experiences and other longitudinal activities designed to meet the residency program's goals and objectives.
The longitudinal focus in Transitions of Care consists of interpreting and verifying outpatient prescriptions in addition to providing direct patient care throughout the residency program.
During clinical rotations, the resident will participate in all aspects of patient medication use therapy, including collection, assessment, planning, selection, monitoring, reconciliation, safety, and follow-up. The resident will work as part of the multidisciplinary team, advising physicians, nurses and patients on the appropriate medication use.
By working in both clinical and community pharmacy settings, the community resident will become a well-rounded pharmacist, equipped with the knowledge and skills for a variety of pharmacy settings in their future career.
Required Core Learning Experiences
Rotations 
Orientation (4 weeks)
Transitions of Care: Internal Medicine (4 weeks; 3 days/week)
Transitions of Care: Emergency Medicine (9 weeks; 2 days/week)
Longitudinal 
Disease State Management 1 (3 months; 1 day/week)
Disease State Management 2 (3 months)
Disease State Management 3 (3 months)
Medication Therapy Management (10 months; 1 day/month)
Palliative Care 1 (3 months; 1-2 hours/week)
Palliative Care 2 (4 months; 1 day/week)
Transitions of Care: COPD (9 months; 1-2 hours/week)
Community Pharmacy Practice: Patient Centered Dispensing (10 months; 4-8 hours/week; staff: 2 Saturdays/month; 12 hours)
Community Outreach (10 months; 1-2 days/month; smoking cessation: 1-2 hours/week)
Leadership and Management (10 months; 4-6 hours/week)
Business Plan (6 months)
Quality Improvement Project (4 months)
Residency Project (10 months)
Education (10 months)
Elective Learning Experiences
Oncology (4 weeks)
Resident-Designed Rotation (Duration TBD)
Teaching Responsibilities
Completion of the Teaching Certificate program
Precept students
ACPE continuing education presentation
Journal club and speed journaling
Lead student topic discussions
School of Pharmacy classroom lecture