Program Purpose
PGY1 Community‐Based Pharmacy Residency Program Purpose: To build upon the Doctor of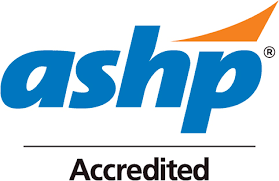 Pharmacy (PharmD) education and outcomes to develop community‐based pharmacist practitioners with diverse patient care, leadership, and education skills who are eligible to pursue advanced training opportunities including postgraduate year two (PGY2) residencies and professional certifications.

The Valley Hospital PGY1 Community-Based Pharmacy Residency program offers training, education, and practice experience in the following pharmacy services: medication management (including comprehensive medication management and targeted medication intervention services with follow-up; health and wellness; immunizations, disease state management incorporating medication management, and care transitions including medication reconciliation and medication management; and patient-centered medication distribution).
Program Description
The resident annual schedule is determined based on incoming interests of the resident. The length of time for each learning experience is flexible to accommodate the special interests of the resident. Learning experience offerings are outlined below. 

Estimated total % emphasis per competency area:
Patient care 70%
Leadership & management 15%
Advancement of community-based practice and improving patient care 10%
Teaching, education, and dissemination of knowledge 5%
Pharmacist Patient Care Process (PPCP) is utilized for patient care.
Learning Experiences
Required
Orientation - Rotational
American Lung Association Better Breathers Club (patient support group) - Longitudinal
Community Outreach Events (brown bags, health fairs, Teddy Bear Clinic, etc.) - Concentrated events as scheduled
Community Pharmacy Practice Patient-Centered Dispensing, Immunizations, and Outcomes MTM - Rotational
Disease State Management Ambulatory Care - Rotational + longitudinal
Duty Hour Documentation- Longitudinal
Immunization Clinics & Events - Concentrated events as scheduled
Infusion Center - Outpatient & Ambulatory Care - Rotational
Leadership & Management - Rotational x 4 weeks + concentrated as scheduled
Medication History & Reconciliation - Rotational
Medication Therapy Management/Employee Health & Wellness - Concentrated
Palliative Care 1 - Longitudinal
Palliative Care 2 Ambulatory Care - Longitudinal
Quarterly Updates (Resident Development Plan) & Exit Interview - Concentrated
Recruiting/Residency Showcases - Concentrated as scheduled
Smoking Cessation Support Group - Longitudinal
Specialty Pharmacy - Rotational + longitudinal
Staffing/Independent Practice (Community, Outcomes MTM, Specialty, Medication Reconciliation, on-call) - Longitudinal
Major Projects
Business plan
Collaborative Drug Therapy Management (CDTM) agreement development
Newsletter article
Pharmacy Week coordination
Quality improvement project
Residency interviews coordination
Residency project
Teaching & Precepting
Co-precepting your own student - Rotational
Journal Clubs, case presentations, in-services, topic discussions, student project mentoring
Preceptor "Boot Camp"
Present live CE lecture for pharmacists and technicians
Teaching certificate (includes classroom teaching in large groups, small groups, and labs)
Conferences
ASHP: Midyear Clinical Meeting (Dec.) & Eastern States Conference for Residents and Preceptors (April)
NJ Pharmacists Association (NJPhA): Dinner meeting (spring)
NJ Society of Health System Pharmacist (NJSHP): Tri-State Health-System Summit (fall) & Annual Conference (spring)
Electives
Antimicrobial Stewardship Transition-of-Care - Rotational
Clinical Trials & Investigational Drugs - Rotational
Code Blue - Longitudinal
Emergency Department Transitions-of-Care - Rotational
Internal Medicine Transitions-of-Care - Rotational
Nutrition Support - Enteral - Rotational
Oncology for the Community Patient - Rotational
Resident-driven