Valley's Pharmacy Department is comprised of a dedicated team of pharmacy professionals, including: 
Registered pharmacists
Technicians
Pharmacy residents
Coordinators 
Supervisors
Retail Pharmacy Staff
Valley Health Pharmacy at The Luckow Pavilion
William Cinnante, III, RPh, Chief Pharmacist, has served in this role at Valley Health Pharmacy since the pharmacy's opening in 2002. A registered pharmacist with more than 30 years of experience in retail pharmacy and six years of experience in mail order pharmacy, Bill came to Valley from a retail pharmacy and has been serving patients in the area his entire career. Bill is a graduate of Rutgers College of Pharmacy.
Suzanne Donadio, Licensed Pharmacy Technician, has been with Valley for more than 20 years. She has been involved with The Community Care program in Hawthorne for most of that time, where she is responsible for much of the charity care delivered to Community Care patients through the Patient Assistance Program of many pharmaceutical manufacturers. She joined the Valley Health Pharmacy soon after it opened in 2002.
Diane Beahm, Licensed Pharmacy Technician, has been with the Valley Health Pharmacy since 2006. She is committed to the highest levels of customer service and truly enjoys meeting with customers and answering their questions.
Valley Health Pharmacy at The Valley Hospital
Gita Natovich, PharmD, and Raymond Hawash, PharmD, are graduates of Arnold and Marie Schwartz College of Pharmacy at Long Island University. They each bring nearly 15 years of pharmacy experience to Valley and have also worked at the Luckow Pavilion retail pharmacy.
Pharmacy Residents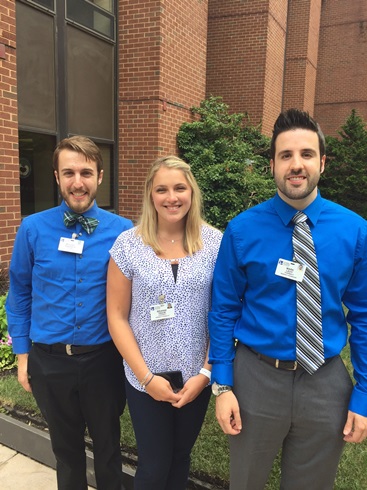 Michael J. Gabriele, PharmD, is the pharmacist for The Valley Hospital's PGY-1 Community Residency position. Dr. Gabriele graduated from Rutgers University in 2017 with a Doctor of Pharmacy degree. With a passion for the developing field of Transitions of Care, selecting The Valley Hospital's PGY-1 Community Residency was a natural choice. The program consists of working closely with the pharmacists in the hospital's new outpatient pharmacy to enhance the transitions of care that patients experience as they are treated and discharged. Since beginning his residency, Dr. Gabriele has helped launch the hospital's "Meds to Beds" program, prepared presentations for the hospital's Pharmacy and Therapeutics Committee, and has become certified in Advanced Cardiac Life Support. After completing his residency, Dr. Gabriele's plan is to continue practicing as a Transitions of Care Pharmacist, assisting patients as they move throughout the healthcare system.
Mark Levy, PharmD, a PGY-1 Resident Pharmacist at Valley, graduated from the University of Buffalo after completing his bachelor's degree in nutritional sciences from the University of Connecticut. Dr. Levy gained interest in the field while working at Florida Hospital during his PhD program in molecular pharmacology. His areas of interest include critical care, infectious diseases and informatics/management. He chose The Valley Hospital for its balanced structure of clinical, administrative and staffing responsibilities that the residency offers for professional and personal growth. Dr. Levy has been involved with creating a new rotation in nutritional support, attending codes, rounding with the medical teams in various specialty areas, and participating in a teaching certificate program. Upon completion of the residency program, Dr. Levy plans to obtain a clinical pharmacotherapy specialist position.
Brianne Traub, PharmD, earned her doctor of pharmacy degree from Philadelphia College of Pharmacy. Dr. Traub is a PGY-1 Resident Pharmacist at Valley, where she is excited to expand the roles of pharmacists and improve patient care. Dr. Traub chose The Valley Hospital because of its diverse learning experiences and its involvement with students from local pharmacy schools. After residency, Dr. Traub sees herself as a clinical pharmacist working in either the ambulatory care setting or the emergency department.