It had always been a dream for James Shammas, MD, a neurologist at The Valley Hospital, to climb Mount Kilimanjaro in Tanzania with his daughter, Olivia. Unfortunately, the COVID-19 pandemic put their trip on hold, and Dr. Shammas's severely arthritic knees made it seem like the trip would probably never happen. That is, until he decided to get bilateral knee replacements at Valley.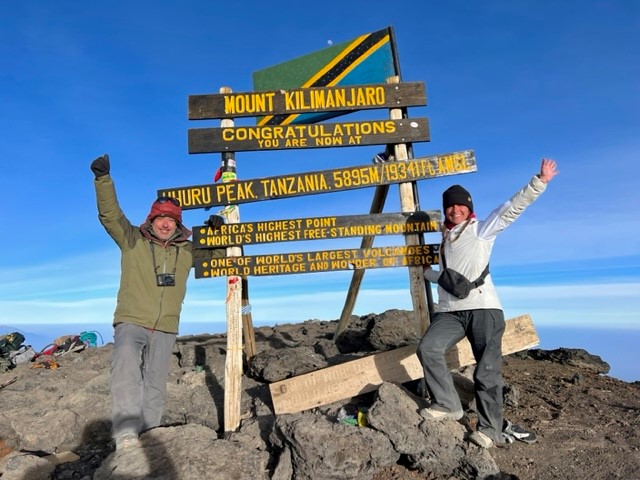 The 58-year-old neurologist did research on multiple institutions and was ultimately pleased with Valley's MAKO robotic system and rehabilitation program.
In September and November of 2021, Dr. Shammas had a bilateral knee replacement staged one after the other by Anthony Delfico, MD, a Valley-affiliated orthopedic surgeon.
"Dr. Shammas had very arthritic knees for a young man. Arthritis can cause pain, stiffness, and deformity, including bowing of the knees. When we do a total knee replacement, our goal is to alleviate the pain and stiffness and correct the deformity. The MAKO robotic system assists us in achieving these goals by making precise cuts in the bone," said Dr. Delfico. "With the help of the robot, we can achieve a perfect fit and correct the angular deformity. This allows the patient to recover more quickly and the knee to function more naturally because the knee fits properly and is aligned accurately." 
After his surgery, the Franklin Lakes resident used Valley Home Care, where a nurse and physiatrist came three times a week for two weeks.
"I am pleased with every aspect of my treatment at Valley. The staff is always courteous and thorough," said Dr. Shammas. "I have been a patient at Valley many times before, and it has helped me to be a better doctor in my own practice. We forget what patients go through and are appreciative when we see our fellow doctors as role models for us, too."
A year after his bilateral knee replacements and after clearance from his cardiologist and Dr. Delfico, on September 24, 2022, Dr. Shammas and his daughter reached the summit of the highest free-standing mountain in the world at 19,341 feet.
"I made a great recovery, and Olivia and I succeeded in our goals. We summited successfully and went on to enjoy our success on a relaxing safari, with not a hint of discomfort in my wonderful new knees," said Dr. Shammas. "Thank you to Dr. Delfico, The Valley Hospital, and Valley's physical rehabilitation program for restoring, fairly quickly, my active lifestyle as an avid hiker and for allowing my daughter and I to accomplish this dream trip of a lifetime."