By Madelyn McHale
Madelyn McHale is a Valley patient who received cancer care from Valley. She was first diagnosed in 2019 and had an outstanding experience with all of the doctors and staff who treated her. Read her story below - in her own words.
"The pain — and the MRI — that saved my life"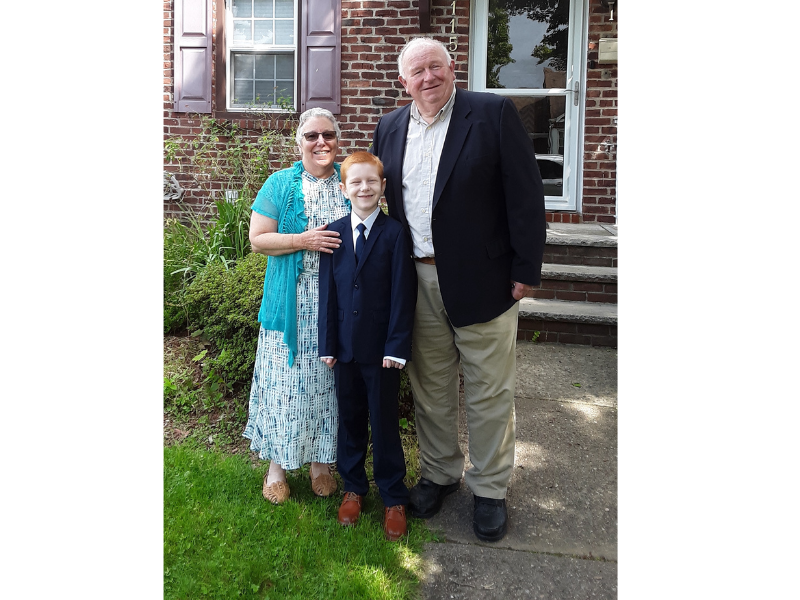 For about a week, I had sharp, horrible pain in my abdomen that was consistent and constant.
My regular doctor was at another institution, not Valley. I had been going to him for 35 years. I called to see if they could see me. They said they couldn't fit me in.
My husband, Joe, was seeing a primary care doctor at Valley, Dr. Gina Cabela. I called and got an appointment right away. They never treated me like a stranger.
She first treated me for diverticulitis. But when I didn't get better, that bothered her. She had me go for an MRI. Dr. Cabela could have put me on a diet; she could have tried other things.
I had stage 3 peritoneal carcinomatosis [cancer of the peritoneum, the membrane that surrounds your abdominal organs]. It was all over my abdomen.
"I was a nervous wreck."
Cate Donovan was my first nurse at infusion. She was friendly, and somehow, she knew I needed to know about her to trust her and what was going to happen in infusion.
I was a nervous wreck. We talked about family, church, and our kids. We bonded, I relaxed and actually enjoyed the whole four-hour experience at infusion.
After four months of chemo I had surgery with Dr. Marie Welshinger to remove everything gynecological and my appendix. The surgery went well. My family was waiting outside. She explained everything and sat with them for such a long time.
A month later, I was back to chemo and there was Cate. I was so happy to have her as my nurse for my first time back. She, of course, remembered me.
"They were saving my life."
The chemo drug was started and all seemed fine. But my feet began to itch. I was busy trying to get my shoes and socks off while a volunteer who had been talking to us went to get Cate. Cate came over calmly with another nurse, Caree Guzman, and turned off the chemo and began administering meds.
They kept up a friendly calm conversation with me, asking if the itching was getting better and how was I feeling. They were saving my life. It wasn't until my doctor's assistant came to check on me that I realized how serious it was.
Chemo was restarted and I was able to complete treatment without any problem.  Cate—ever calm and professional—made me relaxed and comfortable.
"At Valley infusion, they work as a team."                      
Recently, Dr. Teplinsky started me on a new infusion drug. My first time back to infusion for the new drug, I was nervous. I wasn't sure if I'd be lucky enough to have no troubling side effects from this drug as well.  
My nurse, Katie Gale, came out to get me even though I was early. She saw that I had signed in. She explained that since she was ready, she didn't want to make me wait.
As we chatted into infusion, I saw Cate walking ahead of us. I explained to Cate that I was starting a new drug. Somehow Cate realized I'd be more comfortable with a few more minutes of her time.
Here at Valley infusion, they work as a team. Cate and Katie worked it out (without me knowing) that Cate would put in my IV and chat and reassure me. I was instantly calm and listened to Cate's advice about getting a port, which had been suggested.
After that, Katie was my wonderful, cheerful nurse the rest of my time at infusion. I could not thank her enough. That few minutes with Cate set me up to be confident and comfortable. Katie allowed me to have that gift. 
"I knew I didn't need a second opinion."
Everyone told me to get a second opinion. But I knew I didn't need a second opinion. I was confident I was where I belonged.
I felt comfortable with Dr. Teplinsky as soon as I met her, and with Dr. Welshinger and Dr. Cabela. They have never steered me wrong with my clinical care.
I've never seen anyone at Valley having a bad day — from the receptionists to valet to the nurses and doctors. The compassion, the care they show makes such a difference. They know your name and what to joke with you about.
"Being with the 'Valley' kind of people."
I often come to Valley's cancer center every week.  And being with the "Valley" kind of people with whom you enjoy visiting—it's wonderful. It takes away the worry.
I have had a long journey through chemo with many fantastic experiences of caring, talented, (young) wonderful doctors, and compassionate, knowledgeable miracle workers in infusion.
I talk about Valley all the time; I do not regret this journey with cancer as it has introduced me to many beautiful angels on earth.