September 26, 2017
Valley Health System and The Valley Hospital were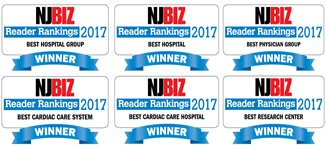 ranked as number the number one health system and hospital, respectively, in New Jersey in a recent NJBIZ Reader Rankings survey. Valley Medical Group was also ranked the number one physician group in the state. 
This past summer, NJBIZ asked the community to vote for their favorite New Jersey business or organization within 50 different categories.  Valley placed at the top of every category in which it was listed as an option.
"These survey results are a reflection of the compassionate, high-quality care and service Valley provides its patients and their families each and every day," said Audrey Meyers, President and CEO of The Valley Hospital and Valley Health System.  
Valley also ranked as number one in the following categories:
•    Best Cardiac Care System
•    Best Cardiac Care Hospital
•    Best Research Center
The top three winners in each category are featured in a special supplement of NJBIZ. You can read more at www.NJBIZ.com.