April 23, 2018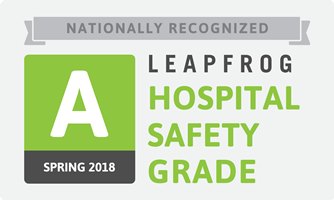 The Valley Hospital is proud to have been recognized with an "A" grade for patient safety for the twelfth time from The Leapfrog Group, an organization aiming to improve health care quality and safety for consumers and purchasers. Valley was one of 750 hospitals to receive an "A," ranking it among the safest hospitals in the United States. 
The Leapfrog Hospital Safety Grades rate how well hospitals protect patients from preventable medical errors, injuries, infections and accidents within the hospital.
"We are pleased and proud to once again receive an 'A' for patient safety," said Audrey Meyers, President and CEO, The Valley Hospital and Valley Health System. "This top grade is a result of Valley's longstanding dedication to ensuring patient safety and high-quality care."
Developed under the guidance of an Expert Panel, the Leapfrog Hospital Safety Grade uses 27 measures of publicly available hospital safety data to assign grades to approximately 2,500 U.S. hospitals twice per year. It is peer reviewed, fully transparent and free to the public.
"This is the only national rating of how well hospitals protect patients from preventable harm and death, such as medical errors, infections and injuries," said Leah Binder, President and CEO, The Leapfrog Group. "Receiving an 'A' Safety Grade means a hospital is among the best in the country for preventing these problems and putting their patients first, 24 hours a day." 
To see Valley's full grade details, and to access patient tips for staying safe in the hospital, visit www.hospitalsafetygrade.org and follow the Leapfrog Hospital Safety Grade on Twitter and Facebook. 
About The Leapfrog Group 
Founded in 2000 by large employers and other purchasers, The Leapfrog Group is a national nonprofit organization driving a movement for giant leaps forward in the quality and safety of American health care. The flagship Leapfrog Hospital Survey collects and transparently reports hospital performance, empowering purchasers to find the highest-value care and giving consumers the lifesaving information they need to make informed decisions. The Leapfrog Hospital Safety Grade, Leapfrog's other main initiative assigns letter grades to hospitals based on their record of patient safety, helping consumers protect themselves and their families from errors, injuries, accidents, and infections.
About The Valley Hospital 
The Valley Hospital, a 451-bed, acute care, not-for-profit hospital located in Ridgewood, NJ, is part of Valley Health System, which also includes Valley Home Care and Valley Medical Group. Valley is the recipient of numerous awards and recognitions. These include Gold Seals of Approval from The Joint Commission in 14 clinical areas, including six for cancer care, more than any other hospital in the nation. Valley has been recognized by Healthgrades as one of America's 100 Best Hospitals for both Stroke Care and General Surgery, and has been named in the top five percent in the nation for stroke care, general surgery and cranial neurosurgery. Additionally, Valley has also received Excellence Awards from Healthgrades in the areas of cranial neurosurgery, stroke care, general surgery, pulmonary care and neurosciences. Valley has also been honored three times with Magnet designation – the nursing profession's highest honor. Valley is a cardiovascular affiliate of the Cleveland Clinic Heart and Vascular Institute, and an academic and clinical affiliate of the Mount Sinai Health System. Key services include cardiology, oncology, women's and children's services, emergency care, orthopedics and neurosciences.
For more information, please visit www.ValleyHealth.com, and follow Valley on Facebook, Twitter and Instagram.