---
We are delighted and thank you for your interest in applying to the Internal Medicine Residency Program at Valley Health System. This program is accredited by the Accreditation Council for Graduate Medical Education (ACGME), and sponsored by Icahn School of Medicine at Mount Sinai. Learn more about our program below.
From the Program Director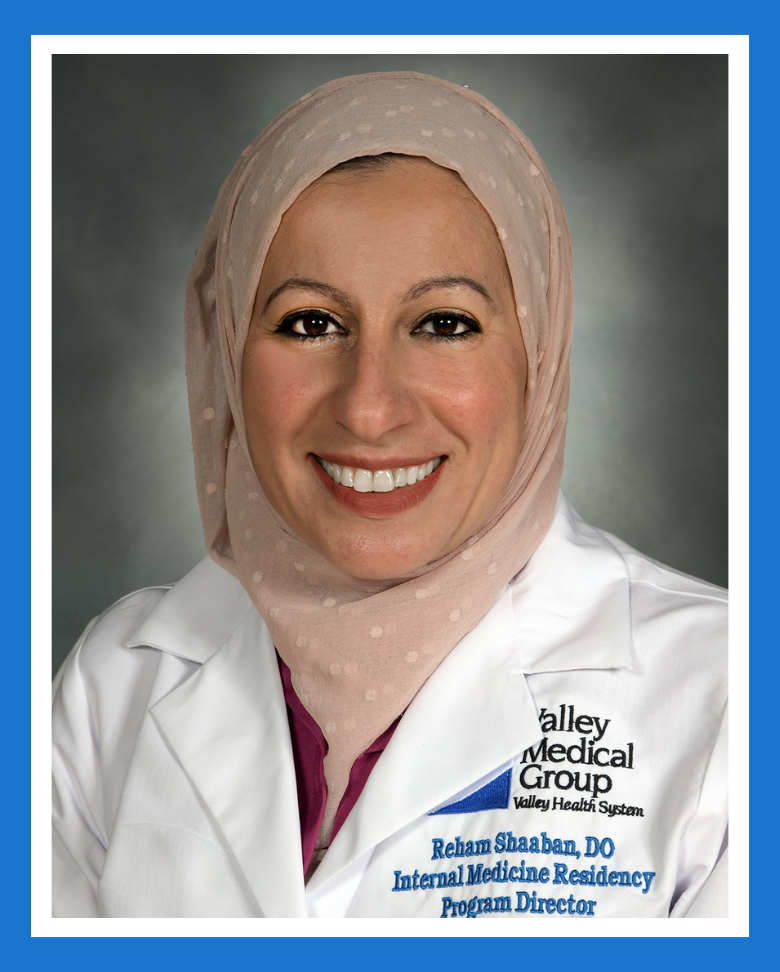 Welcome to the Valley Health System - Icahn School of Medicine at Mount Sinai Internal Medicine Residency Program in Paramus, New Jersey!
We take great pride in designing a program to train our residents to become the best doctors of tomorrow. This is exemplified through our program vision: to achieve exceptional healthcare and well-being outcomes for the communities we serve through medical education. We are committed to taking exceptional care of our patients, our program, each other, ourselves, and the community. As a team, we strive to create and promote a community hospital learning environment that is conducive to training curious, empathetic, compassionate, and ethical physicians who place high-quality, personalized, culturally sensitive patient care as their focus of practice. We look forward to meeting with you and answering all of your questions as you explore our program and the opportunities that exist here at Valley-Icahn School of Medicine at Mount Sinai.
The Valley Hospital has earned multiple national recognitions, including being named one of America's 100 Best Hospitals by Healthgrades. The Valley Hospital in Paramus, scheduled to open in April 2024, will maintain an intimate atmosphere in a brand-new, state-of-the-art medical center. Through a strong academic sponsorship and affiliation with the Mount Sinai Icahn School of Medicine, our residents will have the resources and academic rigor of one of the top medical schools and graduate medical education program sponsors in the country.
Our residency curriculum is designed to emphasize outstanding, high-quality, evidence-based clinical care, patient ownership, bedside and team-based care, innovation, and leadership skills. Our newly accredited residency program is focused on providing a balance of experiences to all of our residents across inpatient, ambulatory, and specialty care. The residency program is designed for students who are curious, compassionate, and focused on actively engaging in designing the future of medical education and training.
Our mission is to train the next generation of healthcare leaders who are committed to clinical excellence, education, and intellectual curiosity. Our versatile program offers the opportunity to elect from numerous clinical experiences, all of which have been designed to foster individualized career goals and preferences. We owe our capability to support such an innovative program to our exceptional truly dedicated faculty, who unfailingly devote their time and enthusiasm to our residents' education and professional growth.
Why choose Valley? Our staff attests that it's the strong focus on clinical care, a strong sense of camaraderie, support, and celebration of diversity that attracted them the most to Valley Health System.
If you are looking for a graduate medical education experience in a unique program with a community-based approach, that includes the academic rigor and innovative culture of a large, nationally recognized academic sponsor, consider making Valley Health System your home. As a Valley physician myself, I can attest that The Valley Hospital is a great place to work. Our associate program directors, faculty, and I look forward to sharing our program and institution with you and welcome your interest!
Sincerely,