As a new program, you'll find many advantages to training at Valley Health System. 
Commitment to Education: Our programs are sponsored by the Icahn School of Medicine at Mount Sinai, one of the nation's largest Graduate Medical Education programs in the United States and approved by the Accreditation Council for Graduate Medical Education (ACGME).

We are proud and enthusiastic to be involved in welcoming residents to our health system and providing exceptional education and training to the next generation of Physicians in the region. Valley Health System offers the benefits of diverse faculty, complexity and variety of clinical experiences, in addition to the New Valley Hospital and Resident clinic, and resources to ensure success at the completion of training.

Exceptional Faculty: Our clinical faculty are leaders within their specialties, dedicated to life-long learning and teaching. Our programs are designed to give each learner direct interaction with faculty, which fosters a great learning climate, mentorship, and teaching.
---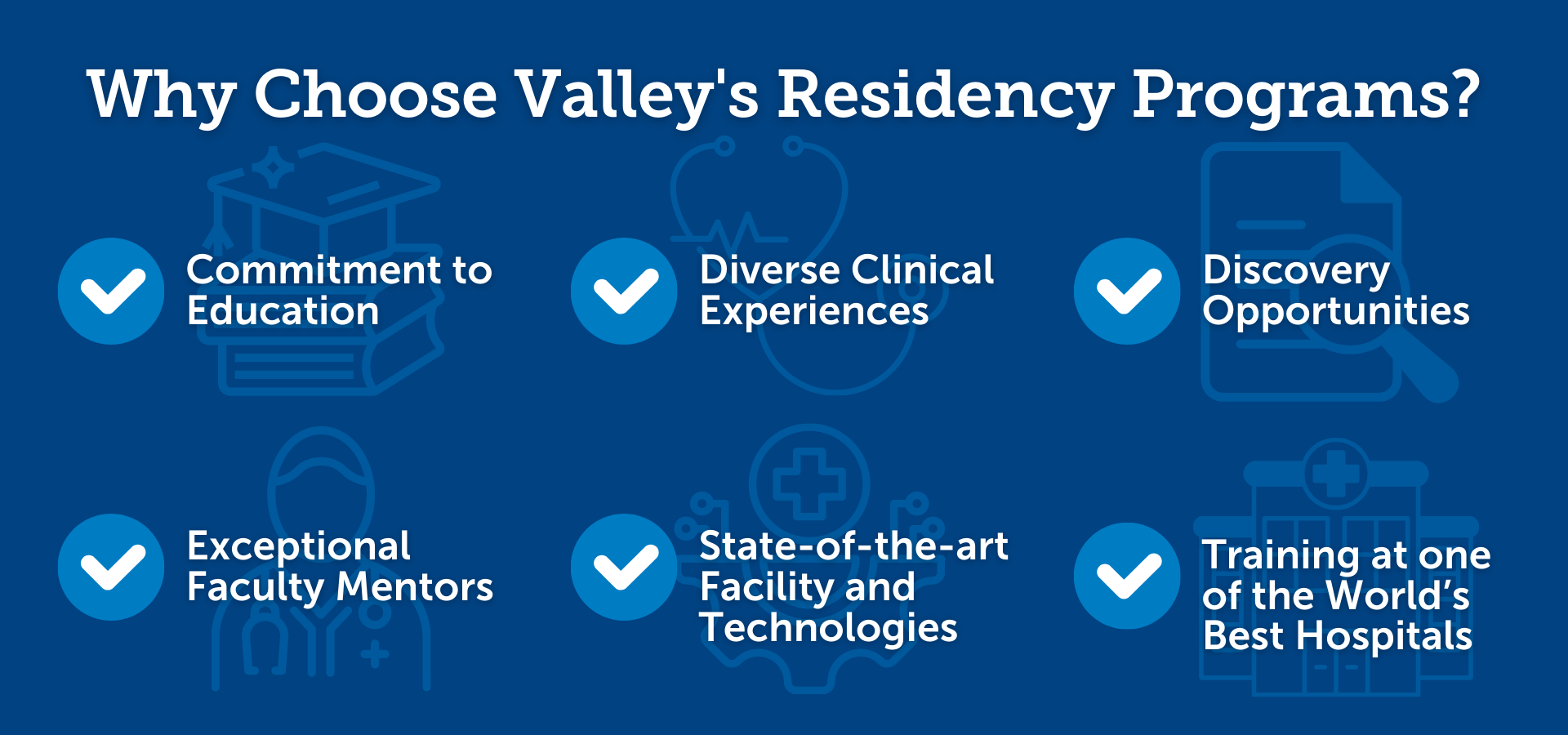 ---
Diverse Clinical Experiences: Our institution is one of the main healthcare facilities within Bergen County and serves its surrounding communities. This creates the opportunity for our providers to treat rare, complex, and unusual clinical cases in addition to routine medical care.
Training at one of the World's Best Hospitals: Valley is one of the most honored healthcare organizations in New Jersey. Our awards and recognitions are a testament to the exceptional, distinctive care our providers and staff deliver every day. From being named One of America's 100 Best Hospitals by Healthgrades, to ranking among Newsweek's World's Best Hospitals, there is no shortage of elite distinguishments at Valley.
---

---
State-of-the-art facility and technologies: Early next year, The Valley Hospital will be moving to its new facility in Paramus. The Valley Hospital in Paramus will provide an even better experience for our patients and their families. Single-patient rooms, for example, will enhance patient privacy, safety, and comfort.  A flexible facility design, with such features as universally sized operating and procedure rooms, will enable the hospital to adapt to changing needs and medical technology. And our new location and larger campus will allow us to grow our community outreach, empowering and inspiring people to live healthier lives. 
Discovery: All our trainees will engage in cutting-edge research in basic sciences, and clinical medicine alongside our award-winning research department and clinical faculty.
Our Culture
Working at Valley Health System, you will find that our culture offers a supportive, family-oriented environment, with approachable and helpful team members, that encourage and support work-life balance.
We strive to fulfill our SERVE and CARE standards and values: 
Service: We are privileged to collaborate with and serve our patients, their families, our community and each other.
Excellence: We maintain the highest standards of care at all times.
Respect: We treat everyone with dignity and sensitivity.
Value: We value our patients, our staff, and the communities we serve.
Ethics: We are honest and fair in all we say and do.
Connect: First, make a connection.
Attitude: Attitude is everything.
Resiliency: Believe in your strength.
Empathy: Walk a mile in another's shoes.
Our Commitment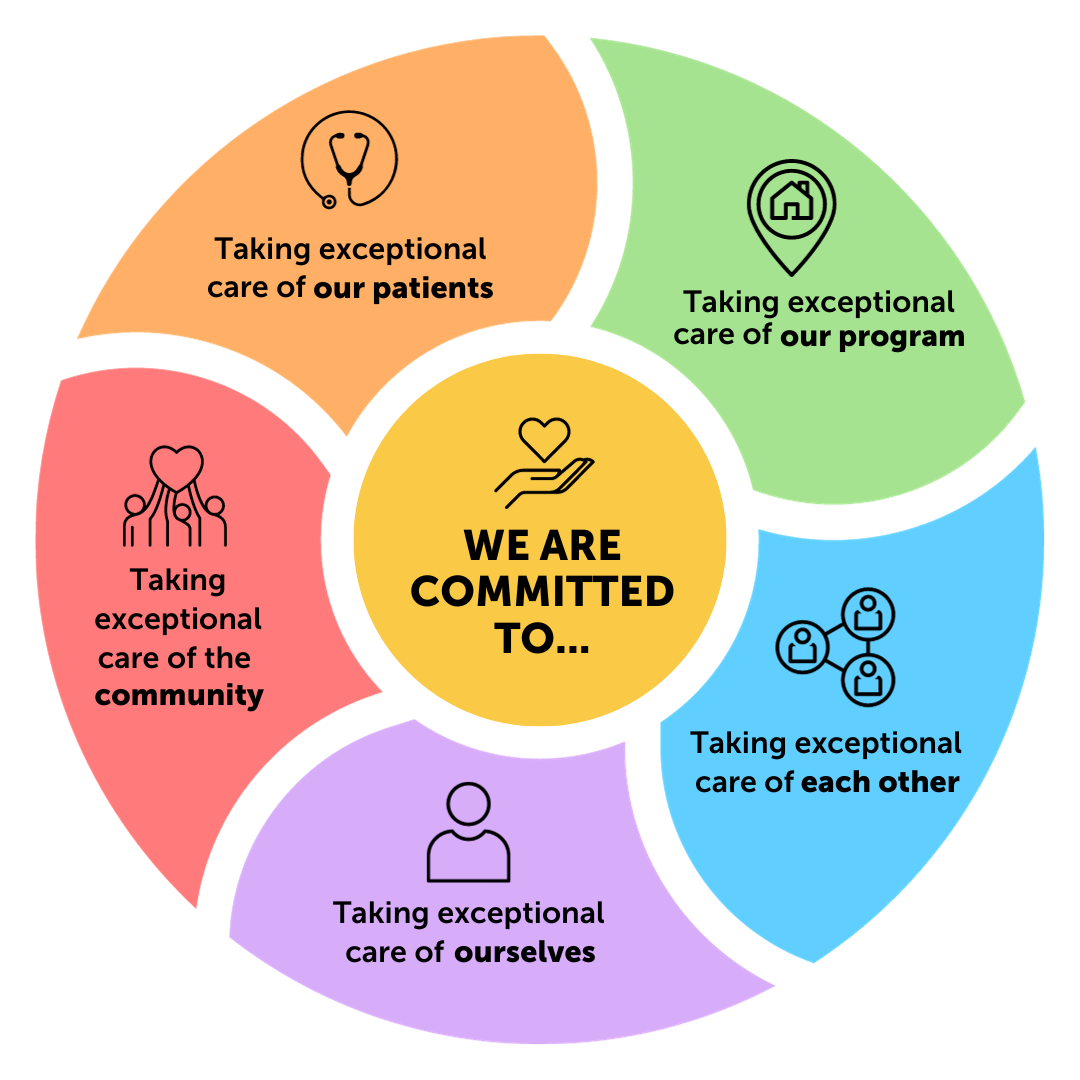 Guided by our institution's vision, we pursue to deliver exceptional medical education and training by investing in our people, programs, facilities, and technology, and offering the highest quality clinical services and patient-and-family-centered care. Valley Health System will be the system of choice for our community, and we encourage you to explore our website to learn more about education at Valley Health System.