September 15, 2021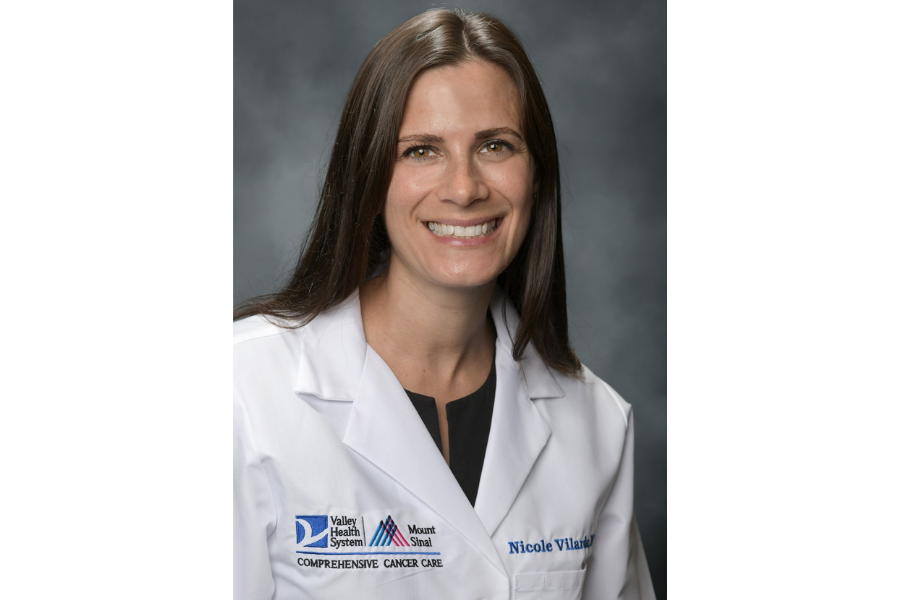 Valley Health System is pleased to welcome gynecologic oncologist Nicole Vilardo, MD, to Valley-Mount Sinai Comprehensive Cancer Care.
Dr. Vilardo specializes in gynecologic malignancies, including ovarian, cervical, and uterine and vulvovaginal cancers; pelvic masses; and complex gynecologic surgery, including both open and minimally invasive approaches. She has been published in numerous publications and has participated in extensive research in the field of gynecologic cancer. Dr. Vilardo is board certified by the American Board of Obstetrics and Gynecology.
"I believe the best care does not only treat the body but supports patients and their families emotionally as well. This is especially true for women with gynecologic cancer. My approach to patient care is multifaceted to address all aspects of a diagnosis and provide patients with compassionate care and the best quality of life possible," said Dr. Vilardo. "Valley's reputation of sensitivity and compassion is something I look forward to becoming a part of." 
Valley-Mount Sinai Comprehensive Cancer Care is a partnership between Valley Health System and the Mount Sinai Health System, offering personalized, leading-edge, and patient-centered cancer care in northern New Jersey. The specialized programs, distinctive technologies, and specialists in each disease, combined with compassionate attention, are what makes a real difference for patients and their families every day.
"We are excited for Dr. Vilardo to join the team and bring her expertise and compassionate approach to care to our program," said Marie Welshinger, MD, Medical Director, Gynecologic Oncology.
Dr. Vilardo received her medical degree from Dartmouth Medical School. She completed her OB/GYN residency at Yale New Haven Hospital and Gynecologic Oncology fellowship at the Montefiore Medical Center/Albert Einstein College of Medicine. 
For more information about Valley-Mount Sinai Comprehensive Cancer Care, please visit ValleyHealth.com/Cancer. To make an appointment with a Valley oncologist, please call 201-634-5401.