September 22, 2022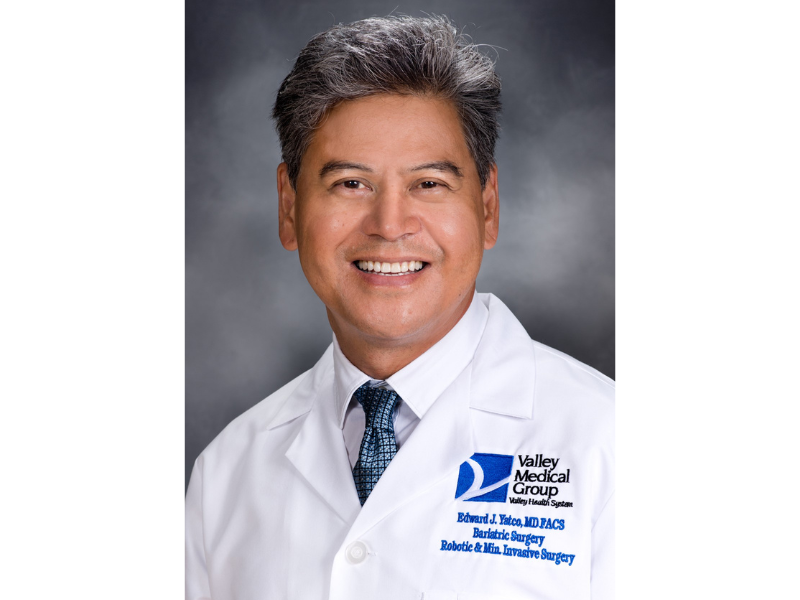 Valley Health System is pleased to announce the appointment of Edward Yatco, MD, FACS, as Medical Director of Robotic and Minimally Invasive Surgery at Valley Medical Group. Dr. Yatco will also serve as the Subspecialty Director of Bariatric Surgery at The Valley Hospital.
Dr. Yatco is board certified in general surgery and specializes in minimally invasive and robotic bariatric and general surgery, specifically primary and revisional bariatric surgery, gastrointestinal surgery, hernia repair, and anti-reflux surgery. He has performed laparoscopic obesity surgery since 2002 and was among the first bariatric surgeons to perform a conversion from a gastric bypass to a modified duodenal switch using the da Vinci® Xi surgical system. 
Dr. Yatco offers the following surgical options for weight loss: vertical sleeve gastrectomy, Roux-en-Y gastric bypass, modified duodenal switch (SADI, SIPS), adjustable gastric banding, and bariatric surgery revisions (for weight regain).
Prior to Valley, Dr. Yatco served as the Assistant Chief of Bariatric Surgery at Lenox Hill Hospital/Northwell Health in New York. He has published numerous articles and has spoken at national conferences about laparoscopic, robotic, and bariatric surgery. 
"I am looking forward to growing an already well-established bariatric surgery program that has a great reputation for individualized patient care," said Dr. Yatco. "Valley's dedication to promoting medical technology is evidenced by the construction of The Valley Hospital in Paramus, a new state-of-the-art hospital, and Valley Health System's commitment to new patient treatment modalities, such as robotic surgery." 
"We are excited to have Dr. Yatco join our surgical team here at Valley," said Thomas Ahlborn, MD, Chair of Surgical Services for Valley Medical Group. "His expertise and skills in bariatric and robotic surgery will be a great asset."
Dr. Yatco received his medical degree from the State University of New York at Stony Brook School of Medicine. He completed a residency in general surgery at St. Vincent's Medical Center in New York City and a minimally invasive surgery fellowship at The Institute of Minimally Invasive Surgery at Westchester Medical Center in Valhalla, New York. 
For more information about robotic surgery at Valley, please visit ValleyHealth.com/RoboticSurgery.