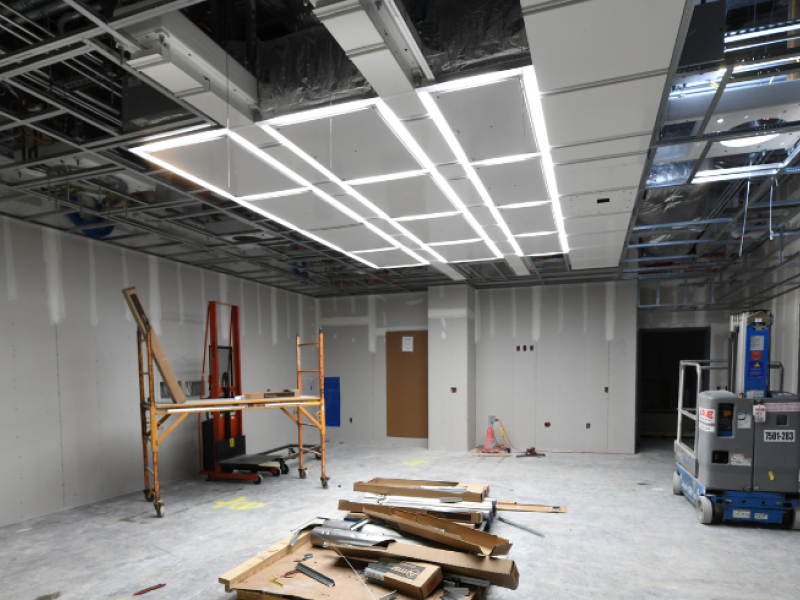 Valley's cardiovascular service line is excited to provide everything medicine can do and a few things medicine can't at The Valley Hospital in Paramus. Throughout the planning stages of the project, the cardiovascular team has played an integral role. Physicians, nurses, and administrative staff have reviewed the designs with a focus on providing high quality care and improving patient safety and shared their feedback. With their guidance, a comprehensive, integrated design has been developed, which will provide a seamless patient experience.
An interventional platform has been developed that includes three electrophysiology labs; two dedicated cardiac catheterization laboratories; a dedicated cardiac operating room (OR); and two hybrid operating rooms. The hybrid spaces can be utilized interchangeably as two additional cardiac catheterization laboratories or as hybrid cardiac operating rooms. This flexible design will significantly increase the cardiovascular team's capacity for minimally invasive procedures.
Shadow reducing surgical lights have been included in the design of these interventional suites. The lighting management system provides consistent brightness and eliminates unwanted shadows, even when the surgeon is working directly underneath.
The interventional platform has been strategically placed one floor above the emergency department (ED). A dedicated elevator connects the interventional platform directly to the ED. The adjacencies of these services allow for efficient response time in the event of emergent cardiac care. Positioned next to the ED, one level below the interventional platform, is diagnostic imaging, which will house Valley's Advanced Cardiovascular Imaging Program.
Should an inpatient stay be required, a dedicated cardiac floor and cardiac critical care unit are available. These rooms follow the single-patient design, seen throughout the hospital, to offer patients privacy and provide ample space for patients and their loved ones to spend time together.
In addition to providing elite cardiovascular care, Valley cardiologists are also researchers who lead and participate in groundbreaking research and clinical trials for heart disease. With a focus on advancing patient outcomes, a dedicated space for the cardiac clinical trials team has also been conveniently located adjacent to the cardiovascular procedural rooms.
To learn more about The Valley Hospital in Paramus, please visit ValleyHealth.com/NewHospital. You can also follow our construction journey on YouTube.