Hi, Mamas!!
I recently partnered up with Erin McHugh and LaShawn Michalski, Fitness Exercise Specialists at Valley Health LifeStyles in Mahwah, for fun and easy workouts. Try them for yourself here!
Thrive! Fitness - Stroller Workout
Thrive! Fitness - Leg & Glute Workout
You can find more Thrive! videos on The Valley Hospital's YouTube channel! 
---
As we continue to explore our "new normal," face masks are a key part of staying safe! I worked with Valley's director of developmental pediatrics, Dr. Lisa Nalven, to share some information on face masks and young children!  
Our parent guide, "Children and Face Masks," offers tips for encouraging your child to wear their mask. By wearing a mask, kids don't just keep themselves healthy - they can keep their families and community safe, too ... like a true superhero! 
Click on the image below to download the full PDF!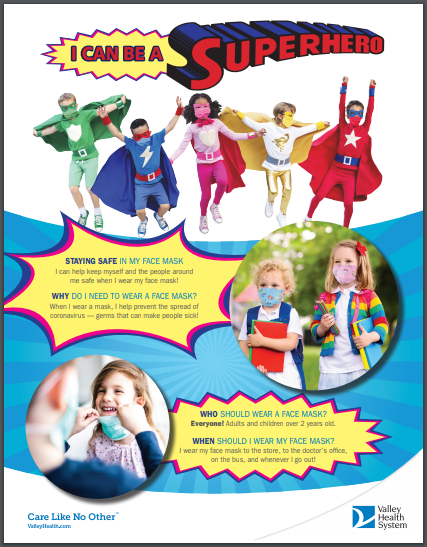 ---
Stay well, and stay connected!
– Danielle