Hi, Mamas!!
As our state works to safely re-open and we explore our "new normal," face masks are going to be a key part of staying safe! I worked with Valley's director of developmental pediatrics, Dr. Lisa Nalven, to share some information on face masks and young children!  
Our parent guide, "Children and Face Masks," offers tips for encouraging your child to wear their mask. By wearing a mask, kids don't just keep themselves healthy - they can keep their families and community safe, too ... like a true superhero! 
Click on the image below to download the full PDF!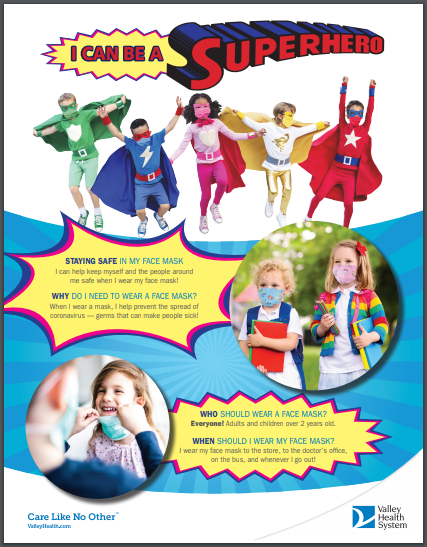 Summer Fun at Home
While more families are starting to venture outside (wearing face masks, of course!), some are opting to remain closer to home - and that's OK! It's all about what you're comfortable doing right now. 
Be sure to check out my video with fun activities you can do any time at home with your kids! 
Bonus Activities ... Just for Mom! 
A quick reminder that Valley's Health & Wellness Center has FREE LifeStyles at Home fitness classes online! There are lots of great classes right at home, from cardio and strength training workouts to mind/body classes. Check them out on our LifeStyles website! 
Stay well, and stay connected!
– Danielle