Radiation Oncologists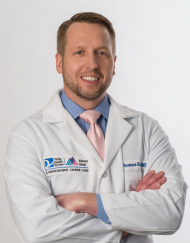 Thomas Kole, MD, PhD
Dr. Kole is a board-certified radiation oncologist who has a passion for providing care in the community where he grew up–right here in northern New Jersey. His interest in patient care, as well as engineering and technology led him towards the field of radiation oncology.
Dr. Kole received his medical degree from Rutgers New Jersey Medical School and a PhD in Chemical & Biomolecular Engineering from John Hopkins University. He conducted his residency at Georgetown University's School of Medicine, where he was chief resident.
In addition to treating patients, Dr. Kole has extensive research experience including the development of safe practices for the delivery of Stereotactic Body Radiotherapy (SBRT) in the treatment of prostate cancer. He has numerous publications in peer-reviewed medical journals, serves as a scientific journal editorial board member, and is a scientific advisor to a medical diagnostic company. In his free time, he enjoys coaching his daughters in lacrosse.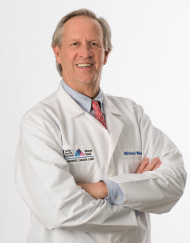 Michael Wesson, MD
Dr. Wesson, Co-Medical Director of Radiation Oncology, is a board-certified radiation oncologist with over 25 years of experience working at Valley-Mount Sinai Comprehensive Cancer Care. He was inspired to go into medicine watching his father's career as a surgeon. He later showed interest in radiation oncology for its ever-developing technology and the ability to interact directly with patients.
Dr. Wesson received his medical degree from University of Virginia's School of Medicine. He conducted his residency training at Memorial Sloan-Kettering Cancer Center, where he was also chief resident. Following his training, he was an assistant professor in the Department of Radiation Oncology, initially at Memorial Sloan-Kettering and then at Mt. Sinai Medical Center.
Nurses
Radiation oncology nurses navigate patients through the preparation required for the five-step radiation treatment. This includes any necessary diagnostic scans, operating room procedures as well as the subsequent five treatments themselves and follow-up appointments. Nurses also support our radiation oncologists during daily treatments if required for symptom management.
Our nursing staff includes Linda Ohnikian, RN, Michelle Bonifacio, RN, Leanna Putrino, RN, Kathy Mrozek, RN, and Sara Myers, RN.
Medical Physicists & Dosimetrists
Valley's physicists develop and direct quality control programs for radiation therapy. They are responsible for the daily operation and safety of equipment and procedures.
Our physicist staff includes Julie Lo-Medical, MS dABR, Steve Johnson, MS dABR, Matthew Worth, MS dABR, and Ki Chak, MS dABR.
Our dosimetrist staff includes John Hulsizer, CMD, Jerin Thomas, CMD, and Eric Lall, CMD.
Radiation Therapists
Radiation therapists are responsible for ensuring treatments are delivered as prescribed and intended. They also oversee the safety and accuracy of every treatment for every patient.
Our radiation therapy staff includes Anthony Di Bella, R.T.T., Amber Herrick, R.T.T., Brianna Pelillo, R.T.T., Charlie Braun, R.T.T., Greg Drakopoulos, R.T.T., Brandon Danny, R.T.T., Amy Cacciatore, R.T.T., Joanie Riedy, R.T.T., Susan Mc Connell, R.T.T., Michelle Palazzo, R.T.T., and Robin Hegarty R.T.T.
Reception & Scheduling
Our office staff work with you to make sure your treatments are timely and convenient.