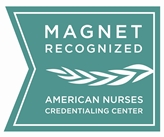 Since 2003, The Valley Hospital has been a recipient of the prestigious Magnet Designation for Nursing Excellence – the highest honor an organization can receive for professional nursing practice.
The Magnet program provides national recognition to healthcare organizations that demonstrate sustained excellence in nursing care. The American Nurses Credentialing Center, the nation's largest and foremost nursing accrediting and credentialing organization, chose the term "magnet" to describe a hospital's ability to attract high-quality nurses.
What Does Magnet Designation Mean for Patients?
Valley's designation as a Magnet facility reflects our nurses' commitment to providing exceptional care in a patient- and family-centered environment. Patients at Valley can be assured of receiving the best care possible from highly trained nurses who serve them with care and compassion.
Simply put, Magnet recognition is a result of the extraordinary work our nurses do every day for our patients.
Hospitals that apply for Magnet designation and re-designation must meet rigorous standards to prove that they have demonstrated various elements deemed essential to delivering superior patient care. These include the quality of nursing leadership and coordination and collaboration across specialties, as well as processes for measuring and improving the quality and delivery of care.