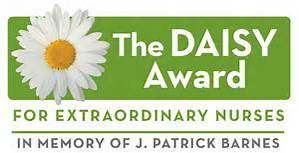 Valley is proud to have nurses who go above and beyond for their patients. Our monthly DAISY Award presentations honor these nurses for the special roles they play in patient care. 
Each month, a nurse from The Valley Hospital and a nurse from Valley Home Care is selected to receive the DAISY Award, based on nominations from patients and/or family members.
In addition to celebrating the work they do every day, the award helps nurses see in themselves what their patients, families and colleagues see in them and help them recognize the powerful difference they make in others' lives. 
Recognize a Nurse
If your life, or the life of a loved one, has been impacted by a Valley nurse, you can nominate them for a DAISY Award in one of the following ways:
Completing the DAISY Award nomination through the hospital's GetWellNetwork bedside system (for current hospital inpatients)
Completing the GetWellNetwork DAISY Award nomination form online
Completing the DAISY Award nomination form and returning it to:
The Valley Hospital
223 N. Van Dien Ave.
Ridgewood, New Jersey 07450
ATTN: Nursing Professional Development Department, Phillips Lower Level
Recent DAISY Award Winners