Valley Treats One of Their Own with Rare Disease
A Trip to the ED with A Lot of Questions
When Dan Sperry, Manager of Information Systems for Valley Health System, decided to "swing by the Emergency Department (ED)" on his way to work for abdominal pain, he did not expect to come out with a rare diagnosis and surgeries.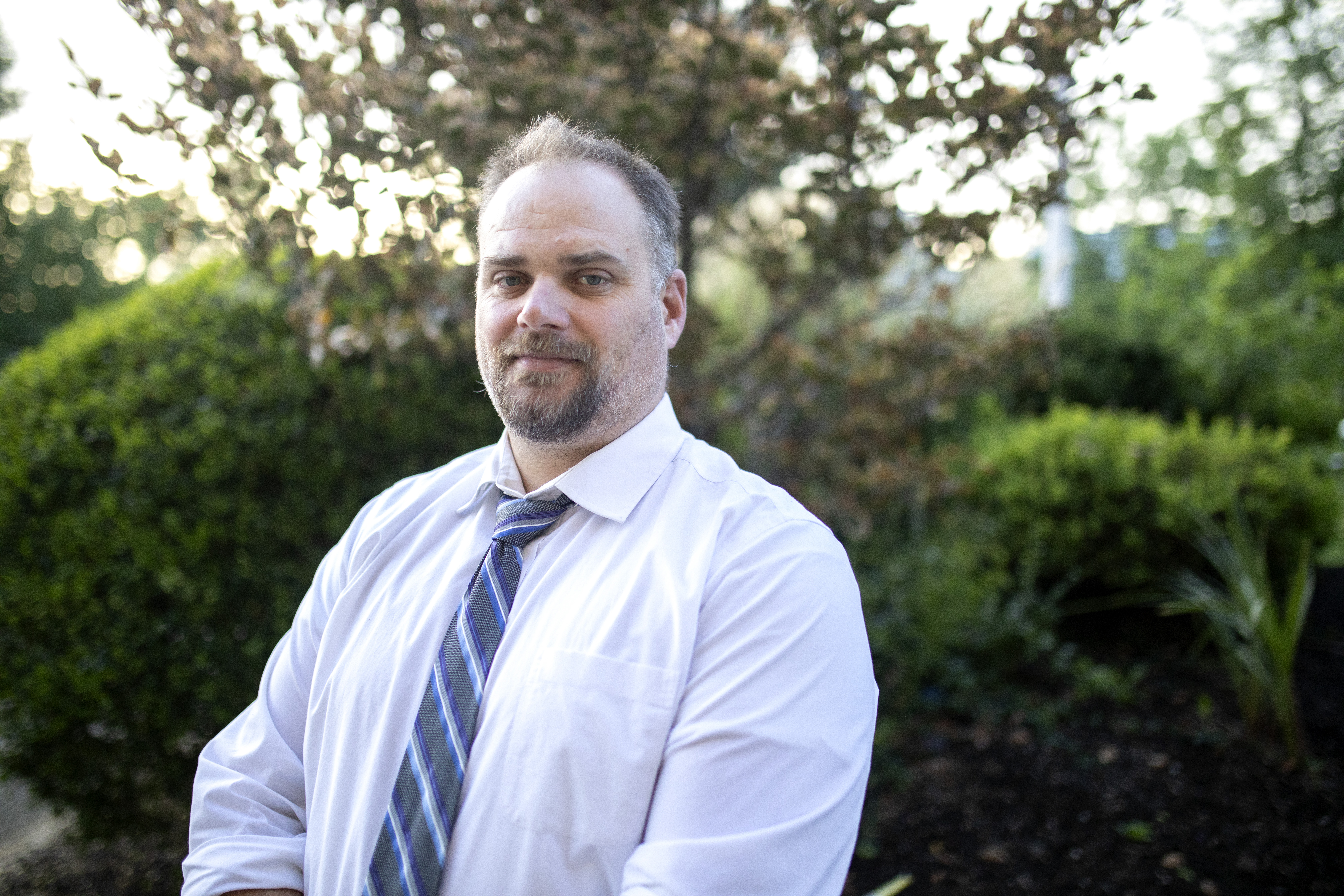 Dan stated the pain started around 3:00 a.m., and he tried multiple times to go back to sleep but he couldn't. He finally decided at approximately 5:30 a.m. to go into work early and stop by the ED to get some pain and anti-nausea medicine then go to the office.
When Dan presented to the ED with severe abdominal pain, a CT scan showed a saccular (focal protrusion) aneurysm in his iliac arteries that showed signs of aortic weakness. With Dan being only 38, his symptoms and CT findings determined that his condition needed urgent repair.
Mitul Patel, MD, vascular surgeon, felt he was a better candidate for endovascular surgery, which uses minimally invasive techniques to treat vascular pathology.
"Due to the suspicion of an underlying connective tissue disorder and favorable anatomy, we decided to perform an endovascular repair. Using a combination of wires, catheters, special devices, and x-ray we can identify and treat complex vascular disease," said Dr. Patel. "Prior to endovascular surgery, most of these procedures were done using an open technique with much higher morbidity and mortality."
What was going to be a 90-minute surgery took over nine hours. And as Dan was being prepped for the recovery room, no pulse was found in his leg, indicating little or no blood circulation. Assuming it was a blood clot, the surgical staff tried to fix his artery with a balloon, but each time it damaged the artery. This cycle of damage and repair continued until they were able to stabilize the artery and his pulse.
Shortly after he was discharged, Dan began experiencing pain in one of his calves. A call to Dr. Patel resulted in another visit to the ED where a tibial artery aneurysm was found, and coil embolization was performed for his second surgery that lasted three hours.
"Dan's surgery was unique because of the underlying pathology of his aneurysm. Most patients develop aortic aneurysms as a consequence of hypertension and smoking and are commonly older," said Dr. Patel.
A Rare Diagnosis: VEDS
After some genetic testing, it was revealed that Dan did have a rare genetic connective tissue disorder called Vascular Ehlers-Danlos syndrome (VEDS). VEDS weakens the collagen in the body making the blood vessels vulnerable to rupturing. Common traits for physicians to look for are family history of aneurysmal disease or early death, hypermobility of the joints, soft/velvety skin that is very stretchy. If family history is significant, then genetic testing is highly recommended.
VEDS is rarely identified because it is a very rare disease, occurring in 1 in 5,000 people.
"Getting a diagnosis over the phone that you have a serious, life-threatening genetic disease with a median life expectancy of 48 years old was a tough pill to swallow. But after one call to Dr. Patel and his continued assurance that knowing is better than not knowing and that we are in a better position because we can keep an eye on any issue, really put my mind at ease," said Dan. "I am fully aware of the risks with VEDS but knowing that the Valley doctors know and understand these complications and are ready for action if there is ever another event, makes me feel confident that I have a long healthy life ahead of me.
This was the first case of VEDS that Dr. Patel had seen and treated at Valley.
"Dan developed an aneurysm because he was born with a genetic condition that makes the walls of his arteries weak and vulnerable to rupturing. The reason why his initial surgery took longer than usual is because with Ehlers-Danlos disease, anytime the arteries are manipulated they can tear, rupture, or simply fall apart," said Dr. Patel.
Due to Dr. Patel's decision to perform an endovascular surgery rather than an open surgery, Dan is alive today.
"Although endovascular repair is not considered a normal approach for VEDS patients, I felt his aortic anatomy would be safest to repair with a stent graft. The concern with open surgery was that it would require exposing and manipulating a larger portion of the aorta that could possibly result in further arterial injury," said Dr. Patel. "We did take special considerations during the repair and avoided aggressive stretching of the stents."
Since his diagnosis, Dan has researched and learned of what activities are considered risky as well as worked with his family and physicians to have a better overall picture of his health and how to move forward. He has become very active in the VEDS movement (thevedsmovement.org), which aims to educate and spread awareness. He also is working with Valley to bring continuing education opportunities for staff and doctors and is hoping to assist in bringing in a strategic partnership with Valley and their affiliates.
Knowing there is still a lot of awareness that needs to be made, Dan has made it his mission to educate as many people and medical professionals as possible. His family has created The Chalkbird non-profit dedicated to awareness of children impacted by rare diseases. He also sits on the Steering Committee for the VEDS Movement, a division of the Marfan Foundation, and he volunteers with The John Ritter Foundation for Aortic Health, where he acts as an Aorta Advocate to help others on their aortic journey.  
"I would like to commend Dan on his efforts in understanding his disease and participating in spreading awareness and resources to others that might be affected by VEDS," said Dr. Patel.
Care Like No Other
Dan now wears a health alert bracelet with important information should he ever need medical attention. He also carries an emergency card that states his information, his wife's, his doctor, and other pertinent information. He has also had his son tested and found out he also has VEDS.
"From the ER to the OR, the ICU and even Admissions, I felt so taken care of," said Dan. "I can't say enough things about the staff at Valley."
Dan is currently under the care of Habib Jabagi, MD, an aortic and cardiothoracic surgeon at Valley, within Valley's Integrated Aortic Program for surveillance of his thoracic aneurysm and aortic dissection repair.
Valley's Integrated Aortic Program is designed to provide lifelong, individualized care to patients living with aortic aneurysms. The program supports patients in managing their aortic disease while still enjoying a high-quality life.  Patients enrolled in the program will receive an individualized treatment plan that includes imaging, clinical assessment, genetic testing, surveillance, and counseling.
At Valley, our team uses evidence-based guidelines and newly developed techniques to assess each patient's aortic aneurysm and develop individualized treatment plans.
For more information on the Integrated Aortic Program, please visit: ValleyHealth.com/IntegratedAorticProgram
To schedule an appointment, please call 201-447-8398.