By Kessoon Beckford
Kessoon is a Valley patient who was diagnosed with acute lymphoblastic leukemia and received her care from Valley-Mount Sinai Comprehensive Cancer Care. She was diagnosed in 2019 and had an outstanding experience with the entire team of doctors and staff who treated her. Read her story below - in her own words.
In November 2019, I went to see my primary care doctor for an ear infection. While I was there, she reminded me it was time for my routine bloodwork. I went ahead and took care of the bloodwork. The next day she called me and said, Your numbers are off for your white blood cells. You need to go get seen right away.
Two days later, I was diagnosed with acute lymphoblastic leukemia, or ALL. I initially went to another hospital than Valley. But I didn't want to stick with only one opinion. I was not going to start this treatment without fully knowing what's going on and my options.
Getting a Second Opinion at Valley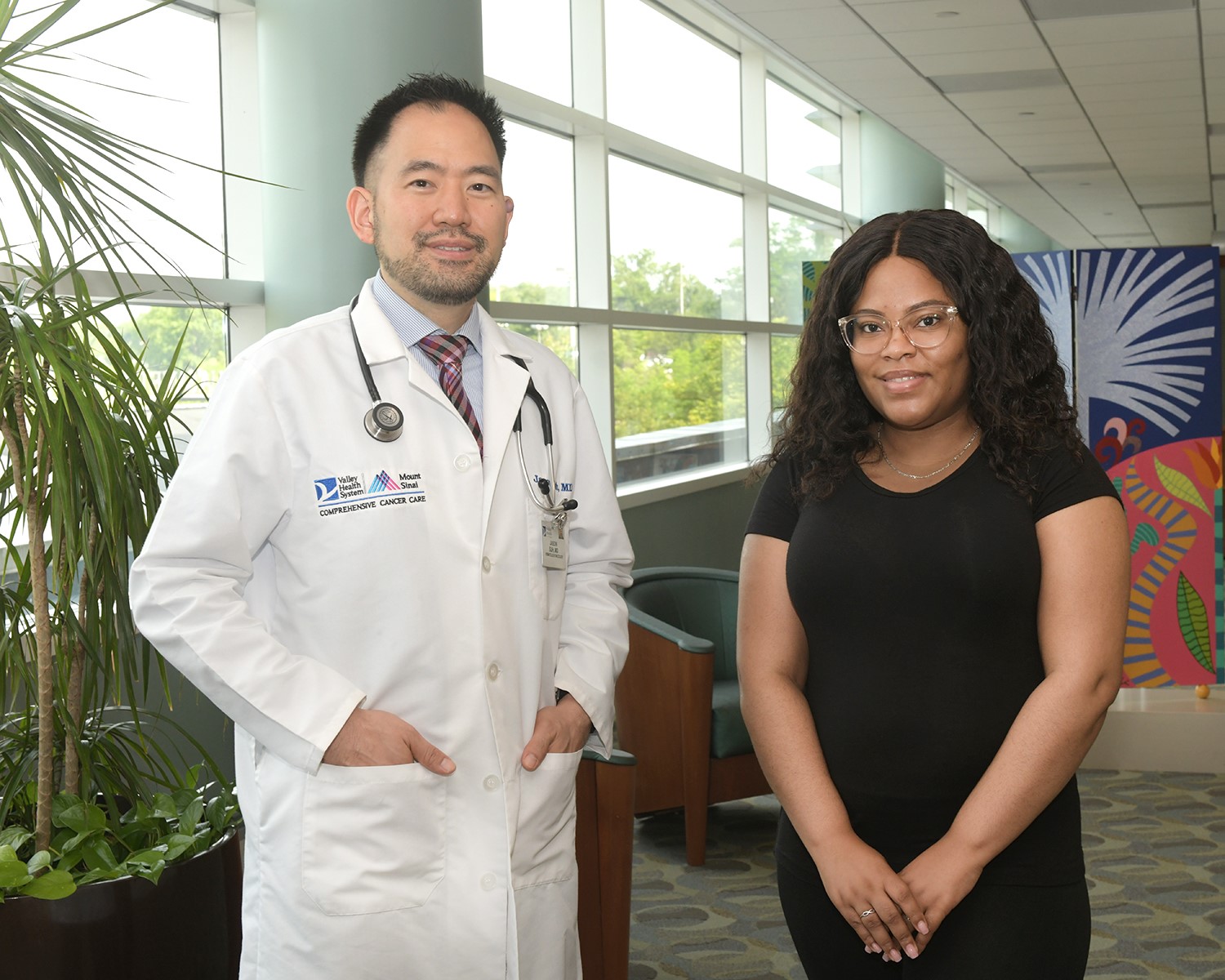 That same day that I went to the first hospital, I called Valley-Mount Sinai Comprehensive Cancer Care to get a second opinion. It was fast: Valley didn't mess around. That was on a Friday. They called me back to say, we can fit you in on Monday.
I went and saw the most amazing doctor I've ever come across in my life, Dr. Jason Suh. Dr. Suh was heaven-sent. He didn't just throw it at me and say you have cancer. He said, "I know I'm your second opinion. You don't have to stick with me. Here's what I can do for you." He explained to me thoroughly what the cancer was in full details. We then went over the process of chemotherapy and how soon he would want me to begin treatments.
He made everything so comfortable. I decided right then to stay at Valley.
Aggressive Treatment for ALL
ALL is pretty aggressive and fortunately we caught it super quick. In early December, I packed a bag and admitted myself to the hospital for a full month of intro to chemo. They needed to monitor me as an inpatient because the chemo was so aggressive.
I went through every emotion during that month. But with the help and strength of God I held on. I was finally discharged in early January 2020, and this was by far one of the most grateful and happiest days of my life.
They gave me about a month off. I started outpatient chemo in February 2020, which I did for nine months, including during COVID.
I had several complications during my treatment. I was very nauseous and lost a lot of weight. I also had a big spike in my blood sugar, so I saw a nutritionist at Valley who gave me a diet plan and came to check on me every morning during chemo. I developed tachycardia where my heart would beat much faster than normal. Dr. Suh's team coordinated with a cardiologist at Valley, Dr. Kariann Abbate. The Valley team was on top of everything. Dr. Suh's nurse, Stacy, would even tell me, If you have a headache, call me. It might not be a regular headache.
Now I'm on maintenance, with chemo once a month and meds every day. So far my bone marrows have come back clean and my lumbar puncture came back clean.
God has given me the strength to push through each day even when my bones hurt, when I could barely walk, when I was constantly throwing up and just generally feeling weak. I lost all my hair and almost 50 lbs. I couldn't shower myself and couldn't walk sometimes. It was a lot. But I had to keep that positive mindset; if you don't push yourself, it will affect your treatments.  
"They Treat You Like Family."
I am so glad I was an advocate for myself in the beginning and got a second opinion at Valley. The staff at Valley, they treat you like family. When I came in during chemo, it was always, Hey Kess, good morning. And they knew I wanted my mint tea to drink.
I had a lot of lumbar punctures with Dr. Suh during that time, and we were always talking about his kids, about food — the most random things. My personal care assistant from when I was in the hospital is one of my best friends. She will still call me to this day.
The main thing I'd tell people going through cancer treatment is: Be open-minded. You can't go through this close-minded. You're going to feel so much that no one can help you with. Don't be hard on yourself. It's okay to feel and be down. Just don't stay there. You're going to find the strength you don't think you have.