A type of continuous ECG monitoring, a Holter monitor has a relatively short (24-48 hours) period of monitoring, being limited by the fact that it cannot be detached from the body for the monitoring period or else data will be lost.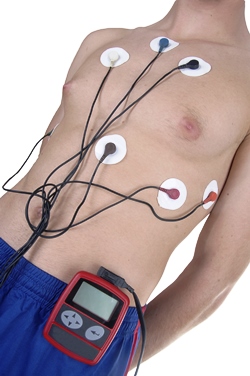 For this monitor, you will normally be connected in our office to 3-5 electrodes and wear a small device at your waist for 24-48 hours that will take continuous readings of your heart rhythms. You'll also maintain a diary listing when symptoms occur and what type of symptoms you have. 
At the end of the test period, you'll return the device to our office, where a trained technician will scan and record the data and present it to us for final interpretation. 
The advantage of this monitoring device, despite being relatively inconvenient to wear, is that it records and counts all the heart beats and can generate accurate statistics about the burden and counts of different arrhythmias.
We use this device when your arrhythmia symptoms/palpitations occur on a daily basis, so we can assure that while you're wearing the monitor, we'll be able to record your arrhythmia. While the Holter monitor can be used to detect any type of arrhythmia, it has a particularly important role in quantifying the burden of premature ventricular contractions (PVCs).