By Greg Fritz
Greg is a Valley-Mount Sinai Comprehensive Cancer Care patient who was diagnosed with glioblastoma in 2018. Having had a history with The Valley Hospital, Greg knew he was in the right place for his care. Read his story below - in his own words.
I had a seizure in March of 2018 at the age of 50. I was with my two daughters at dance practice. My jaw locked up, and I couldn't speak. I blacked out. The next thing I knew I was in an ambulance headed to the Valley Hospital.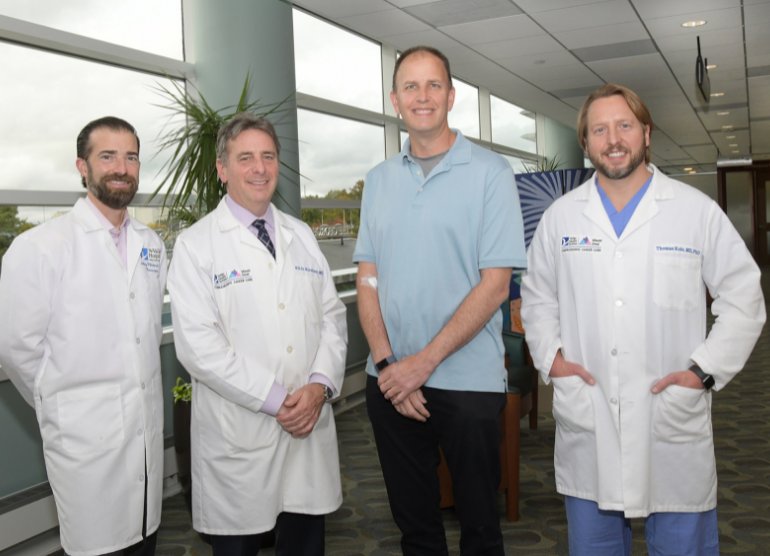 Once I arrived at Valley, I underwent a series of scans and tests. I later found out that I had a cancerous mass in my brain the size of a lemon, called a glioblastoma. Leading up to that day I had no symptoms, like headaches. It was very unexpected.
"We had a good feeling about him right away."
I live right around the corner from Valley—we can pretty much walk to it. We have a history there. Both my wife and I have had procedures there, and both of my daughters were even born there. Even if I had my seizure farther away, I would still want to come back locally to Valley for care.
I was directed to neurosurgery and met with Dr. Anthony D'Ambrosio. He talked to me and my wife and explained what they found in the MRI. He said that it was important to remove the tumor right away, and that in three days they would perform surgery to remove what they could. He had a great way of speaking to us, explained it in terms we understood and was great at answering our questions. We had a good feeling about him right away. He was fantastic the whole time.
I never had any pain from my tumor, except after surgery from the staples. They were able to get most of the tumor out, except for a few smaller pieces that were spread out in other parts of my brain. I tried to stay positive and was just thinking about the next steps of my treatment.
"The second opinion confirmed that they'd take the same approach as Valley."
A friend suggested that I get a second opinion about my treatment options after my surgery. I wasn't very knowledgeable at the time about Valley's Cancer Care, so I chose to get my second opinion from a well-known cancer center in New York City. 
The second opinion confirmed that they'd take the same approach as Valley. I was very happy to hear that I didn't need to go into the city for scans and treatment. And it made me feel good that Valley had great local care. It was the perfect place to go for radiation therapy and oncology visits close to home.
"My doctors had a positive outlook for me."
After my surgery, I met with my radiation oncologist, Dr. Thomas Kole, and my medical oncologist, Dr. Eli Kirshner. My doctors had a positive outlook for me. They didn't sugarcoat anything and told me exactly what to expect.
I did six weeks of radiation and low-dose chemotherapy first. Then I did a higher dose of chemotherapy for five days every four weeks. After that, it was increased to every eight weeks.  
Thankfully, through treatment, we were able to slowly shrink the small pieces of the tumor that remained until there were no traces left. My bloodwork looked good, but my doctors recommended that I continue chemotherapy. And I'm still in treatment today.
I wondered what I could do personally during treatment to help improve my scans. I went to see the nutritionist provided by Valley, Leigh Slagle. She gave me advice on what diet I should follow in conjunction with my treatments. She encouraged me to eat more fruits and veggies, avoid added sugars, and watch my portion control. It's been over two years of treatment, but my bloodwork is looking normal and my last four MRIs have been as good as they can get.
All of my doctors at Valley were quick to answer my questions—always getting back to me within 24 hours, if not faster. They even talked to me about clinical trials I was eligible for through their partnership with Mount Sinai. Although I decided not to participate, it was nice that I had the option.
"You can't assume the worst-case scenario."
After I was diagnosed, I wasn't thinking about how long I'd live, I was thinking about the immediate future. I was hoping I could get back to work to take care of my business.
Later, I thought more about my mortality and how lucky I've been. Everyone is different and handles treatment in their own way: You can't assume the worst-case scenario. Reminding myself of this throughout the whole process gave me reassurance.