May 24, 2021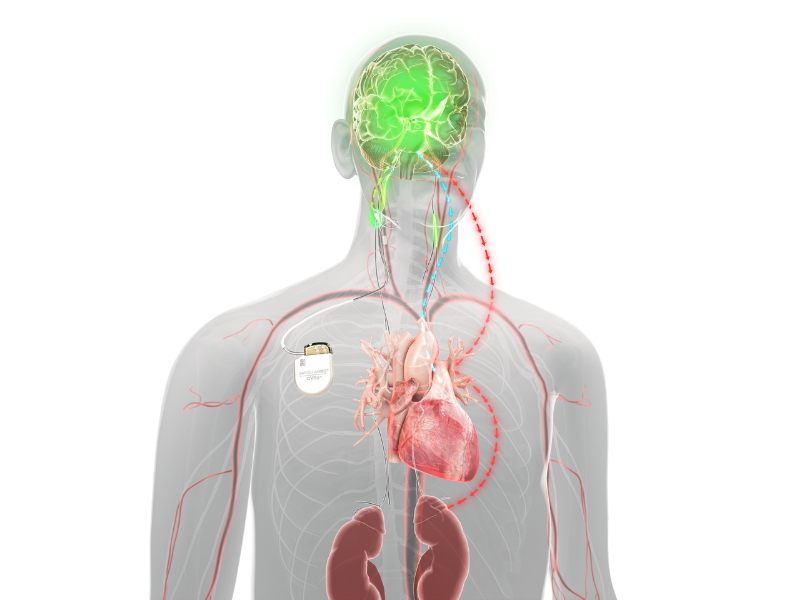 Groundbreaking Device Uses the Power of the Nervous System to Improve Quality of Life
The heart and vascular team at The Valley Hospital has performed their first implant of a breakthrough device that uses neuromodulation — the power of the brain and nervous system — to improve the symptoms of patients with heart failure.
The Barostim NEO™ is a pacemaker-like minimally invasive implant device that is an effective alternative for patients with heart failure who have a left ventricular ejection fraction of 35 percent or less, and are not candidates for other forms of therapy, such as cardiac resynchronization therapy.
It is designed to send signals to the brain to regulate cardiovascular function and rebalance the body's "fight or flight" and "rest and digest" reflexes. In patients with heart failure, these two components of the nervous system are imbalanced — there is too much "fight or flight" activity, which puts the heart under stress.  Put simply, Barostim NEO helps bring the nervous system back into balance.
The result? Blood vessels relax, making it easier for blood to flow through the body and putting less stress on the heart; heart rate slows down and the heart works more efficiently; and kidney function is improved, reducing fluid build-up in the body, further decreasing the heart's workload.
Dr. Suneet Mittal, Director of Electrophysiology, and Dr. Daniel Char, Director of Vascular Surgery, performed the first Barostim NEO implant at Valley, in collaboration with Dr. Kariann Abbate, Director, Center for Comprehensive Heart Failure Care.
"Despite optimal medical therapy, many patients with a low ejection fraction have symptoms of congestive heart failure that greatly impair their quality of life," said Dr. Mittal. "Until recently, unless these patients were a candidate for cardiac resynchronization therapy, there were limited options to help improve their symptoms. The Barostim NEO is a new option for many of these patients. It has been shown to reduce symptoms of heart failure and thus improve quality of life. We are excited to be able to offer this option to our patients at The Valley Hospital."
"Although we have good medicines to treat heart failure, some patients do not tolerate the recommended doses of guideline-directed medical therapy due to side effects," said Dr. Kariann Abbate, Director of Valley's Center for Comprehensive Heart Failure Care. "Barostim is an innovative treatment option for patients who continue to have symptoms after we have optimized medical therapy.  It helps to restore balance to the autonomic nervous system, allowing patients to walk farther and feel better."
Heart failure, a condition in which the heart slowly weakens and is not able to adequately supply oxygen-rich blood, affects an estimated 6.5 million Americans and nearly 26 million people worldwide. By 2030, it is expected to affect 8 million Americans.
Heart failure patients experience debilitating symptoms, including breathlessness, fatigue, confusion, and swelling in the legs that make everyday activities challenging and significantly diminish their quality of life.
To find out if Barostim Therapy is right for you or someone you love, please call 201-447-8019.