September 18, 2020
Innovative, minimally-invasive therapy is proven to help people with heart failure feel better
The Valley Hospital today announced that it is among the first hospitals in the United States and one of only three hospitals in New Jersey (and the only one in Bergen County) to perform a new, FDA-approved procedure proven to improve the quality of life for people with heart failure who are no longer adequately responding to medications to manage symptoms or slow the progression of their condition.
Heart failure is a chronic, progressive condition with debilitating symptoms that can severely limit quality of life. Traditional cardiac implants, such as pacemakers, can correct the heart's rhythm and synchronize contractions to help improve cardiac performance in people with heart failure. But these devices do nothing to boost the heart's ability to forcefully pump blood throughout the body.
Cardiac contractility modulation, or CCM, is a novel device intended to improve the contraction of the heart, allowing more oxygen-rich blood to reach the body. CCM therapy delivers precisely timed electrical pulses to the heart that are intended to improve the heart's ability to contract.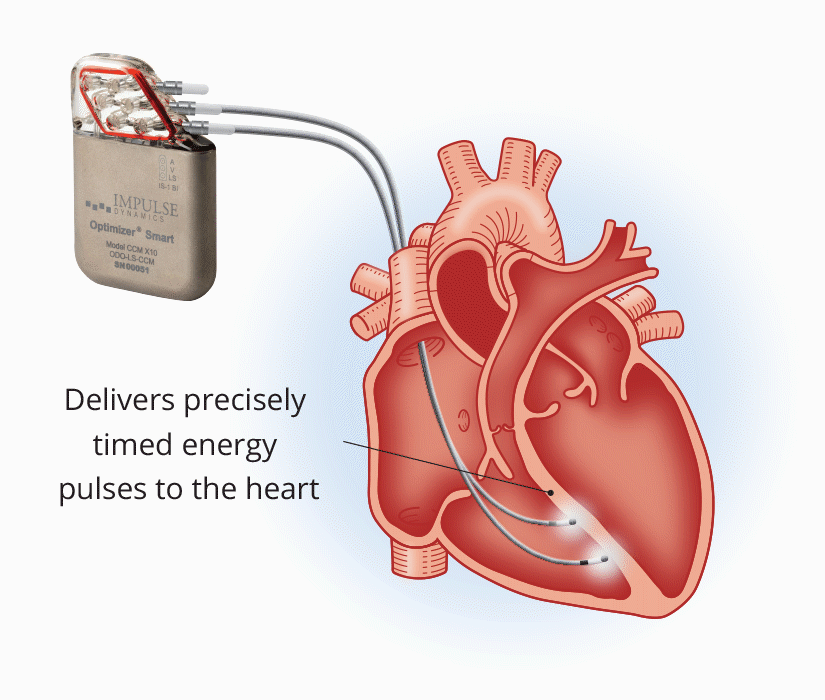 CCM therapy is delivered by the by the Optimizer®, a device the size of a pacemaker. It is implanted during a minimally invasive procedure while the patient is under light sedation. During the procedure, the device is implanted under the skin of the upper chest, along with electrical leads that are placed in the heart's right ventricle through the veins. The implanted device then sends precisely calibrated and timed electrical pulses to the heart muscle during one-hour treatment periods scheduled intermittently throughout the day.
"CCM therapy is a breakthrough therapy option for heart failure patients that is intended to help them feel better, so they can start doing the things they love again," said electrophysiologist Dr. Suneet Mittal, Medical Director of Valley's Snyder Center for Comprehensive Atrial Fibrillation.  "Medications are not always enough to help slow the progression of heart failure and improve the quality of life for these patients. CCM therapy is a breakthrough treatment option that brings hope to this patient population by improving the often-debilitating symptoms of heart failure." 
"We are excited to be able to offer this innovative treatment option to our patients with chronic heart failure," said Dr. Kariann Abbate, who specializes in treating patients with advanced heart failure. "By increasing the strength of the heart's contractions, this technology may help diminish the symptoms of chronic heart failure, which can increase the quality of life."
Heart failure, a condition in which the heart slowly weakens and is not able to adequately supply oxygen-rich blood, affects an estimated 6.5 million Americans and nearly 26 million people worldwide. By 2030, it is expected to affect 8 million Americans.
Heart failure patients experience debilitating symptoms, including breathlessness, fatigue, confusion and swelling in the legs that make everyday activities challenging and significantly diminish their quality of life. Today, most heart failure patients are prescribed medications intended to slow the progression of the disease and manage their symptoms. 
CCM therapy may be an appropriate option for up to 70-percent of NYHA Class III (a classification of heart symptoms) heart failure patients who continue to experience symptoms despite taking the optimal heart failure medications for their condition.
To find out if CCM therapy is right for you or someone you love, please call 201-432-7837.
CCM therapy was developed by Impulse Dynamics, based in Mount Laurel, NJ. Click here to learn more about the company.