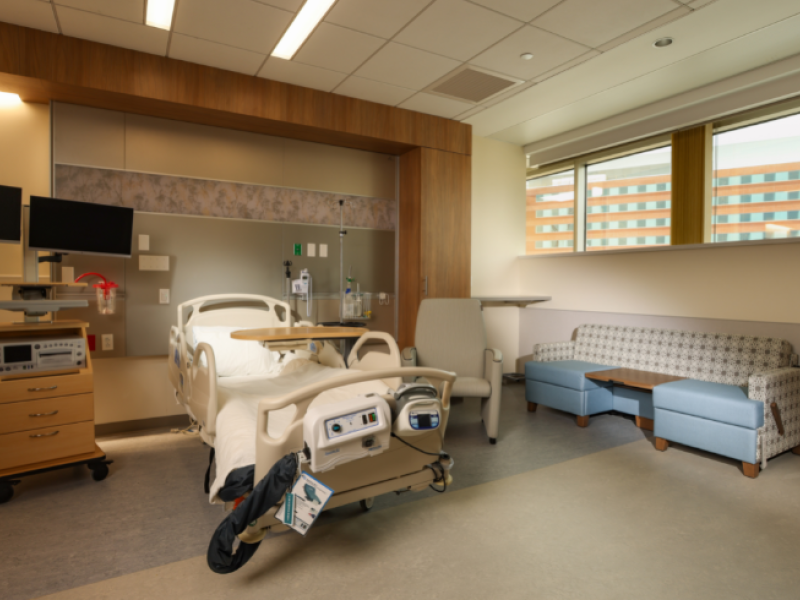 The Women's & Children's Pavilion at The Valley Hospital in Paramus, home to our Labor and Delivery, Neonatal Intensive Care (NICU), Postpartum, and Pediatric units, was designed with comfort and safety in mind. We want to ensure that our patients are receiving the best care, in the most comfortable environment, throughout their entire stay.
All Women's & Children's Services will be located in the South Pavilion of the hospital, with an entrance from the parking garage providing easy access for patients. Each of the floors within this service area will have their own designated waiting areas, separate from other waiting areas in the hospital. Additionally, each floor is completely secure, with strict badge requirements for entry, offering enhanced patient and family safety.
Labor and Delivery
The Labor and Delivery Unit at The Valley Hospital in Paramus will be expanding from 12 to 14 beds. The spacious rooms on this unit will provide ample room for caregivers, patients, and their loved ones. Two of these rooms will be equipped with jetted bathtubs for patients who choose hydrotherapy as part of their birth plan. These rooms were created with designated areas for support persons to comfortably stay in the room with the patient throughout the labor and delivery process.  
Neonatal Intensive Care Unit (NICU)
The NICU at The Valley Hospital in Paramus will feature private, single patient rooms, a change from the current hospital's open bay concept. Semi-private rooms are also available for circumstances with multiples, such as twins or triplets. The switch to private rooms in the NICU will enhance privacy for families and will enable parents to stay overnight with their babies. A dedicated family lounge area is also available for parents and families.
Postpartum Unit
The Postpartum Unit, for those who have just given birth, will be located on two floors of the Women's & Children's Pavilion. It is also increasing in size, going from a total of 38 to 42 beds. Stable, antepartum patients - those who have not yet given birth - will also be able to be admitted to this unit for necessary fetal surveillance and monitoring.
Pediatrics
Located on the seventh floor of the Women's & Children's Pavilion, the Pediatric Unit also features private, single patient rooms. When necessary, the unit has the flexibility to expand in times of increased patient census. A larger, dedicated children's playroom is also available on this floor.
To learn more about The Valley Hospital in Paramus, please visit ValleyHealth.com/NewHospital. You can also follow our construction journey on YouTube.