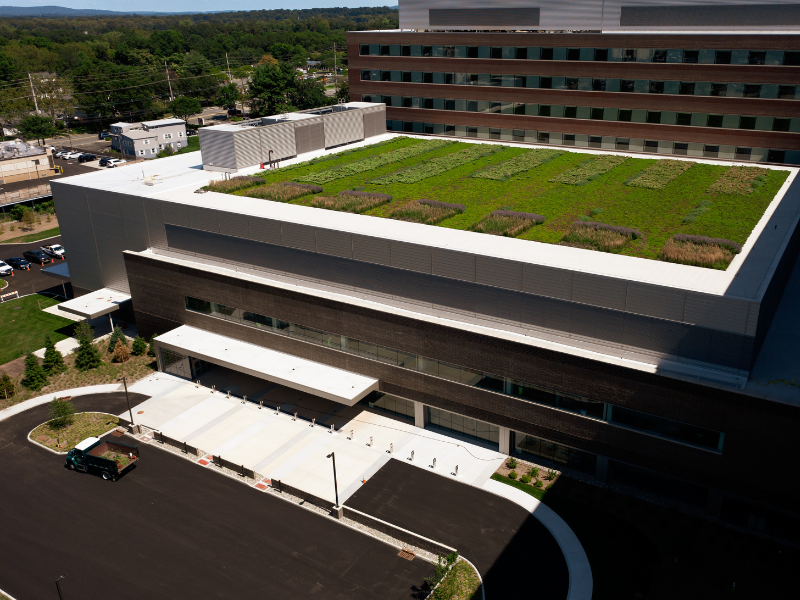 The Valley Hospital in Paramus has been planned and constructed, and will be operated and maintained, using "green" or environmentally friendly principles and processes, with more than 30% of the 40 acres dedicated to open green space.
The entire campus will be smoke-free, and it features a park-like setting with gardens, lawns, and walking paths for patients and visitors to enjoy.
Best practices for energy efficiency, space utilization, water consumption, and use of natural light have also been incorporated. For example, the hospital has two green roofs, which involve growing plants on the facility rooftops. Green roofs have numerous benefits, including reducing stormwater runoff, improving energy efficiency, and improving the overall look of the hospital for patients and neighbors.
The hospital will also feature a cogeneration plant, which will produce 30-40% of its power, depending on the season. It will be feeding power to a primary switch gear that will power the building. This will produce electrical energy, as well as heat, from the plant that would have otherwise been unused. It will increase the efficiency of total production. The plant will allow the hospital to produce its own steam, hot water, and air conditioning, all while reducing the plant's carbon footprint.
"We anticipate about 9,000 tons per year of carbon emission reduction by running the plant. Through our different sustainability efforts, we hope to save over $1 million in energy costs as well," said Joe Lorino, Vice President of Facilities Management at Valley Health System.
Valley is hoping to achieve the U.S. Green Building Council (USGBC) LEED (Leadership in Energy and Environmental Design) Gold certification in Healthcare Building Design & Construction.
"The Valley Hospital in Paramus will be about 14% more efficient than any benchmark hospital similar to ours. The systems are all high-efficiency, and we are purchasing renewable energy, including wind, hydroelectric, and solar," said Joe Lorino.
Additionally, there will be bike racks and showers to encourage more employees to bike to work, as well as 25 electrical vehicle chargers in the parking structure.
To learn more about The Valley Hospital in Paramus, please visit ValleyHealth.com/NewHospital.