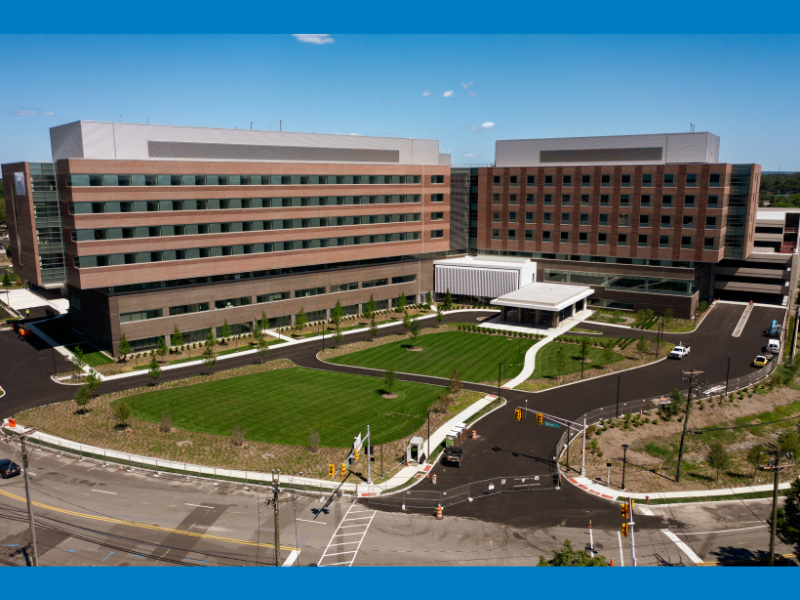 There are so many ways moving from our campus in Ridgewood to our brand-new hospital in Paramus will benefit patients and their families. The biggest change is that every room will be a single patient room, which enhances privacy, encourages patients to sleep better, and reduces the chance of infection, among other benefits. And, as a surgeon, I know that the new hospital's spacious operating rooms and innovative technology and equipment will offer my patients access to better care. 
However, since thousands of people visit our hospital for two important reasons – welcoming their newest family member and needing emergency care – I want to focus on these two services.
Last year, nearly 70,000 of our area's residents visited Valley's Emergency Department (ED) in Ridgewood. After April 14, 2024 – the day we open in Paramus – visitors to the new Paramus ED will benefit from an enhanced design that caters to the needs of both caregivers and patients. Here are some quick facts about the new Paramus ED:
The newly expanded ED will expand from the current 42 rooms in Ridgewood to 72 individual treatment rooms, inclusive of two critical care rooms. 
Cubicle curtains have been eliminated and replaced with sliding glass doors to provide a more private experience.
Medication and supply rooms in each care area will further enhance efficiency by reducing foot traffic for caregivers.
The dedicated Pediatric ED will have the ability to add beds based on patient volume, something that is not possible in Ridgewood. 
The ED will be located next to diagnostic imaging, and just one floor beneath the Interventional Services Department, should a patient need an operative or cardiac interventional procedure.
Last year, Valley was proud to be a part of more than 4,000 area families who welcomed their newest member. When our new hospital opens in Paramus, the Family Care Pavilion will be home to our Labor and Delivery and Neonatal Intensive Care (NICU) Units, which were designed with comfort and safety in mind. We want to ensure that our patients are receiving the best care, in the most comfortable environment, throughout their entire stay.
The Family Care Pavilion will have an entrance from the campus's parking garage providing easy access for patients. Each of the floors within the Pavilion will have its own designated waiting areas, separate from other waiting areas in the hospital. Additionally, each floor is completely secure, with strict badge requirements for entry, offering enhanced patient and family safety. Here are some key attributes of each unit:
The Labor and Delivery Unit will be expanding from 12 to 14 beds. 

Spacious rooms for caregivers, patients, and their loved ones.
Two rooms will have jetted bathtubs for patients who choose hydrotherapy as part of their birth plan.

The NICU will feature private, single-patient rooms, a change from the current hospital's open bay concept.

Semi-private rooms will be available for when a family welcomes twins or triplets. 
Enhanced privacy is a key design element for families, providing the ability for parents to stay overnight.

Valley's new Family Care Pavilion birth experiences will also include:

A custom birth plan designed just for you and your family.
Exquisitely designed and spacious private rooms that provide ample space for your loved ones to visit.
Room service 24 hours a day.
An in-room entertainment and educational video system so you can both relax and learn the how-to's of caring for your baby.
As a practicing surgeon for more than 30 years, and a user of Valley's services for both my and my family's healthcare, I look forward to the opening of our new hospital. I am certain it will allow us to enhance the care and service we provide to all those who come through our doors.