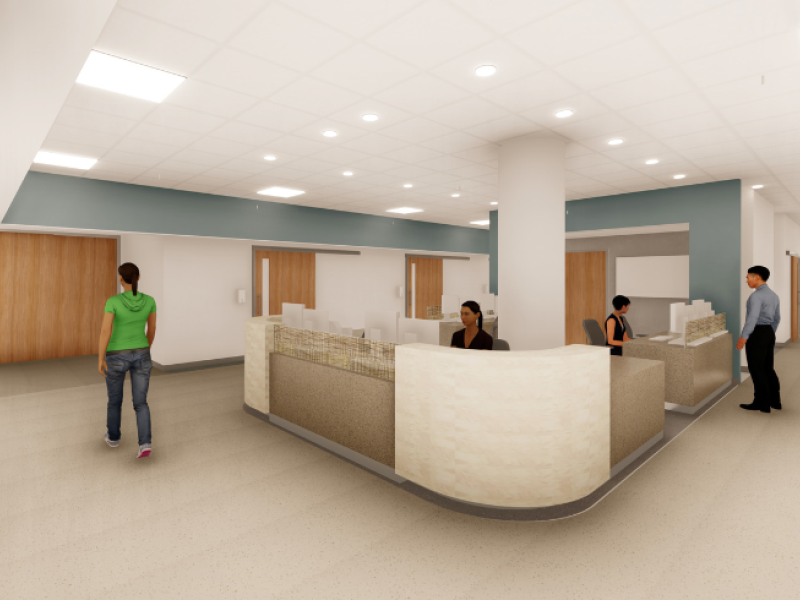 The Emergency Department (ED) at The Valley Hospital in Paramus has been designed in a way to better cater to the needs of both caregivers and patients.
The new hospital will feature a vastly expanded emergency department, growing from the current 42 rooms to 65 individual treatment rooms, inclusive of two critical care rooms. Each room will feature space for families, creating a more comfortable experience for both the patient and their loved ones. We have eliminated cubicle curtains in all rooms and replaced these with a sliding glass door with integral blinds.
Additionally, medication and supply rooms in each care area will further enhance efficiency by reducing foot traffic for caregivers.
Valley will also continue to have a pediatric emergency department, with the ability to flex up the pediatric census as needed due to the additional rooms, something that is not possible in our current facility.
The lower floors adjacent to the North Pavilion of the new hospital house core emergency, diagnostic, and operational and interventional services. The ED will be located next to diagnostic imaging to minimize travel time for patients who need radiology studies. It is also strategically located one floor beneath the Interventional Services department, with an elevator that travels directly to the area for the most efficient care should an operative or cardiac interventional procedure be required.
To learn more about The Valley Hospital in Paramus, please visit ValleyHealth.com/NewHospital. You can also follow our construction journey on YouTube.