Technology, however advanced, is only as good as the professionals who manage it. Radiation Oncology at Valley uses a team approach to foster medical excellence and ensure optimal patient satisfaction.
Radiation Oncologists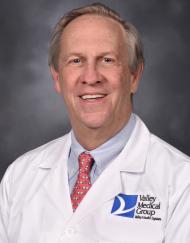 Michael F. Wesson, MD
Dr. Wesson was Chief Resident at Memorial Sloan-Kettering Cancer Center in New York City. Dr. Wesson served as an attending staff physician at the Mount Sinai Medical Center where he founded the Brachytherapy Service.
Dr. Wesson has authored numerous peer-reviewed articles, made presentations at major national medical meetings and conducted significant clinical research in radiation oncology.
He is board-certified in radiation oncology. Dr. Wesson has also earned certification in the use of the Gamma Knife Icon.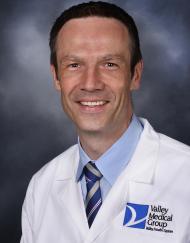 Chad M. DeYoung, MD
Dr. DeYoung is Director of the Department of Radiation Oncology and Co-Director of The Valley Hospital Gamma Knife Center. He completed his residency training at The University of Maryland. Following his training, he accepted an academic appointment as Assistant Professor in the Department of Radiation Oncology at The University of Maryland where he helped to develop a partial breast irradiation program and an extra-cranial stereotactic body radiation therapy program.
He has served on national committees through CALGB and IASLC developing national research protocols and has presented work at major national meetings.
He is board-certified in radiation oncology through the American Board of Radiology. He was an active member of The University of Maryland's Gamma Knife Team, receiving his certification from The Cleveland Clinic in 2004. Dr. DeYoung has earned certification in the use of the Gamma Knife Icon.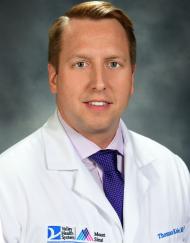 Thomas Kole, MD, PhD
Dr. Kole is a board-certified radiation oncologist whose expertise includes the use of stereotactic radiosurgery and stereotactic body radiotherapy, as well as image-guided radiation therapy (IGRT) and intensity-modulated radiation therapy (IMRT), for a wide range of benign (non-cancerous) and malignant conditions.
A graduate of Rutgers-New Jersey Medical School (where he received the prestigious Stanley S. Bergen, Jr., M.D. Medal of Excellence), Dr. Kole completed his internship at Atlantic Health System and a radiation medicine residency at Georgetown University School of Medicine, during which he also served as Chief Resident in Radiation Oncology.
In addition to his medical training, Dr. Kole holds a doctorate in chemical and biomolecular engineering from Johns Hopkins University. An active researcher, Dr. Kole has been published in many peer-reviewed medical journals and is a member of numerous professional societies.
Physicists
Valley's physicists are responsible for developing and directing quality control programs. They are responsible for the daily operation and safety of equipment and procedures.
Dosimetrists
Dosimetrists carefully calculate doses of radiation to ensure each tumor is effectively treated, using the amount of radiation that will best destroy the tumor and spare normal tissue. Dosimetrists work with the radiation oncologist and the physicist to choose the most appropriate treatment course for each patient.
Nursing Care
Valley's team of nurses are specially trained and certified in oncology and are dedicated to delivering the highest quality care to their patients. Nursing care at Valley is designed to meet the physical, psychological, social and educational needs of patients and their families.
Home Care Follow-Up
Through Valley Home Care, a specially trained nurse clinician provides patient education and rehabilitative services in the home. This home care helps cancer patients reach new levels of independence and achieve a higher quality of life. It is the only program of its kind in northern New Jersey.