Valley's Center for Comprehensive Heart Failure Care provides an innovative team approach that is dedicated to helping you feel better and live longer with your cardiovascular and heart failure symptoms. The Heart Failure Care team has expertise in determining the right plan of care for you, works closely with other cardiovascular and electrophysiology specialists, and provides education to help you understand your condition and help you best manage your symptoms.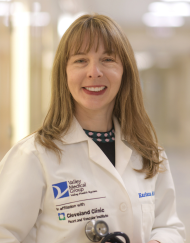 Kariann Abbate, MD
Director, Center for Comprehensive Heart Failure Care
Dr. Abbate is a board-certified cardiologist in advanced heart failure who joined Valley in 2014. She received her medical degree from Thomas Jefferson Medical College and has been involved in several clinical research trials. Kariann specializes in advanced heart failure, pulmonary hypertension, hypertrophic cardiomyopathy, and women's heart issues. Using a holistic approach to patient care, she sees and treats each patient as an individual and targets treatment to an individual's needs.
Vera Usinowicz, APN-C
Supervisor, Center for Comprehensive Heart Failure Care
Vera is accredited by the American Association of Critical Care Nurses as a critical care clinical nurse specialist, with more than 33 years of experience in the care of critically ill cardiovascular patients. She has worked specifically with heart failure patients for the past 10 years. She received her bachelor's degree from William Paterson University and her master's degree from Rutgers University, as well as a post-master's nursing certification from Georgetown University. Vera ensures all treatment options are based on the most innovative evidence-based therapies and provides comprehensive, individualized care plans to meet patients' personal healthcare goals and needs.
Nancy Elmann, RN, MSN, CCRN, CHFN, NP-C, APN
Nancy is a board-certified nurse practitioner specializing in heart failure and pulmonary hypertension. She joined Valley in 2020 and has been a registered nurse since 1998. She received a bachelor's degree in nursing from William Paterson University and her master's degree from Fairleigh Dickinson University. Nancy has an extensive background as a ventricular assist coordinator, cardiac director, and cardiac transplant coordinator. She also has experience in the development of Left Ventricular Assist Device (LVAD) programs and the Shared Caring LVAD program. Nancy has lectured internationally on mechanical circulatory support and is passionate about advanced therapies and the several etiologies of heart failure. She enjoys mentoring and precepting NP students and teaching her patients about their disease process.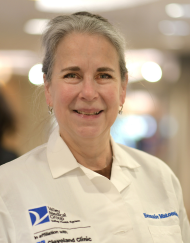 Bonnie Matossian, APN-BC
Bonnie is a board-certified nurse practitioner who joined Valley in 2006. She has been a nurse for more than four decades, having worked solely in cardiology and heart failure for the extent of her career. At the Center for Comprehensive Heart Failure Care, Bonnie's primary goals are to provide symptom relief, improve patients' quality of life, prevent rehospitalization for symptoms, and teach lifestyle modifications to prevent further physical decompensation and rehospitalization. Bonnie received both her bachelor's and master's degrees in nursing from Hunter-Bellevue School of Nursing and obtained her Acute Care Nurse Practitioner certification from the College of New Rochelle. Bonnie is also a staff nurse at The Mount Sinai Hospital, where she has learned about new advances in advanced heart failure therapies, medications, and devices for 45 years.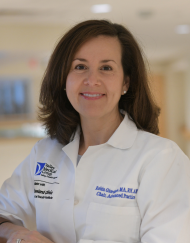 Robin Giordano, RN, MA, APN-BC
Robin is a board-certified nurse practitioner who joined Valley in 2004. She received her bachelor's degree in nursing from the University of Rhode Island and her master's degree in nursing from New York University. Robin spearheaded the development of the heart failure program by incorporating current treatment standards into daily rounds to reduce the length of stay and increase the quality of care of patients. She worked in collaboration with the patient cardiologist to provide early interventions in an outpatient setting that reduced hospital readmissions for heart failure patients. Robin is currently the Chair of Advanced Practice Services for Valley Medical Group and oversees more than 130 advanced practice providers.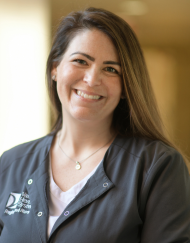 Christina Haddad, RN, BSN, CHFN
Christina is a registered nurse who has been at Valley since 2005. In the heart failure program, she helps manage patients who are on continuous Inotrope therapy and monitors CardioMEMs patients daily. Christina received her nursing degrees from Bergen Community College and Chamberlain College of Nursing, where she graduated summa cum laude, as well as a medical technology degree from Iona College. Christina has been at the Center for Comprehensive Heart Failure Care since 2013 and became a certified heart failure nurse in 2017.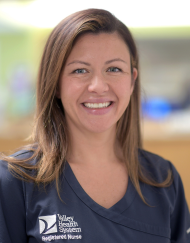 Erika Bartsch, RN, BSN, CHFN
Erika is a certified heart failure nurse who has worked at Valley Hospital for 15 years. Working with the rest of the heart failure team, Erika's goal is to provide optimal care to keep heart failure patients out of the hospital and feeling well. Erika received her degree in nursing from William Paterson University. Erika first worked in an inpatient cardiac unit before joining Valley's heart failure program in 2012.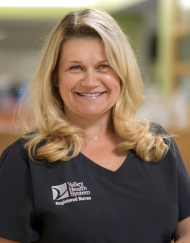 Barbara Picewicz, RN, BSN, PCCN, Health Coach
Barbara is a registered nurse with more than 30 years of experience. She received her bachelor's degree in nursing from Ramapo College, graduating summa cum laude. She also holds a certification in progressive critical care nursing. Over time, Barbara realized that she wanted to do more for her patients, and she became a health coach. She started incorporating the acronym L.E.A.N. in her teachings, which stands for lifestyle, exercise, attitude, and nutrition. As more and more people around the world grapple with one or more chronic diseases, Barbara knew her patients needed more help improving their overall health, and that medical treatment was simply not enough. Barbara educates and informs patients about simple techniques that they can use every day to develop and maintain a lifestyle of healthy eating and exercise habits, as well as positively impacting and improving their overall health.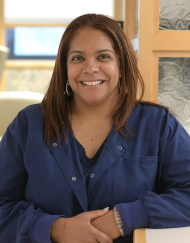 Tywhanda "Wanda" O'Connor, Office Coordinator
Wanda has been with Valley since 2012, where she started in one of Valley's cardiac units. In 2017, she joined The Center for Comprehensive Heart Failure Care as a patient care associate. She then took on the role of office coordinator in 2018. Wanda takes care of scheduling patients, collecting data, and more.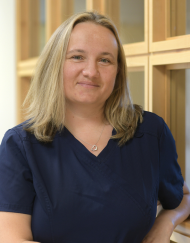 Julia Kulpa, Patient Care Associate
Julia is a patient care associate whose goal is to make patients and their families feel at ease at each visit, taking great care to comfort them. Julie has been at Valley for 12 years, starting her career in the step-down cardiac telemetry unit. She is also a trained phlebotomist and telemetry technician. Julia has been with the Center for Comprehensive Heart Failure Care for two years.