Coronary artery bypass grafting, or CABG, is surgery to treat coronary artery disease. It reroutes blood flow by bridging or bypassing, blocked arteries using healthy blood vessels from another part of the body.
CABG is the most common type of open-heart surgery. And Valley cardiac surgeons have extensive experience in CABG.
Our team doesn't follow a one-surgery-fits-all approach. We'll tailor your treatment to your condition, overall health, goals and preferences.
Depending on your specific needs, we can sometimes offer off-pump beating heart surgery, blood conservation and minimally invasive techniques. These methods may help you recover from heart bypass surgery more quickly and improve your overall outcome.
Watch: CABG is a major, often lifesaving surgery. Valley physicians Elliot Brown, MD, and Juan Grau, MD, help you understand what to expect with heart bypass surgery.
CABG for Coronary Artery Disease
Coronary artery disease, or CAD, is narrowing or blockage in the arteries that deliver blood and oxygen to the heart. It's caused by the buildup of fatty deposits called plaque. Left untreated, CAD can lead to a heart attack and other serious heart problems.
CABG is an effective treatment for people with severe CAD. In some cases, people need emergency CABG to stop a heart attack from happening. CABG could be the right option if you have:
Chest pain
Multiple blocked arteries
Weakened heart pumping action
Severe blockage in the main arteries supplying the heart muscle
Damage from a previous heart attack
Your surgeon may also recommend heart bypass surgery when other treatments, like medications or lifestyle changes, don't improve your condition. It's also an option for blockages that can't be treated with nonsurgical coronary angioplasty, known as percutaneous coronary intervention (PCI).
What Happens During CABG?
CABG restores blood flow to the heart. The surgery involves attaching, or grafting, healthy blood vessels to the blocked arteries. The blood vessels — arteries or veins — are collected, or harvested from the arms, chest or legs. These are known as bypass grafts.
There are different approaches to CABG. Valley's heart surgeons use the safest and most effective methods available. We'll discuss all your options with you to help you make the best possible decision for your health and goals.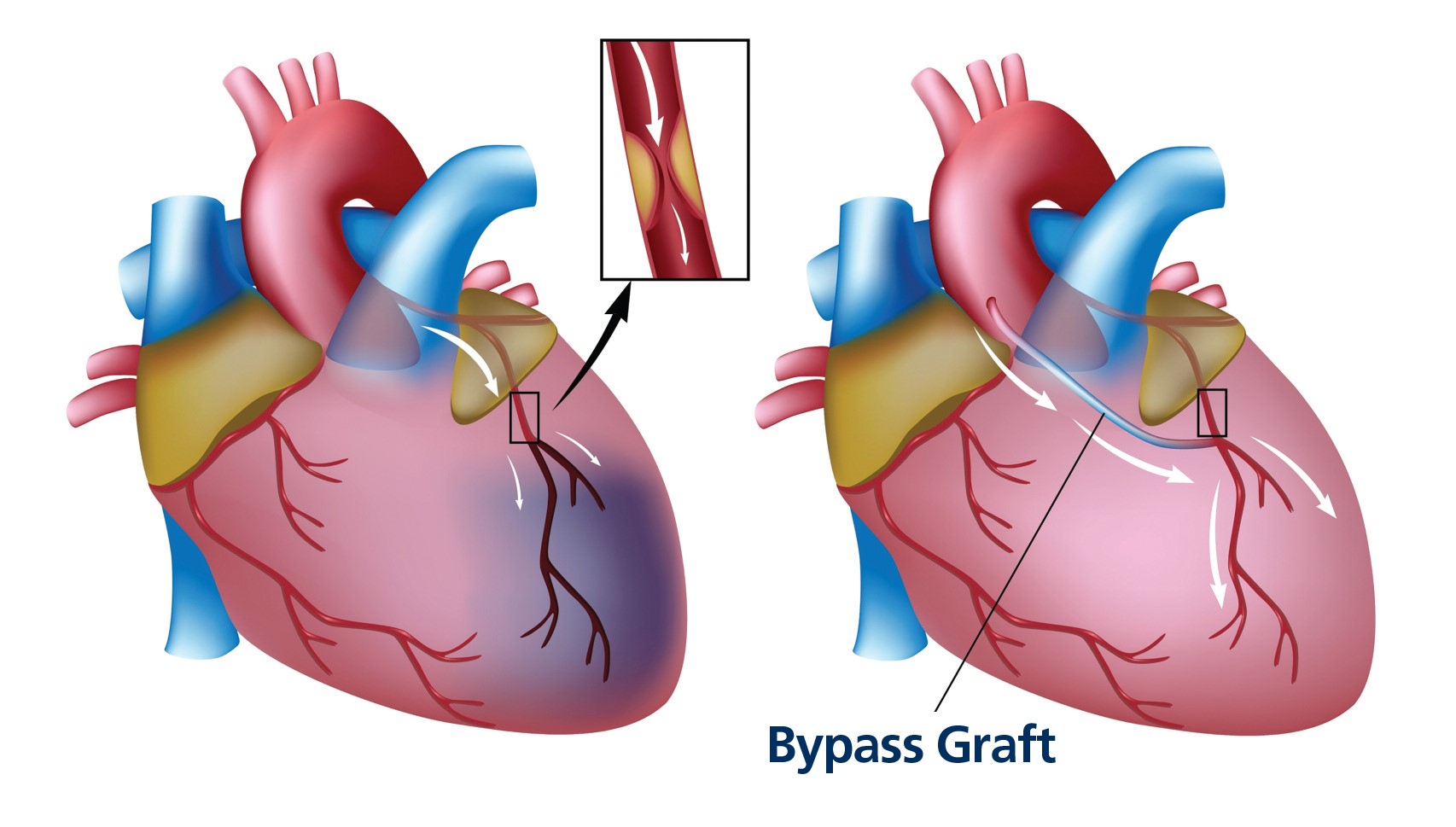 Traditional Open-Heart Bypass Surgery
In traditional CABG, your surgeon will use an open-heart approach. The surgeon will make a 6- to 10-inch incision on the chest to open the breastbone and access your heart. The heart is stopped, and a heart-lung bypass machine will take over heart and lung function during the surgery.
Traditional open-heart CABG takes about four to five hours. You'll recover in our cardiac intensive care unit immediately after surgery. After 24 to 48 hours, you'll move to a private room for about three to four days.
After CABG, your provider will discuss your recovery with you. Most people can return home after recovering from surgery in the hospital. Typically, most people get back to regular daily activities within about four weeks.
Off-Pump CABG (Beating Heart Surgery)
Off-pump CABG is an option for many patients. It's like the traditional CABG approach, but your surgeon won't stop the heart or use the heart-lung bypass machine.
Off-pump coronary artery bypass grafting may offer an easier recovery and a shorter hospital stay. It also reduces your risk for complications like arrhythmia (irregular heartbeat), bleeding or infection after surgery.
Minimally Invasive CABG
In some cases, our surgeons can perform CABG using minimally invasive methods.
Valley surgeons specialize in minimally invasive direct coronary artery bypass (MIDCAB), an off-pump bypass procedure. Your surgeon will use several small incisions on the left side of the chest between the ribs to access your heart.
Minimally invasive CABG may offer a faster recovery with fewer risks for complications. However, it's not the right option for everyone. Your surgeon and you can discuss if it's right for you.
Recovery and Rehabilitation After CABG
Rehabilitation is an important part of your recovery after heart bypass surgery. Valley offers cardiac rehabilitation while you're in the hospital.  and you'll continue the program after you leave the hospital.
Cardiac rehab involves medically supervised exercises, nutrition guidance, stress management and more. The program will help you make lifestyle changes that can help you lead a healthier, more active life. Our team of exercise physiologists, nurses and registered dietitians will guide you every step of the way.
CABG is not a cure for coronary artery disease. Our team will help you commit to maintaining a healthy lifestyle to reduce the risk of further heart problems.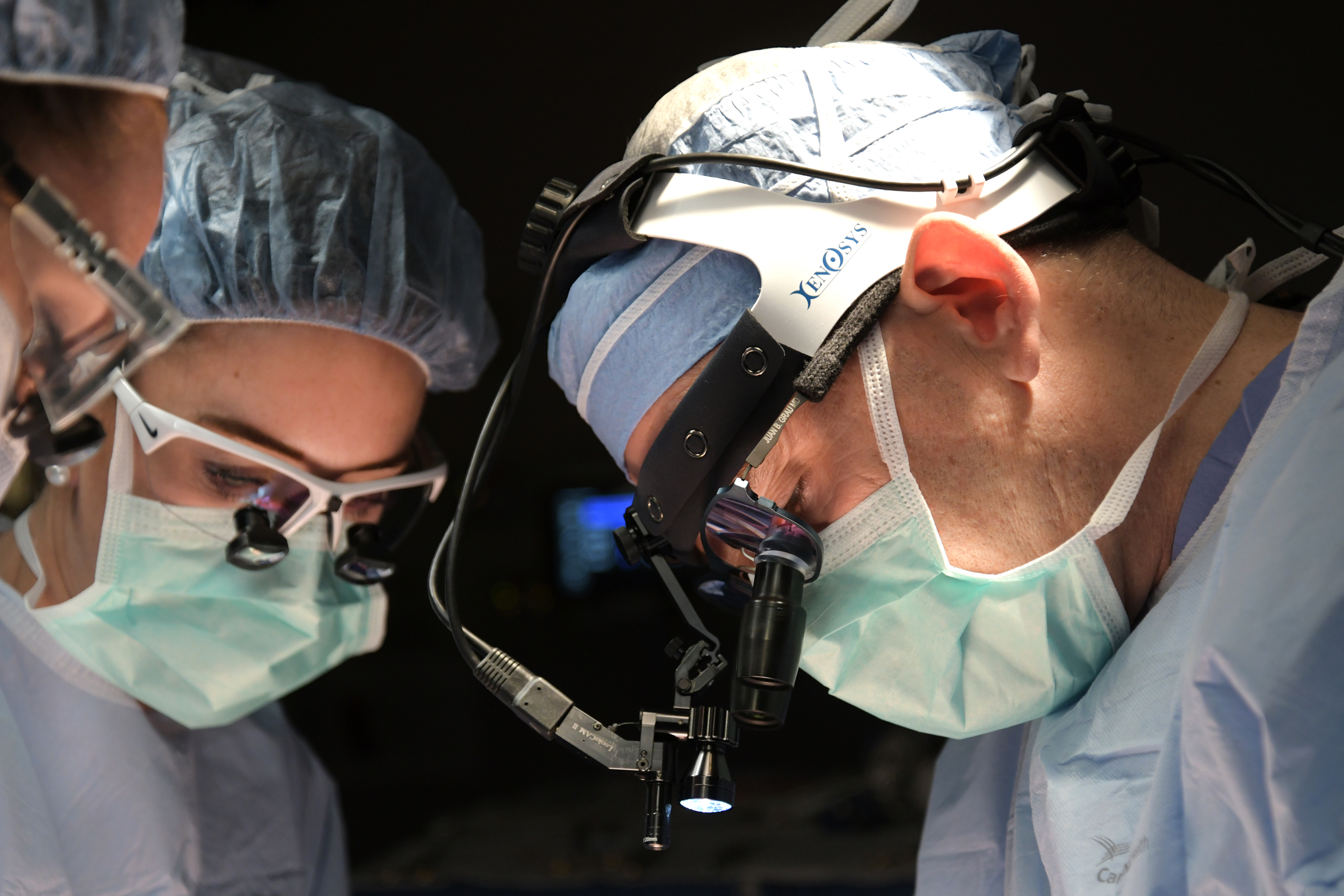 Why Choose Valley for Coronary Artery Bypass Grafting?
Advanced multi-arterial bypass grafting techniques: For bypass surgery, grafts using arteries are less likely to become narrow or blocked than veins. We work to use most or all arterial bypass grafts and can even use a single artery to bypass more than one vessel. These approaches may reach more remote blockages using fewer grafts and improve outcomes and recovery.
Expertise in complex cases: Our heart surgeons have experience treating patients who have had prior CABG surgery or angioplasty with stents. We offer durable, long-term outcomes for these high-risk cases.
Home care after surgery: We know that your care isn't over after CABG. We're committed to helping you through every step of your recovery after heart bypass surgery. Valley's home care team visits you within days of your discharge. We offer wound care services and help with any concerns you have.
Making it easier on your body: Whenever possible, we use heart bypass methods that provide an easier recovery, longer-lasting results, fewer complications and improved outcomes. In addition to off-pump and minimally invasive approaches, we also limit blood transfusions and perform endoscopic vessel harvesting using tiny tubes and small incisions.
Support and care coordination: We know CABG is a major surgery that requires a lot of coordination. Our cardiovascular nurse practitioners will guide you through every step, making sure you know what to expect along the way. Our nurse navigators will help schedule your cardiac imaging and diagnostic procedures. They'll also coordinate your heart surgery, cardiac rehabilitation and follow-up care.
Cleveland Clinic alliance: Through our alliance with Cleveland Clinic's Heart Vascular & Thoracic Institute, we regularly consult with the nation's top heart surgeons. That offers you a built-in second opinion from a nationally ranked heart program. All right here in northern New Jersey and beyond.