Donna and Bill Gundlach have always enjoyed doing things as a couple - even having bariatric surgery. With a total weight loss of 135 pounds between them, the Gundlachs are living healthier, happier lives.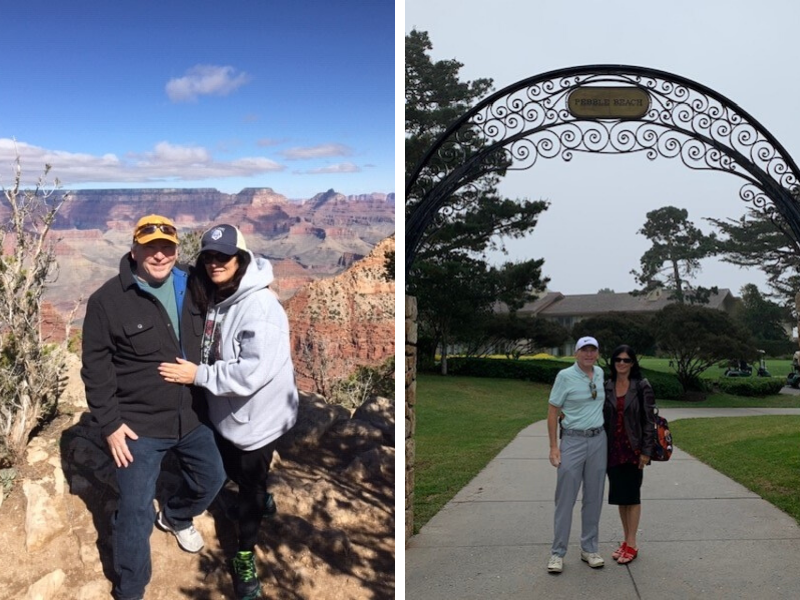 Stopping Diabetes in its Tracks
Donna struggled with weight all of her life and had some success with diet programs. She developed thyroid disease and was instructed by her endocrinologist to reduce calories due to a propensity towards diabetes. In January 2017, she was diagnosed with hypertension due to obesity and was already on medication from her cardiologist due to obesity.
Donna consulted with Valley's bariatric surgeon and selected gastric sleeve surgery after discussing three different weight loss options. She had the surgery in March 2017 and left the hospital the next day, with a four-week recovery.
"The entire bariatric surgery team at The Valley Hospital was extremely professional and provided an excellent patient care experience," says Donna. "The visiting nurse was amazing and I felt I had exceptional communication with the bariatric surgery team in the office."
Since the surgery, Donna has lost 75 pounds and has never felt better. She still enjoys all kinds of food, but she is also aware of that full feeling immediately after eating that causes her to stop. 
"Prior to surgery, I could not wear clothes that I liked and I was self-conscious in photographs," she said. "Climbing stairs was difficult, as I was out of breath easily. Walking in the park was very difficult and I had a stress fracture due to being overweight. I also had difficulty sleeping and was on medication for 10 years as well as being treated for mild depression. Currently, I have eliminated multiple medications now that my weight is under control."
Her husband, Bill, says Donna was the test project, and she succeeded with flying colors! 
It's Bill's Turn
Following in his wife's footsteps, Bill had gastric sleeve surgery in March 2018. He also tried many diet plans but could not maintain the weight loss. Due to being overweight, he developed asthma, sleep apnea, high blood pressure, high cholesterol and pre-diabetes.
"Some colleagues of mine at work had the procedure and they looked great, and my wife was doing so well, too. I decided that since I was approaching 60 years old, it was time to do this," explains Bill.
Bill, who went back to work after four weeks, thanks Valley's bariatric surgeon and their team of staff for his success. "The staff was great and I really appreciated the encouragement and assistance they provided throughout this life changing and life enriching decision."
He has lost 60 pounds and goes to the gym three or four times a week. Workouts are easier because he no longer has joint pain. Bill no longer need statins or blood pressure medicine and has not needed to see a pulmonologist in over a year.
Supporting Each Other Every Day
Both Bill and Donna eat the same foods now and support each other completely. "We celebrate life in many other ways and do not depend on an unhealthy eating regimen on a daily basis," notes Donna. "We do love chocolate and sweets, but we can stop before overindulging and eating out of control. Having weight loss surgery was the best decision we have ever made as a couple to ensure a longer and healthier life."