February 15, 2022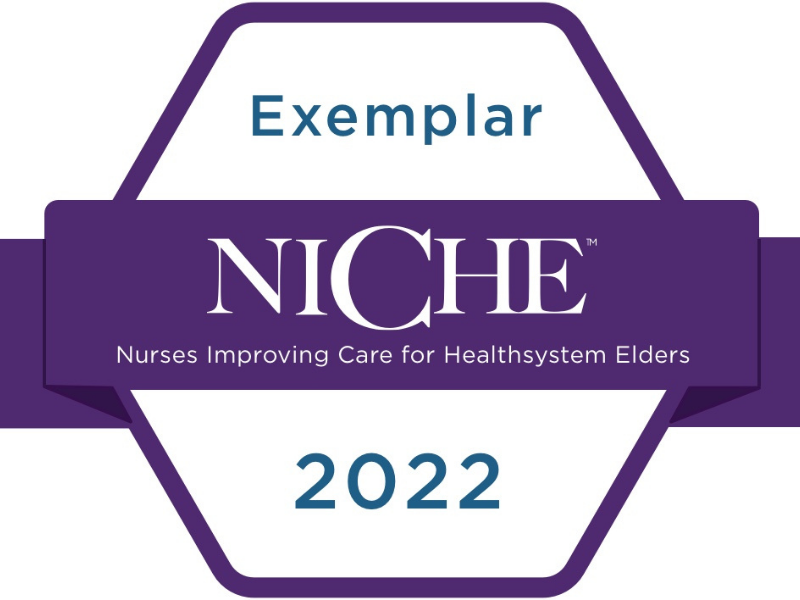 The Valley Hospital has earned 2022 Exemplar recognition from Nurses Improving Care for Healthsystem Elders (NICHE). 
Exemplar is the highest level of recognition and shows Valley's success in the implementation of high-quality, system-wide interventions and initiatives that demonstrate a commitment to the care of older adults. 
"We are proud to be recognized as Exemplar by the NICHE program," said Audrey Meyers, President and CEO of The Valley Hospital and Valley Health System. "This recognition reflects Valley's commitment and dedication to providing care and improving healthcare for older adults and all patients."
"The 4East nursing team is truly dedicated to providing and improving the quality of care for our older adult population," said Kelly Kennedy, MSN, RN-BC, NP-C, Advanced Practice Nurse and NICHE Coordinator for Valley. "By partnering with NICHE, implementing evidence-based practices, and achieving the highest distinction of Exemplar status, we continue to show our commitment of providing excellence with a focus on individualizing older adult care."  
Valley submitted a comprehensive report of program activities for review by NICHE faculty, and based on pre-established criteria, the faculty recommended Exemplar recognition. Exemplar NICHE recipients are recognized for providing evidence-based, interdisciplinary approaches that promote better outcomes, positive experiences, and improved care for older adults. 
"The leadership and staff of The Valley Hospital have demonstrated a tremendous ability to meet the needs of older adults," said Mattia J. Gilmartin PhD, RN, FAAN, Executive Director of NICHE. "Their capacity to bring together geriatric nursing resources and support to enhance care marks them as a leader in the field and signals their resolve to provide high-quality, person-centered care for older adults."
About NICHE
The goal of Nurses Improving Care for Healthsystem Elders (NICHE) of NYU Rory Meyers College of Nursing is to impart principles and tools to stimulate changes in clinical practice to achieve patient-centered nursing care for older adults in healthcare facilities. NICHE membership is only available to facilities that provide care for older adults. For more information, visit nicheprogram.org.