May 11, 2023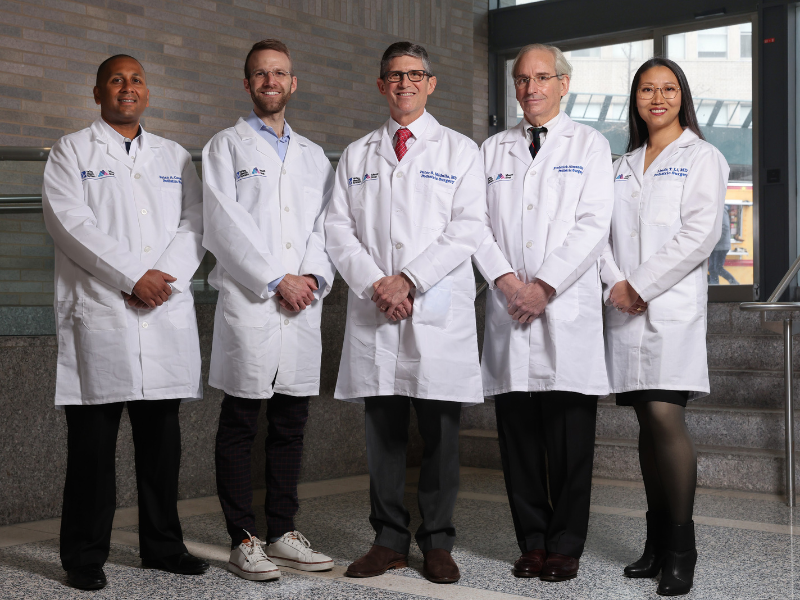 Bringing pediatric specialty care to the families of northern New Jersey
Valley Health System, in partnership with Mount Sinai Kravis Children's Hospital, is pleased to welcome an esteemed faculty of pediatric surgeons to our roster of specialists at The Valley Hospital. Faculty includes Frederick Alexander, MD; Peter Midulla, MD; Linda Li, MD; Brian Coakley, MD; and John Tackett, MD. 
"The great partnership with Mount Sinai for pediatrics has been highly cooperative and collaborative and has deepened relationships between specialists at Mount Sinai Kravis Children's Hospital and The Valley Hospital. The expansion of services and access to top subspecialists in pediatric gastroenterology and, more recently, pediatric surgery, including a combined team of surgeons that cover the two institutions, is a game-changer for families and patients in northern New Jersey," said Peter Midulla, MD, Chief of the Division of Pediatric Surgery, Mount Sinai Kravis Children's Hospital. "We are thrilled to bring surgical expertise in the areas of congenital colorectal abnormalities, chest wall reconstructive surgery, bariatric surgery, and more, to this region."
The team of surgeons will see patients at 140 East Ridgewood Avenue, in Paramus, New Jersey, and perform surgical interventions at The Valley Hospital in Ridgewood. 
"The pediatric surgery partnership formed between Valley and Mount Sinai is part of a larger initiative to offer patients in northern New Jersey with local access to subspecialty providers, eliminating the need to travel into New York City," said J. Antonio Quiros, MD, PhD, Chair of Children's Services for Valley Medical Group, and Clinical Professor of Pediatrics and faculty member at Mount Sinai Kravis Children's Hospital and the Icahn School of Medicine at Mount Sinai. 
Valley and Mount Sinai also provide care in the areas of cardiology, allergy, developmental pediatrics, endocrinology, diabetes care, gastroenterology, nutrition, pulmonology, physiatry, psychiatry, weight management, and sleep at various Valley locations.
To learn more about pediatric surgery at The Valley Hospital, please visit ValleyHealth.com/PediatricSurgery or call 1-800-VALLEY 1 (1-800-825-5391) to schedule a consultation with one of our pediatric surgeons. 
The Valley – Mount Sinai Partnership 
In December 2015, Valley and Mount Sinai announced plans to join forces on clinical programs, research, and educational offerings. The children's health alliance is the second of such collaborations between the two organizations. In 2016, Mount Sinai and Valley announced Valley-Mount Sinai Comprehensive Cancer Care to provide enhanced inpatient and outpatient cancer services by offering access to an expanded roster of clinical trials and Mount Sinai's nationally renowned experts in the field of cancer care, and the development of new programs and services.
New York City-based Mount Sinai comprises eight hospitals and Icahn Mount Sinai. Valley Health System, headquartered in Ridgewood, New Jersey, includes The Valley Hospital, Valley Home Care, and Valley Medical Group.  
About Mount Sinai Health System
Mount Sinai Health System is one of the largest academic medical systems in the New York metro area, with over 400 outpatient practices, nearly 300 labs, a school of nursing, and a leading school of medicine and graduate education. Mount Sinai advances health for all people, everywhere, by taking on the most complex health care challenges of our time — discovering and applying new scientific learning and knowledge; developing safer, more effective treatments; educating the next generation of medical leaders and innovators; and supporting local communities by delivering high-quality care to all who need it. 
The Health System includes approximately 7,300 primary and specialty care physicians; 13 joint-venture outpatient surgery centers throughout the five boroughs of New York City, Westchester, Long Island, and Florida; and more than 30 affiliated community health centers. Mount Sinai has been consistently ranked by U.S. News & World Report's Best Hospitals, receiving high "Honor Roll" status, and are highly ranked: No. 1 in Geriatrics and top 20 in Cardiology/Heart Surgery, Diabetes/Endocrinology, Gastroenterology/GI Surgery, Neurology/Neurosurgery, Orthopedics, Pulmonology/Lung Surgery, Rehabilitation, and Urology. 
U.S. News & World Report's "Best Children's Hospitals" ranks Mount Sinai Kravis Children's Hospital among the country's best in 4 out of 10 pediatric specialties. 
For more information, please visit MountSinai.org.
About Valley Health System
Valley Health System is a regional healthcare system in northern New Jersey. It includes The Valley Hospital, a 451-bed, not-for-profit, regional acute-care hospital that has been consistently recognized for quality care and patient satisfaction; Valley Home Care, a home care and hospice agency; and Valley Medical Group, a multispecialty group practice of more than 200 doctors and advanced practice professionals representing over 40 medical and surgical specialties who practice at The Valley Hospital in Ridgewood, Valley-Mount Sinai Comprehensive Cancer Care in Paramus, eight urgent and primary care centers in New Jersey and New York and many community-based physician practices throughout the region.
Valley Health System is one of the most honored healthcare organizations in New Jersey. Our awards and recognitions are a testament to the exceptional, distinctive care our providers and staff deliver every day. 
The Valley Hospital has achieved the Healthgrades 2023 America's 100 Best Hospitals Award — one of three hospitals in New Jersey and the only hospital in Bergen County to receive the distinction, and — for the fifth consecutive year — Valley has been named one of the world's best hospitals by Newsweek in its World's Best Hospitals 2023 list.