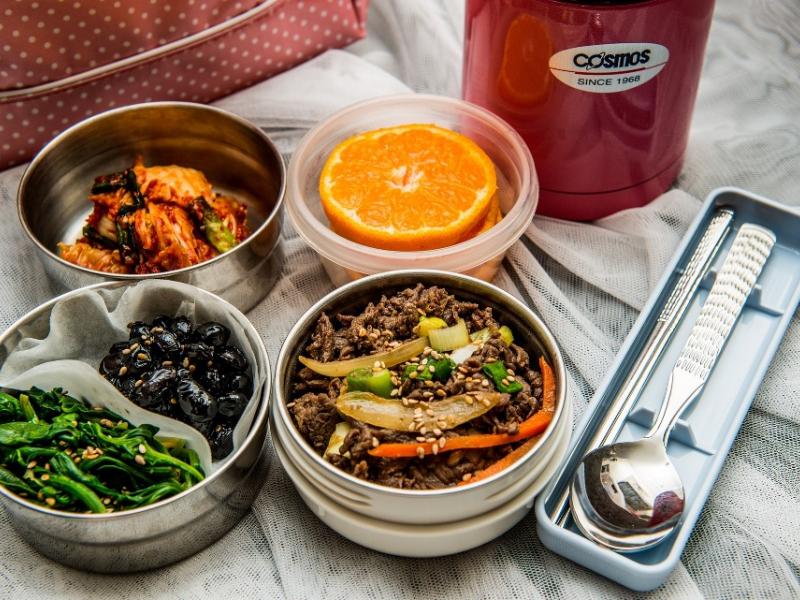 Do you bring or buy your lunch most days?  The trend is moving away from eating out daily due to the cost and concern over health or weight. Some people are just choosing to avoid it all together, working through their lunch or running around with errands. Skipping meals is usually not a good move on a daily basis because somewhere in the day, the hunger will kick in and then it can be hard to control choices.
Planning for lunch is a better move with long-term, positive health results. Give yourself 10 minutes at night to prep the night before. Even a mini-meal can count towards keeping our energy up, appetites controlled and improve concentration for the busiest part of the day. Buying lunches daily can add up with costs ranging from $5 to $15 per day. This means that, at the end of the month, buying lunch daily can run you approximately $100 to $200. Bringing your lunch or eating at home is a real money saver, with the average brown bag lunch costing only $2 to $4.
Let's look at the components of a healthy lunch:
Include complex carbohydrates like whole grain bread, or crackers, with a lean protein, vegetables, and fruit, hydrating with an unsweetened beverage (preferably water or flavored seltzer)
Complex carbohydrates provide us with energy, fiber that fills you up, and many nutrients, vitamins, minerals and antioxidants.
Lean protein enhances mental alertness and appetite control, helping us to fuller longer (try to keep it lean like chicken, fish, lean meat, tofu or beans)
The vegetables are nutrient dense meaning they are very high in nutrients that we need to fuel our body for fewer calories. Veggies and fruit have many antioxidants that protect our cells against aging, damage, disease and they are very hydrating, high in water content.
Some delicious and creative lunch ideas for home or office:
Leftovers: Make a little extra food at dinner the night before and use the extras for lunch the next day. Leftover grilled chicken or meat and vegetables can turn into a healthy wrap. The wrap filling can be any protein--just add vegetables, vinaigrette or mustard and a sprinkle of cheese.
Build a bowl: Stir-fry meals are a perfect one pan meal which includes protein, veggies and usually some brown rice or other whole grain. Versatile stir-fry vegetables include peppers, onions, mushrooms, celery, carrots, asparagus and sugar snap peas. For added convenience, you can use frozen vegetables. Just add low-sodium soy sauce and ginger for increased flavor!
Salad in a jar: A salad in a jar is a creative way to transport your salad if you are working, going to a picnic or to the beach. Build a better salad  using a variety of leafy greens (the darker green the better), lean protein, sprinkle on a ½ cup of whole grain like quinoa, top with berries and go lightly on the dressing.
Creating a salad in a jar:
Start with a mason jar with a lid
Layer your ingredients from wettest to driest in the jar
At the bottom of the jar, pour in your favorite salad dressing (hint: use an olive oil vinaigrette type dressing and just drizzle to moisten without over drenching the leaves)
The next layer should be something that absorbs the dressing, such as quinoa, faro, tofu, or bulgur
Next, add some veggies like tomatoes, cucumbers, peppers, beans, and berries
Add extra protein if needed like chicken or tuna
Lastly add your leafy greens, and close the lid
When you are ready to eat it, carefully remove just the leaves and place on a plate or bowl
Reseal the jar, shake the remaining ingredients, add on top of the greens and enjoy!
If you are interested in meeting with a nutrition coach to learn more about a wide range of personalized services including menu planning, refrigerator makeovers, supermarket shopping, advice about what to order in restaurants, personal chef referrals, lunch box ideas, collaborative cooking instruction and recipes, please contact Joe Juliano, DTR, Nutrition and Wellness Manager, The Valley Hospital, at 201-447-8093 or [email protected].