An overnight sleep study can help your doctor diagnose your sleep problem and determine the most effective treatment options. Most patients require only one night of monitoring while they sleep.
During the visit, a patient's brain waves, breathing patterns, blood oxygen levels and heart activity are monitored during various stages of sleep. Sleep technicians monitor the patient's condition from a separate room. In some cases, patients are required to visit during the day for a nap, where staff will follow up on a particular diagnosis.
If you're scheduled to undergo a sleep study at the Center for Sleep Medicine, you can expect comfortable surroundings, a caring staff and little touches to put you at ease. Here's what you need to know.
A Home-Like Setting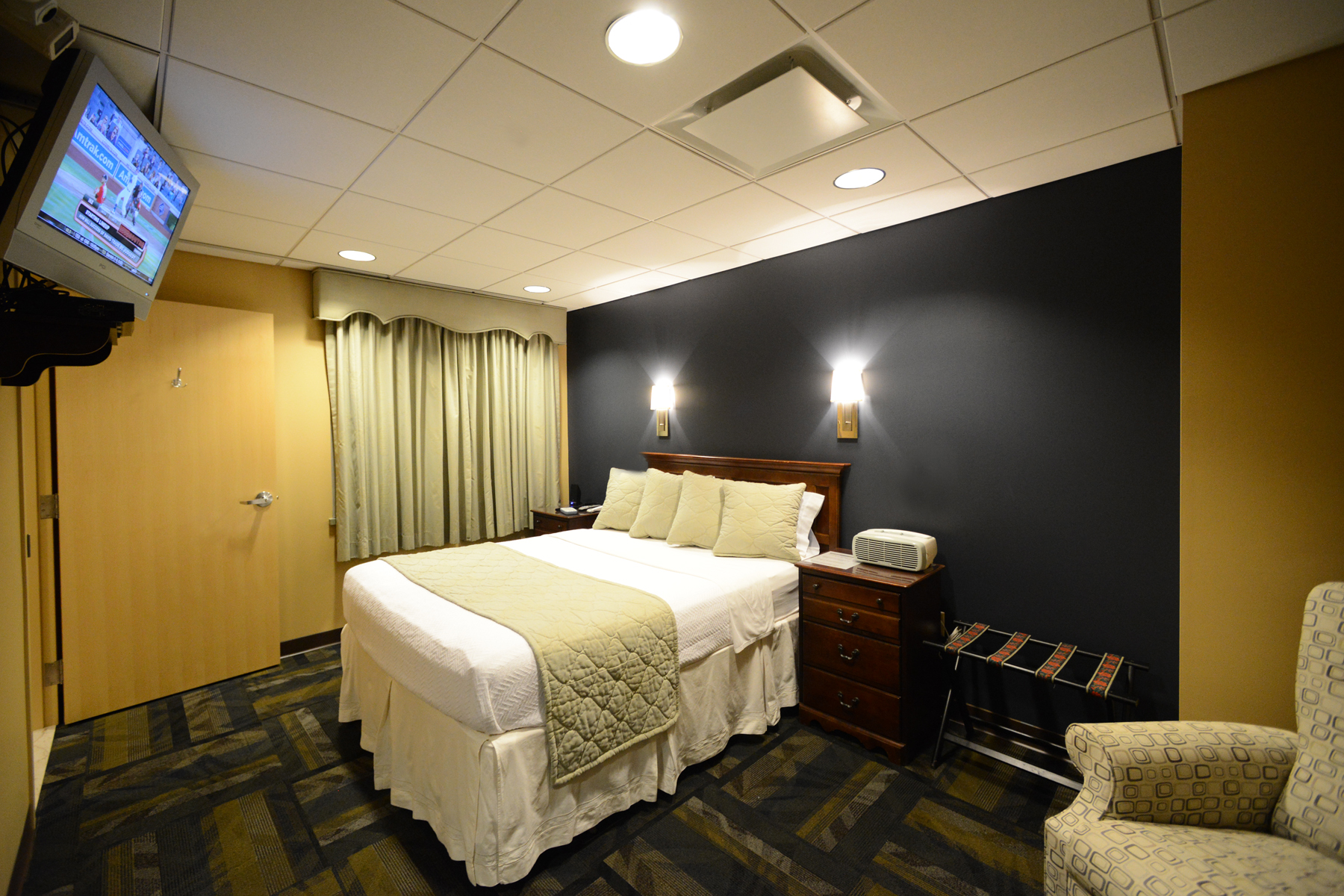 The Center for Sleep Medicine's testing environment is very different from a typical hospital facility. To make the sleep experience as comfortable and home-like as possible, the center has six beautifully appointed private rooms that boast queen-size Sleep Number beds, wall-to-wall carpeting, La-Z-Boy recliners and cable television. Caregivers or a parent may stay overnight if the patient requires assistance or is an infant or child. Private in-room showers make it convenient for patients who need to be up early and prepare for work. A continental breakfast is provided after the test.
What to Expect
Check-in time is after 7 p.m. at the sleep center on the evening of your study. Please do not arrive early, as your tech will not be available until your scheduled time. 
If you take medications, take them as you normally would at home unless instructed otherwise by your physician. 
Please limit caffeine, alcohol and nicotine intake the day of your study. You should have no caffeine, alcohol or nicotine at all 6 hours before going to bed.
Please bring your driver's license, up-to-date insurance card, and completed bedtime questionnaires. When you arrive at the sleep center, your information will be verified – this takes about 15 minutes. You will be introduced to your technologist who will monitor your study for the duration of your overnight stay.  
You will have a private room and a private bathroom with a shower. Cable TV is available for your entertainment while waiting to begin your test. A robe, fan, air purifier for white noise and hairdryer are available upon request.
We recommend bringing your own sleeping pillow for your comfort. Bring or wear something comfortable to sleep in. Your sleep garment should be two pieces (top/bottom), with no gowns and no silky material. If you forget anything, toiletries are available upon request. Note: Please be certain to eat dinner before you arrive. Although small snacks are available, evening meals are not provided by the sleep center.  
Your technologist will apply painless surface electrodes to your face and body. Please avoid body lotions, and remove makeup/shave if applicable.
Electrodes will be attached to your scalp, so you should arrive for your test with clean, dry hair. Do not use any oils, sprays or gel on your hair.
Keep your normal activity schedule on the day of the study, except do not take naps the day you are to be tested.
A sleep technologist will monitor your sleep study. The test will be recorded by a video camera. This recording is encrypted and cannot be viewed or transferred. The video will be deleted after data interpretation is completed.
It takes approximately 45 minutes to apply the necessary equipment for your sleep study.
Generally, your sleep study will begin by 11 p.m. or earlier, if possible. Lights and TV will be turned off by 11:30 p.m., as we must try to obtain enough hours of recording time to complete the procedure.
Your study will end at approximately 6-6:30 a.m. the following morning, unless ordered or arranged otherwise. Once your equipment is removed, you are free to get dressed and go home, providing additional daytime testing has not been scheduled.
If you are scheduled to have a multiple sleep latency test (MSLT) or maintenance of wakefulness test (MWT), it will follow the overnight test starting in the morning with a series of four or five 20-minute naps. Breakfast and lunch are provided for MSLT patients. The daytime test will end at approximately 4 p.m.
After Your Test
When your study is complete, specialized software is used to analyze your data. This data is reviewed and interpreted by one of our sleep medicine physician specialists. A final report, including diagnosis and treatment recommendations, will be delivered to your referring physician, who will discuss your results and any further testing, if needed, with you. Results normally take two weeks.  We strongly recommended that you schedule a follow-up visit (if not yet scheduled).
The Center for Sleep Medicine also has a wealth of resources and education to help you understand your treatment plan and maximize its effectiveness.