Comprehensive consultations, evaluations and sleep testing are essential to accurately diagnosing and treating sleep disorders. 
Consultations
During an initial consultation, we uncover what might be affecting each child's ability to attain healthy sleep patterns. Our board-certified healthcare provider will meet with you and your child to obtain a complete medical and sleep history and perform a physical exam. We will discuss:
Behavioral problems and patterns
Sleeping problems and patterns
Developmental issues
Procedures and instructions for sleep testing
At the conclusion of our meeting, your infant or child may be recommended for an overnight testing at our sleep laboratory. Some infants may be recommended for an infant home apnea monitor.
Sleep Testing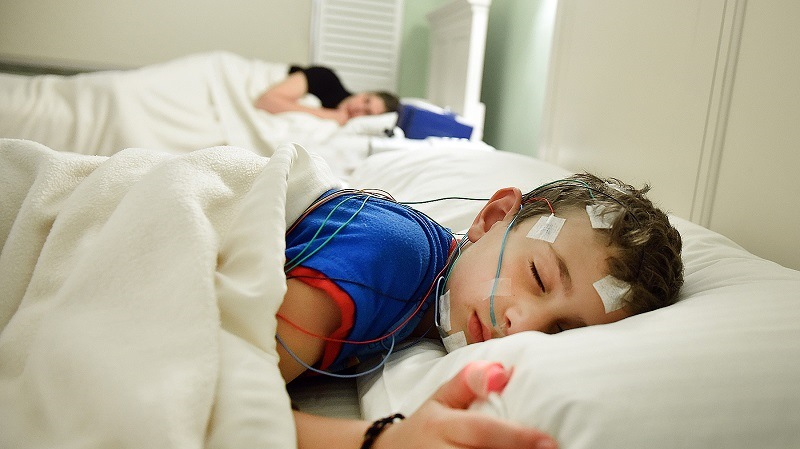 Overnight sleep testing allows our sleep specialists to make a proper diagnosis and appropriate choices for treatment. Valley's Sleep Laboratory uses the latest technology and a fully computerized laboratory to accurately monitor a child's sleeping patterns.
About the Laboratory
The sleep laboratory is accredited by the American Academy of Sleep Medicine. All physicians are board-certified sleep specialists, and all sleep technicians are uniquely trained and experienced with pediatric patients.
The laboratory has beautifully appointed private rooms witha private bath, sleep number beds for the parent and child, Wi-Fi, cable and DVD players. A continental breakfast is provided in the morning, and all efforts are made to make the patient's experience as comfortable and home-like as possible.
Preparing for an Overnight Sleep Study
Before sleep testing, we will contact your healthcare insurance company to notify them that your child is scheduled for sleep testing. If your insurance company requires pre-certification or authorization for outpatient diagnostic procedures, we will obtain this authorization. Please keep in mind that authorization or precertification is not a guarantee of payment, and you're responsible for any deductible and co-insurance per your benefit plan. You should be aware of the benefits and eligibility requirements before the sleep test takes place.
You will be contacted before your scheduled testing date to confirm your child's appointment. Please advise us at that time if there are any recent changes in your child's health (such as upper respiratory infections or flu-like symptoms) that may necessitate rescheduling. If you find it necessary to cancel your appointment, please call 201-251-3487.
What to Bring to the Sleep Study
>
Be sure to bring:
Insurance card and driver's license
Routine medications that have been discussed during your consultation, which you will give the child
Comfortable, loose-fitting clothes or pajamas (2-pieces without zippers)
Personal hygiene items (toothbrush, hairbrush, etc.)
Bedtime ritual aids (books, music, stuffed animals, pillows)
Formula, special foods, or medical equipment
Quiet activities that distract the child, such as electronic handheld video games, tablet computer or a soothing DVD (a television, DVD player, and Wi-Fi are available)
The Day of the Sleep Study
The time of your arrival will be determined when testing is scheduled. Children should arrive in comfortable, loose-fitting pajamas.
On the day of the study:
Have your child wake up early the morning before the test and avoid napping
Maintain your child's normal daytime routine (school, activities, dinner)
Avoid all stimulants (soda, chocolate, coffee, tea)
Pack an overnight bag for your child
Shower to remove lotion, spray, or gel from your child's skin and body
Remove all nail polish from fingers and toes
Sleep testing rooms are set up with a crib/bed for the child and a bed for one parent. Each room has a private bathroom and shower. For your convenience, healthy snacks and beverages are available.
The sleep technician will answer any questions you or your child may have about the sleep testing and allow time for you to get your child ready for bed. The sleep technician will then apply the necessary electrodes to your child's head and body. The application of the electrodes is painless but does involve about 40-50 minutes of cooperation on the part of your child. During this time, activities such as reading, play a handheld video game, tablet or computer, or watching a DVD can be used to distract and calm your child to help better facilitate the setup.
When the equipment is completely set up and the child's bedtime ritual completed, your child will be encouraged to go to sleep. You may stay in the room with your child until he or she falls asleep. Once asleep, you may choose to watch television or read in a nearby lounge. If you stay in the room, you must be quiet. The technician will monitor your child's sleep continuously throughout the night via audio and video camera and, at times, be in the room observing. Sometimes it is necessary to reapply and adjust equipment throughout the night. You and your child will be awakened between 6 and 6:30 a.m., and the sleep study will be concluded. A light continental breakfast will be provided. All equipment will be removed, and your child will be discharged by 7 a.m.
Receiving Sleep Study Results
Your healthcare provider will review the results of your child's sleep testing and discuss any next steps that may be required. Results will be communicated to you both verbally and in writing as arranged by your healthcare provider. A copy of the sleep testing report will also be sent to your pediatrician and other subspecialists as requested.