Cardiac contractility modulation (CCM) is a heart failure treatment that uses a device to help your heart pump blood. This therapy gives your heart the boost it needs to function better and alleviate the following heart failure symptoms:
Breathlessness
Fatigue
Confusion
Swelling in the legs
Valley heart failure specialists and electrophysiologists will work with you to determine how your symptoms are affecting your life. They will discuss whether CCM therapy is the right treatment to help you start doing the things you love again.
Watch: If heart failure is making everyday activities difficult, despite receiving treatment, Valley can help. Learn how we CCM therapy can help relieve your symptoms and improve your quality of life.
What is CCM Therapy?
CCM therapy uses a device that delivers precisely timed electrical pulses to your heart. These pulses are intended to help your heart's ability to contract and pump blood.
The CCM Procedure
The first step in CCM therapy is a minimally invasive procedure to implant the Optimizer® Smart CCM device. Here's what you can expect with the procedure:
You'll receive light sedation to keep you comfortable during the procedure.

Your Valley provider will create a small pocket under the skin of your upper chest.

They'll implant the device into the pocket.

They'll then place electrical leads in the heart's right ventricle through your veins.
How CCM Therapy Works
After your procedure, your provider will program and activate the device to send electrical pulses to your heart. These pulses occur for a total of five hours per day in one-hour sessions, separated into regular intervals.
Ultimately, CCM therapy may help you return to your daily routine with more energy than before.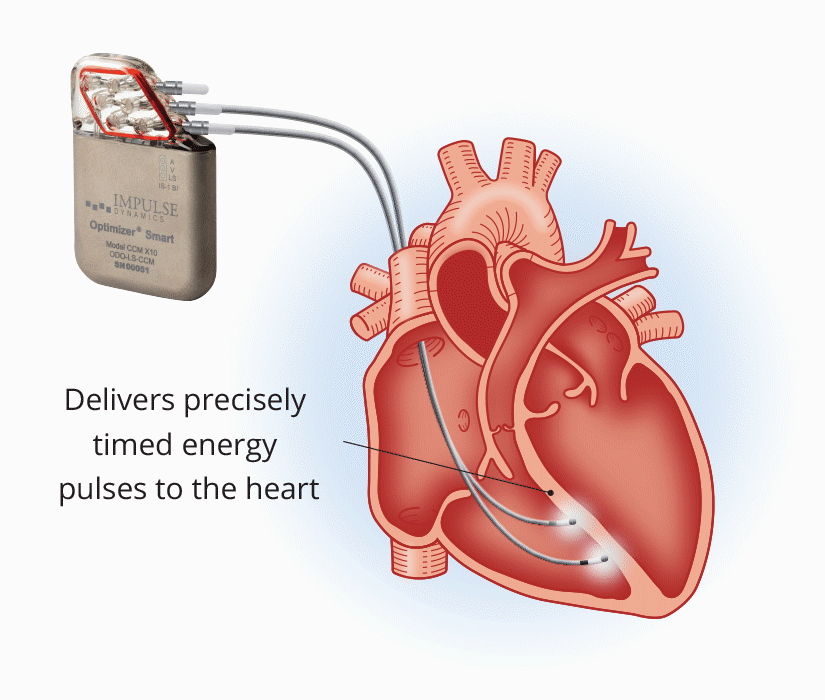 Am I a Candidate for CCM Therapy?
At Valley, we know that every heart failure patient is different. Yet our goal remains the same: to improve your quality of life. That's why our heart failure and electrophysiology specialists may recommend CCM therapy when other treatments aren't improving your symptoms.
You may be a candidate for CCM therapy if:
You have moderate to severe heart failure.
You take medications to lessen your heart failure symptoms.
Your heart failure symptoms make everyday activities challenging
Your provider has found that you have an ejection fraction (a measurement of the heart's pumping efficiency) of 25%-45%.
How CCM Therapy Works with Medications and Devices
CCM therapy can be used:
In addition to medication: Heart failure medications can become less effective as your condition progresses. So, you may need more interventions to help slow the overall progression of heart failure.
With cardiac device implants: While pacemakers or defibrillators correct the heart's rhythm, they don't help the heart pump blood. CCM can be used with these devices to help push blood throughout the body.   
Benefits of CCM Therapy
At Valley, our patients on CCM therapy typically see improvement in heart function and quality of life within three months.
In fact, 81% of Valley patients are able to walk further and longer during a six-minute walk test.
Why Choose Valley for CCM Therapy?
A leader in CCM therapy: Valley was the first hospital in Bergen County to offer CCM therapy to people with heart failure. As leaders in this treatment, our heart failure and electrophysiology specialists are well-versed in determining the best candidates for CCM. They also have the experience needed to ensure CCM is as effective as possible for your specific needs.
Comprehensive heart failure care: The Valley heart failure team gets a complete picture of your symptoms and the problem that causes them. We help you manage your symptoms with a wide range of treatment options.
A team effort for your specific heart needs: Our heart failure team collaborates with other heart specialists at Valley to address your specific needs. For example, we often partner with electrophysiologists who specialize in procedures for heart failure that regulate your heart rhythm.
Ongoing care: Our heart failure specialists regularly monitor your progress with CCM therapy. We also work with you to adjust your overall care plan, depending on your symptoms and personal preferences.