September 27, 2022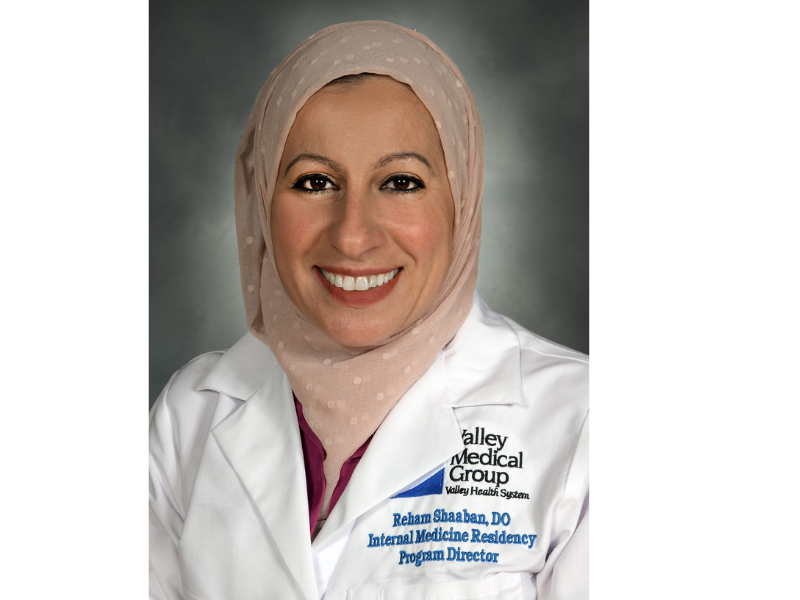 Valley Health System is pleased to welcome Reham Shaaban, DO, FHM, FACP as the Director of the soon-to-be-established Internal Medicine Residency Program. Dr. Shaaban will also help to develop and maintain additional graduate medical education programs at Valley. 
Dr. Shaaban will have oversight and leadership responsibility for the management of the new medical residency program that Valley will initiate in partnership with the Icahn School of Medicine at Mount Sinai. The new program will assist the region to educate and train the next generation of physicians in the field of internal medicine. An application for the residency program has been submitted, and Valley anticipates its approval in the near future. Valley anticipates it will be able to start the recruitment process for residency in 2023 with matriculation of the first class in July 2024.
Dr. Shaaban is board certified in internal medicine and specializes in medical education and inpatient acute medicine. She has a passion for teaching at all levels and loves to be part of inspiring and motivating others to want to learn more. Dr. Shaaban has presented educational workshops internationally, nationally, and regionally and coached and mentored many residents. 
"The team at Valley impressed me by being a very engaging, driven team focused on the community and providing exceptional patient care," Dr. Shaaban said. "I've devoted my career to honing my expertise as a medical educator. It is an exciting endeavor to bring graduate medical education to Valley."
"We are excited to welcome Dr. Shaaban to Valley," said Robert Brenner, MD, MMM, FACHE, President of Clinical Integration and Physician Enterprise for Valley Health System. "Dr. Shaaban will be an instrumental leader in helping Valley to launch this new residency program. We look forward to launching the program and welcoming our first class." 
Dr. Shaaban obtained her medical degree from Kirksville College of Osteopathic Medicine. She completed her residency in internal medicine and associate chief residency at Baystate Medical Center in Springfield, Massachusetts. 
Dr. Shaaban, a hospitalist, will also see patients at The Valley Hospital in Ridgewood.