November 15, 2022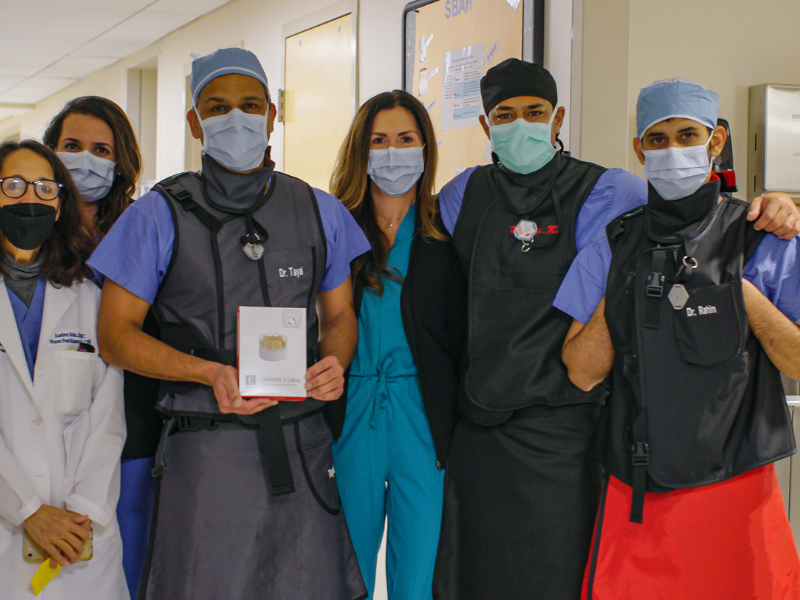 The Valley Hospital has become the first center in the tristate area to utilize the Edwards Lifesciences SAPIEN 3 Ultra RESILIA Transcatheter Heart Valve to improve patient outcomes during a transcatheter aortic valve replacement (TAVR) procedure. 
A TAVR procedure is a minimally invasive procedure used to replace the aortic valve in patients with severe aortic stenosis - a narrowing of the aortic valve opening. During the procedure, structural interventionalists and a cardiac surgeon replace the diseased valve with a bioprosthetic valve.
Studies have shown that while successful, bioprosthetic valves can deteriorate over time as a result of calcium buildup. To improve the average lifespan of a bioprosthetic valve, Edwards developed the SAPIEN 3 Ultra RESILIA valve, which incorporates the existing SAPIEN 3 Ultra transcatheter aortic heart valve with RESILIA tissue technology. RESILIA tissue is treated with advanced anti-calcification technology, which has the potential to improve the durability and lifespan of the valve.
"At Valley, we look to stay ahead of the curve by offering our patients the latest treatment options," said Rajiv Tayal, MD, Director of The Valley Hospital's Cardiac Catheterization Laboratory and Structural Heart Program. "We were fortunate enough to receive a limited release of the SAPIEN 3 Ultra RESILIA valve for use at our institution, which we successfully implanted.
"The anti-calcification design will significantly improve the lifespan of the valves we are implanting during TAVR procedures, in turn prolonging, if not eliminating, the need for future reintervention. This is especially important for our younger TAVR patients who can now receive a valve replacement that will last them throughout the years, without experiencing deterioration or the need for reintervention," said Tayal.
To learn more about transcatheter aortic valve replacement at Valley, please visit ValleyHealth.com/TAVR.