November 21, 2022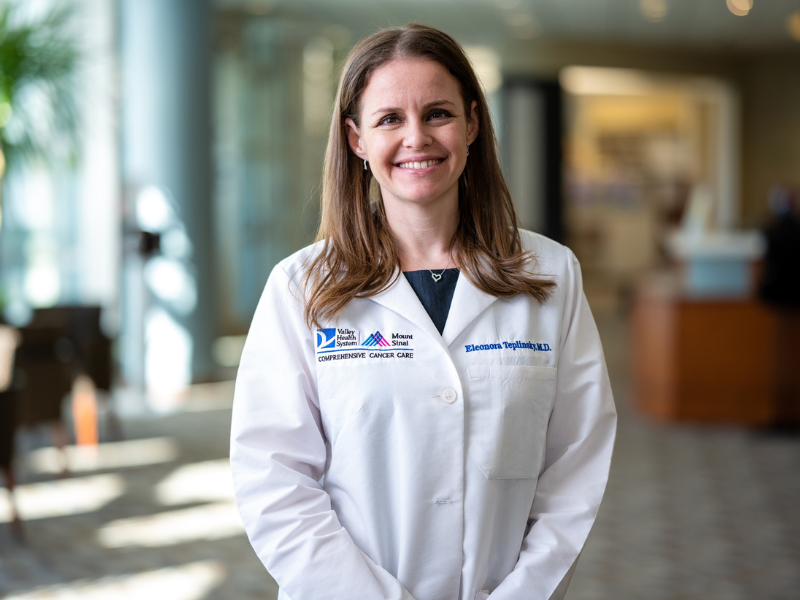 Eleonora Teplinsky, MD, Head of Breast Medical Oncology for Valley-Mount Sinai Comprehensive Cancer Care, is a recipient of the Medical Honoree Award from the American Cancer Society, presented at the Society's 41st Annual Diamond Ball on October 16, 2022.
"The Medical Honoree Award is presented to remarkable professionals who have shown outstanding dedication to the American Cancer Society and its mission," said Denise Buckley, Associate Director of Development for the American Cancer Society. "Medical Honorees are outstanding in their creativity, innovative spirit, and community involvement. Through their work, they provide hope for a world without cancer."
"Dr. Teplinsky has pushed for collaboration and progress within our communities and has demonstrated her relentless support and dedication to helping others fight back against cancer," added Buckley.
"Valley Mount-Sinai Comprehensive Cancer Care congratulates Dr. Teplinsky on this honor. Her commitment to community engagement was exemplary during the height of the COVID-19 pandemic," said Sobeida Santana-Joseph, MSN, RN, NE-BC, OCN, Executive Director of Valley-Mount Sinai Comprehensive Cancer Care. "Dr. Teplinsky leveraged her expertise to connect with patients and family members utilizing various social media platforms during such a turbulent time. In addition to her engagement efforts on social media, Dr. Teplinsky was committed to community education. In 2020, Dr. Teplinsky continued to focus on the importance of breast cancer screening and prevention by providing lectures online. She is also an established researcher, serving as principal investigator for two wellness trials at Valley (Force and STRENGTH). 
The Diamond Ball was held at the Westmount Country Club in Woodland Park, NJ.