December 13, 2022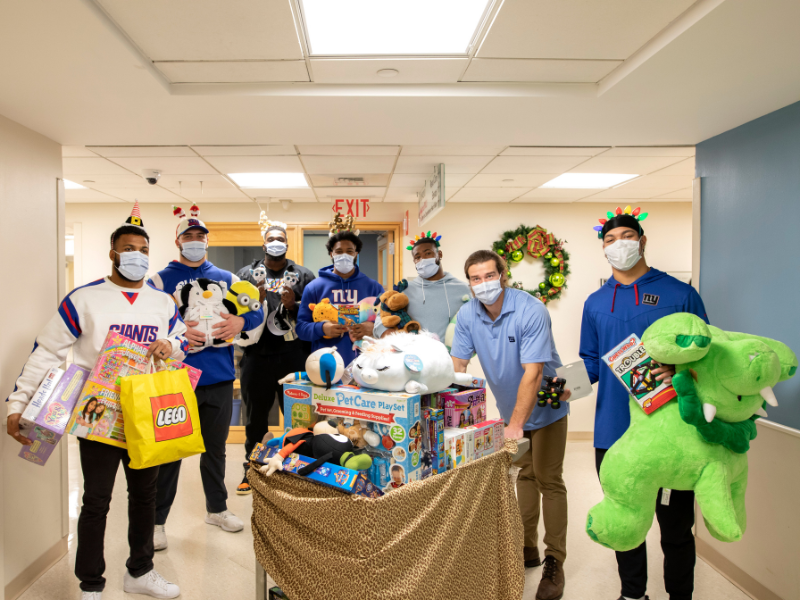 Valley Health System is pleased to thank Hammer's Helpers, the charity of Jamie Gillan, the "Scottish Hammer," punter for the New York Giants, for the generous donation of toys for pediatric patients of The Valley Hospital and Valley Home Care. 
On Tuesday, November 29, Westfield Garden State Plaza hosted a toy drive in partnership with Hammer's Helpers and The Valley Hospital. During this toy drive, Jamie met with fans, signed autographs, and personally thanked them for their donations at the Westfield Garden State Plaza Mall. All of the toys collected during this event, along with additional toys purchased using funds raised, were donated to pediatric patients at The Valley Hospital and to Valley Home Care's Butterflies Program. 
The Butterflies Program provides comprehensive home care services, comfort, and relief for infants and children who have been diagnosed with a life-limiting or life-threatening illness, and their loved ones.
"Valley is very appreciative and thankful to Jamie Gillan for his donation to our pediatric patients," said Charles Vannoy, DNP, RN, MBA, FACHE, NEA-BC, HN-BC, Vice President of Patient Care Services and Chief Nursing Officer at The Valley Hospital. "At Valley, we offer an array of pediatric services, including our Pediatric Emergency Department, Neonatal Intensive Care Unit (NICU), Kireker Center for Child Development, and a variety of subspecialties in collaboration with Mount Sinai Kravis Children's Hospital among others.
"The toys donated will be shared with our patients across all pediatric departments. These toys are sure to bring a smile to their face during this holiday season," said Vannoy. 
To distribute the toys collected, Jamie Gillan, and several of his teammates, including Dane Belton, Ben Bredeson, Tomon Fox, Julian Love, Matt Peart, and Terrell Burgess, visited The Valley Hospital on December 6. The team met with patients from Valley's Pediatric Emergency Department, Pediatric Community Clinic, and Pediatric in-patient unit to personally hand out toys to patients. 
"I'm excited to give out some gifts and try to make some of these kids happy and spend some time with them. This is why I do this stuff with my charity. I'm all about the kids and hanging out with them and making them feel loved," said Jamie Gillan. 
After the hospital visit, the team also visited the home of a patient in Valley Home Care's Butterflies Program. The team spent time learning about the patient's diagnosis, discussing home care services, and meeting with the family.