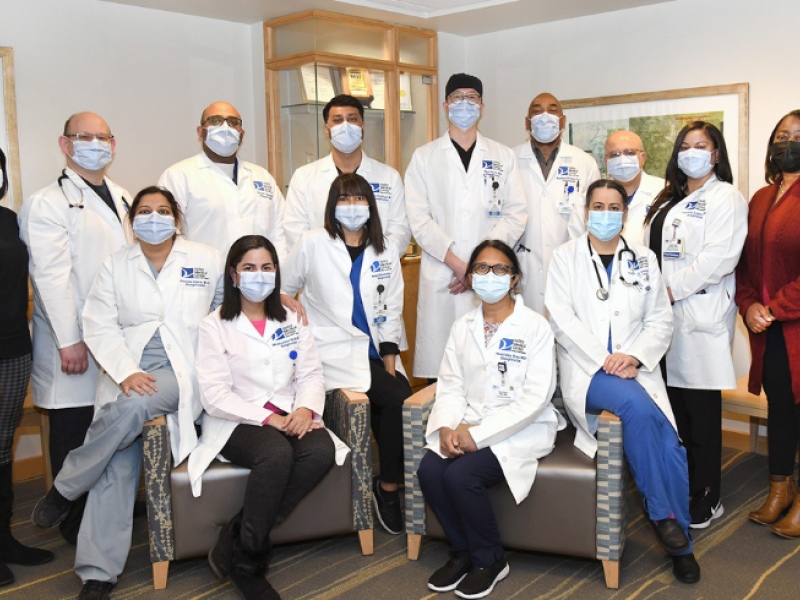 March 2, 2023, is National Hospitalist Day, a day to recognize hospitalists and acknowledge the exceptional care they provide patients.
Hospitalists are an important link between the patient and their primary care doctor. This dedicated team of providers care for their patients from the time they enter the hospital – whether it be an emergency or scheduled admission – through discharge. At Valley, our team of board-certified hospitalist physicians and advanced practice nurses work in concert with a patient's primary care provider or specialist. They are available 24 hours a day, seven days a week to treat and coordinate care for patients at The Valley Hospital. 
Why Do You Hospitalist?
In honor of National Hospitalist Day, we asked members of Valley's hospitalist team "why they hospitalist." Here's what they had to say:
"To be at the leading edge of acute care medicine, to heal often but comfort always, to put to practice my passion for medicine every day, to end each day humbled by both this enormous opportunity and responsibility to leave every situation better than I found it and to work collaboratively towards optimum patient outcomes, that's why I practice hospital medicine." – Pratibha Rao, MD.
"I love the challenge that comes with seeing different patients in the inpatient setting and being able to provide my service to those who need it, I treat every patient the way I want to be treated." – Maria Salcedo, MD 
"Hospital medicine affords me the opportunity to care for patients who have a range of illnesses that vary from critical to non-critical.  It allows me to be proficient in multiple fields of internal medicine while working with experts in specialty fields."— Nadine Clermont, MD
"As a hospitalist, I gained a great deal of experience treating a broad array of diseases that I wouldn't get to manage if I had focused on just one specialty." – Majdouline Sabi, MD
"I chose to be a hospitalist to serve my patients during a difficult time and find them the answer to their diagnosis so we can expedite their healing process. My job allows me to educate my patients on their clinical circumstances so they can make better choices for their future health outcomes. As a geriatrician, being a hospitalist allows me to care for the most vulnerable patient population, which are the elderly who need comprehensive care." – Vilma Muca, MD