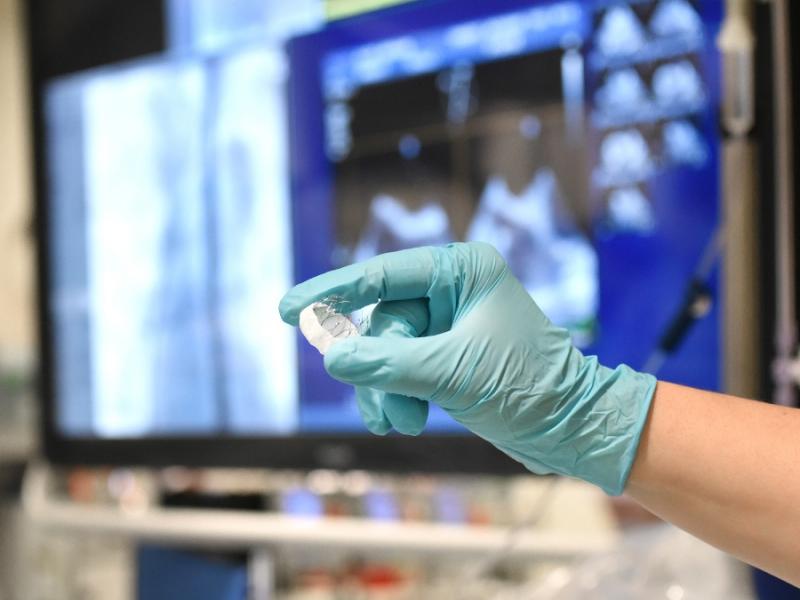 Did you know that more than 3 million Americans are affected by atrial fibrillation? Atrial fibrillation, which is also referred to as AF or AFib, is the most common irregular or abnormal heart rhythm disorder. It decreases the heart's pumping ability and can make the heart work less efficiently. In addition, patients must be aware that AFib can lead to potentially life-threatening problems such as blood clots and a higher risk of stroke.
"The first step in effectively minimizing the risk of blood clots and strokes caused by AFib is to identify those patients at high risk for a stroke.  These high-risk patients are often treated successfully with anticoagulant medications. However, some patients cannot take these medications long term due to side effects—most commonly bleeding—or because they interfere with their lifestyle. That's where the WATCHMAN™ Device comes in," explains 
The WATCHMAN™ Device is the first proven non-pharmacologic alternative to reduce stroke risk for patients with non-valvular atrial fibrillation without the use of anticoagulants. The device, which is a tiny umbrella-shaped mesh tool, is implanted in the heart to close off the left atrial appendage—which is the site where harmful blood clots most commonly form. The WATCHMAN™ prevents these clots from entering the bloodstream, traveling to the brain and causing a stroke, without the bleeding risks that come with anticoagulant medications.
Implanting the device is a minimally-invasive procedure performed under general anesthesia and it only requires 24 hours for recovery. Here at Valley, we have performed more than 100 WATCHMAN™ procedures. This is a testament to the patients who have put their trust in us, as well as to the physicians who have entrusted their patients to our care.
We might suggest a Watchman device for you if have:
A history of major bleeding while taking blood thinners
A career or lifestyle that increases the risk of major bleeding (as a result of trauma)
Prior experience of being inadequately controlled on blood thinners
At Valley's Snyder Center for Comprehensive Atrial Fibrillation, patients receive individualized care from a multispecialty team in a setting that emphasizes comprehensive patient evaluation and follow-up. Navigators and coordinators guide patients through the entire care continuum. With the most sophisticated technology available in the field, Valley electrophysiologists take great pride in offering a full-range of the most effective treatments for a broad range of heart rhythm abnormalities.
To learn more about the Snyder Center's patient-centered integrative care or to make an appointment, please call 201-447-8378.