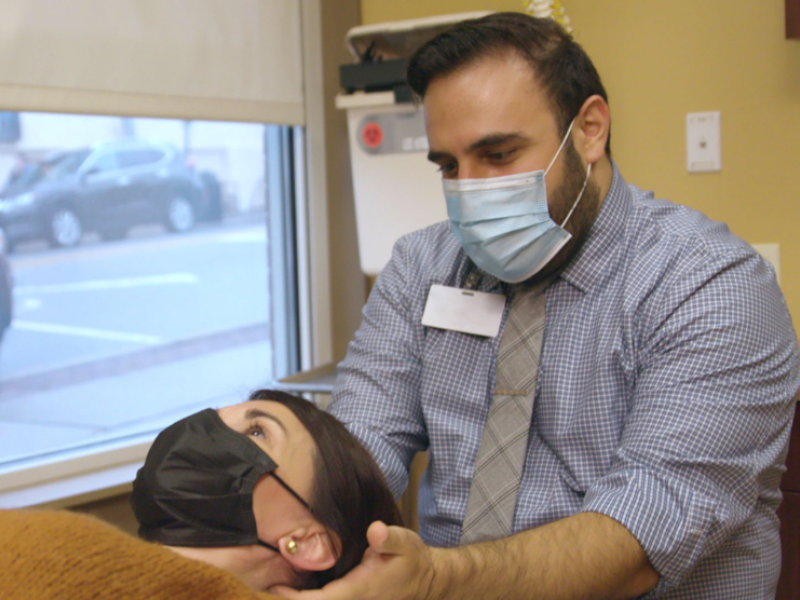 Pain and discomfort can be common during pregnancy. Dr. Jack Annunziato, a physical medicine and rehabilitation specialist, discusses ways he can help relieve pregnancy-related pain and discomfort that are safe for both mom and baby.
What is physical medicine and rehabilitation (PM&R)?
PM&R is a specialty that focuses on function and quality of life. It is my job to be a problem solver for any pain or injury a patient might have. I want to help patients do the things they want to do and get back to doing activities they love. We take your symptoms, evaluate your function, get to the root of the problem, and recommend a treatment plan right for you.
How can this help pregnant women?
Pain during pregnancy is incredibly common, but not many providers are comfortable managing the pain. Pregnant women can't get x-rays or take certain medications as they are not good for the baby. But there are several interventions that are safe and we use often to help mitigate the pain that comes with pregnancy as well as post-partum pain.
What are some treatment options you offer to pregnant women?
I am fellowship trained in Osteopathic Manipulative Treatment (OMT) and my goal is to figure out the right style of manual therapy for the right person at the right time. Treatments can include soft tissue massage, myofascial release, craniosacral therapy, high velocity-low amplitude thrusting techniques, and muscle energy techniques. Combining OMT with specific exercises, breathwork, different braces and splints can help relieve pain and increase mobility during pregnancy.
What would your message be to women who are experiencing pregnancy-related pain or discomfort?
The most important thing is that you don't have to suffer in silence! There are doctors like me who address this often. Consider making an appointment for yourself or recommending a friend or loved one.  
Is there anything else you would like to add?
You don't have to be pregnant to come and see me! I treat everyone, from newborns to senior citizens, and treat things like back pain, joint pain, sports injuries, headaches, nerve pain, and difficulty walking. If there's a functional issue, we will work together to address it. In addition to OMT, I perform injections, recommend specific braces, manage medications, and offer different exercises and therapies. No two treatment plans are exactly like. We'll work together to come up with the right plan for you.